Warren Buffett's Annual Letter: What About Succession Plan?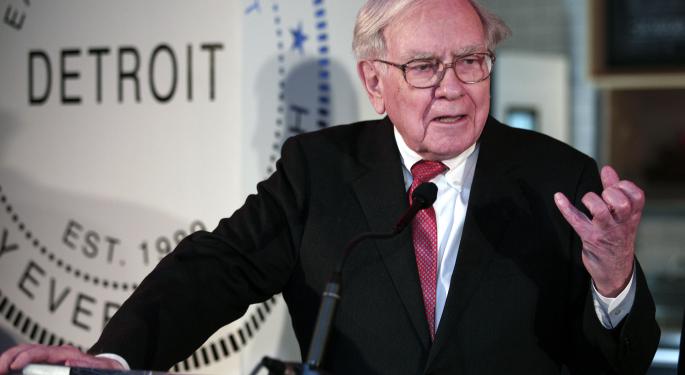 Berkshire Hathaway Inc.'s (NYSE: BR-K) Warren Buffett's annual letter to shareholders, expected Saturday, may give investors a peek into the future and include a dose of sentiment.
The 84-year-old Buffett has promised to outline his long-term vision for the company this year, the 50th anniversary of his acquisition of what was then a New Bedford, Massachusetts, textile firm.
Details of Buffett's vision for his company in 50 years aren't widely known. But Buffett has faced criticism for vagueness over the company's more immediate need for a succession plan.
Reportedly, the only certainty is that Berkshire plans to divide Buffett's three titles, CEO, chief investment officer and chairman, naming name Buffett's son Howard as chairman.
Related Link: EXCLUSIVE: Warren Buffett Says Mr. Market Is A 'Drunken Psycho'
In this year's missive to shareholders, Buffett will also invite the company's 91-year-old Chairman, Charles T. Munger to include personal musings.
Analysts are divided on whether the giant conglomerate will get broken up at some point following the Oracle of Omaha's demise.
Given Buffett's cult-like status among a certain segment of the public, the letter may get even more attention than usual. Some 40,000 people are expected to attend the company's Omaha annual meeting May 2.
Along with Buffett's broader theme, this year's letter is expected to include the more usual short-term performance review and outlook.
Analysts expect the company, with a market capitalization of $392.94 billion, will post fourth-quarter earnings growth of more than 15 percent to $1.77 a share, up from $1.53 a year earlier.
Berkshire shares have gained more than 29 percent in the past 12 months, versus nearly 14 percent for the S&P 500.
Posted-In: Warren BuffettNews Previews Trading Ideas
View Comments and Join the Discussion!