3D Systems Q4 Conference Call: A Chronological Recap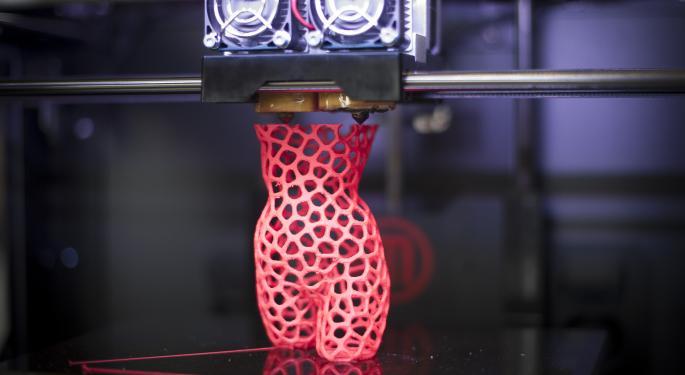 3D Systems Corporation (NYSE: DDD) reported earnings Thursday morning. Below is a live blog of the company's Q4 conference call.
Click here to refresh the page for the latest updates!
Check out 3D Systems' Q4 earnings review here.
Highlights:
09:28:05am: 3D Systems Q&A session and conference call ends.
09:26:17am: CEO Reichental: Within the element of gross profit margin in Q4, we continue to improve margins and services. We expect higher end printers to rebound and consumer printers will dip for a period of time before seeing higher volumes.
09:25:59am: CEO Reichental: Our gross profit margin, with all the headwinds that we had from ramping up facilities, is at the same level as we had in Q3
09:25:34am: CEO Reichental: We have been adding infrastructure and capacity all along and we do not foresee any unusually large investments coming along. We expect to really get progressively stronger leverage from the middle of the P&L
09:22:16am: CEO Reichental: There is no question that for us, 2016 is all about integration, leverage and execution and fine tuning all of the access that we have assembled. We are coming off a period of stepped-up investments and higher concentration of new products that have inserted new efficiencies in the manufacturing realm, and we are doing more for less in our manufacturing cost & process structure.
09:18:27am: CEO Reichental: We have not experienced any change in the climate for discounting.
09:16:58am: CEO Reichental: We are looking to immediately have some growth in selling leverage through our channels, which are complimentary to Cimatron through global channels.
09:09:41am: CEO Reichental: We placed 70% more design and manufacturing printer units in 2014 than the prior year
09:09:05am: CEO Reichental: It's important to note that just for 2014 our total SLA units went up 66%, SLS went up 89% and direct metals went up for the full year by 63%. This is what organic growth looks like in a period where we are outpacing revenue by 3.5x
09:08:19am: CEO Reichental: Healthcare continues to be fastest growing vertical currently, expectation is that this trend will continue for quite some time
08:52:37am: CEO Reichental: We broke ground on a 70,000 sq. ft. healthcare facility in Littleton, CO
08:52:15am: CEO Reichental: We brought online and began to ramp production at a second Direct Metal Printers manufacturing facility at our Corvallis, OR contract manufacturer
08:51:57am: CEO Reichental: We plan to advance our reach and penetration in key verticals like healthcare, aerospace, automotive and consumer and expand our overall market share
08:51:25am: CEO Reichental: For us, 2015 is all about execution: leveraging, fine-tuning and scaling our recent investments into sustainable, profitable growth
08:50:52am: CEO Reichental speaks again, covers M&A highlights with slide:
08:48:52am: VP of IR Whitten: We expect our GAAP earnings per share to be in the range of $0.35 to $0.45 and our non-GAAP earnings per share to be in the range of $0.90 to $1.10 with greater earnings during the second half of 2015
08:48:30am: VP of IR Whitten: We expect annual revenue for 2015 to be in the range of $850 million to $900 million with greater revenue during the second half of 2015
08:47:46am: CFO Hull: Cash on hand at December 2014 decreased $21 million compared to December 2013
08:47:30am: CFO Hull: Company generated $23 million of cash from operations during Q4 and $51 million for the full year 2014
08:47:02am: CFO Hull: Expansion is expected to come from increasing materials sales resulting in higher margin category representing a larger portion of total sales, gross margins of products recovering after new product transition and ramp, continuing operational synergies within our Quickparts network and increasing software sales, contributing more revenue at higher gross profit margins
08:46:09am: CFO Hull: We believe fundamentals of business model remain in tact and we expect gross profit margin to resume expansion
08:42:08am: CFO Hull begins, shows Q4 GAAP operating results slide: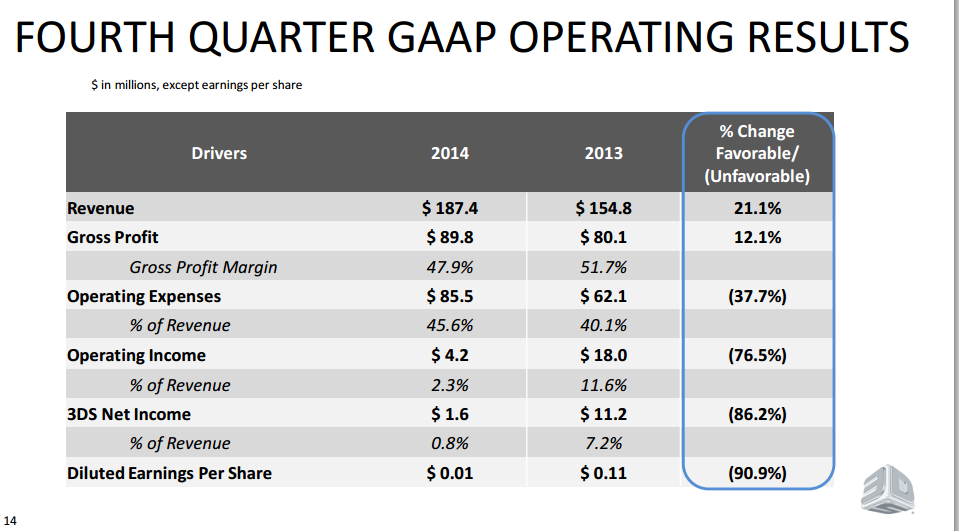 08:41:37am: CEO Reichental: Significant opportunities in manufacturing of aerospace parts, functional automotive assemblies, and ready to use medical devices
08:41:05am: CEO Reichental: Revenue increased 73% sequentially
08:39:26am: CEO Reichental: Revenue grew 175% compared to 2013 revenue
08:38:35am: CEO Reichental: Revenue increased 178% compared to the fourth quarter of 2013
08:38:05am: CEO Reichental: We ended 2014 at the higher end of our expected revenue range
08:37:41am: CEO Reichental: We are disappointed that we were not able to further capitalize on the strength of our performance
08:36:16am: CEO Reichental: Products, including materials, revenue grew by 16% and services by 33%
08:35:33am: CEO Reichental: Record revenue of $187.4 million, GAAP earnings of $0.01 per share and non-GAAP earnings of $0.21 per share. Significant foreign currency headwinds reduced our total revenue by $6 million during the quarter
08:33:51am: 3D Systems Q4 conference call begins
08:02:10am: 3D Systems Expecting FY15 Adj. EPS $0.90-$1.10 vs $1.02 Est., Sales $850M-$900M vs $873.2M Est.
08:00:39am: 3D Systems Reports Q4 Adj. EPS $0.21 vs $0.25 Est., Sales $187.4M vs $202.3M Est.
Posted-In: Earnings News Events Best of Benzinga
View Comments and Join the Discussion!