10 Numbers To Look For In WWE's Earnings Report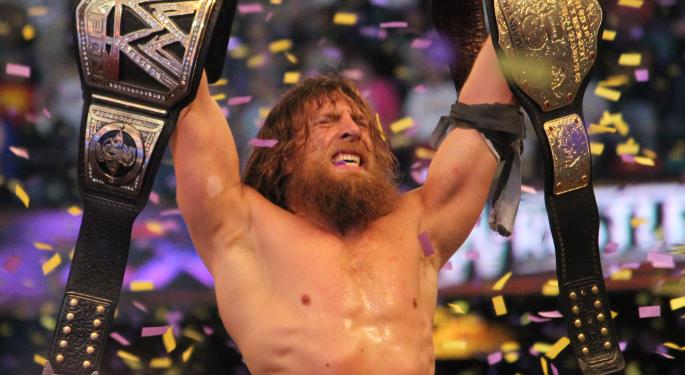 World Wrestling Entertainment, Inc. (NYSE: WWE) stock has been flying high lately after the company announced it surpassed one million subscribers to its WWE Network.
WWE stock is up more than 20 percent in the past month on the news, and shareholders will be looking for more good news when the company reports earnings on Thursday.
Lots of attention will be on earnings per share and total revenue, but here's a breakdown of 10 key numbers to watch that might not grab many headlines.
1. Network Income
Subscribers are one thing and profits are another.
WWE surpassed a million subscribers shortly after the end of Q4, but it likely got there in large part because the company gave away the network for free to new subscribers in the month of November.
The market will be looking for an improvement to the $2.3 million in network operating income before depreciation and amortization (OIBDA) reported in Q3.
2. Television Income
The company's TV rights fees and TV advertising fees were slightly down year-over-year the past two quarters. The company reported TV OIBDA of $20.7 million in Q3.
3. Digital Media Income
Digital media income includes website ad sales, digital rights fees, mobile content and magazine publishing. Income from digital media has been down year-over-year for the last three quarters. In Q3, the company reported OIBDA from digital media of $2.0 million.
4. Live Event Income
The days where professional wrestling centered around ticket sales are long gone, but this number still plays an important role in the success of the company. Live event OIBDA has also fallen year-over-year for the past three quarters, accounting for only $3.85 million in income in Q3.
5. Licensing Income
The company's licensing fees associated with products such as video games, toys and apparel accounted for the single largest income source outside of television last quarter. The company looks to improve on the $5.8 million in OIBDA reported in Q3.
Related Link: Pro: 4 Reasons To Be Cautious On WWE
6. Venue Merchandise Income
Merchandise sales at live events is one source of income that has been pretty stable year-over-year for the company in the past few quarters. They reported OIBDA of $1.6 million from venue merchandise sales in Q3.
7. WWEShop Income
Online merchandise sales are a relatively small but potentially growing source of income for the company, up year-over-year for the past two quarters. The company reported WWEShop OIBDA of $729,000 in Q3.
8. WWE Studios Income
Income from the production and distribution of WWE films has been a mixed bag over the past few quarters. In Q3, the company reported a WWE Studios OIBDA of -$421,000.
9. International Revenue
Nearly 22 percent of the company's revenue came from international sources in Q3. In January, the company launched the WWE Network for the first time in the U.K. and Ireland, but that launch will have no bearing on Q4 earnings.
10. Pay-Per View Revenue
This number will be extremely interesting.
The success of the WWE Network has come at the expense of pay-per-view revenue. Last quarter, the company reported pay-per-view revenue that was down 75 percent year-over-year to only $3.7 million. It's unlikely that many customers paid upwards of $50 to watch the WWE's largest pay-per-view event of the quarter, Survivor Series, when it was offered on the WWE Network for free.
All of these numbers play a big role in the success of the WWE.
However, the most important numbers are the top and the bottom line. Consensus estimates for the quarter are an earnings per share loss of $0.08 on revenue of $135.4 million.
Image credit: Megan Elice Meadows, Wikimedia
Posted-In: Education Previews Trading Ideas General Best of Benzinga
View Comments and Join the Discussion!