GoPro Q4 Conference Call: Live Blog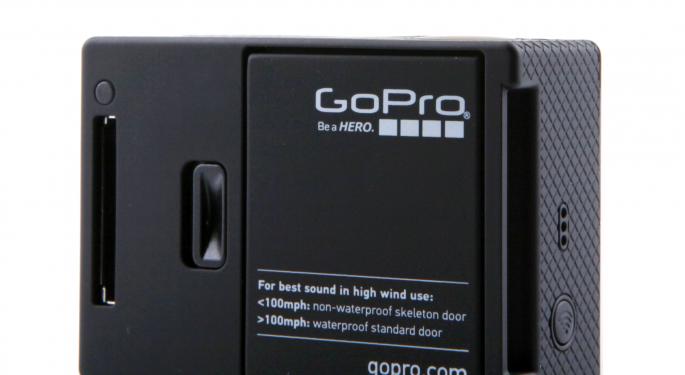 Want an edge on trading these stocks? Try this.
GoPro Inc (NASDAQ: GPRO) reported earnings this Thursday afternoon. Below is a live blog of the highlights, delayed by 10 minutes. Learn more about investing in the tech sector with real-time trading picks from experts like the Steady Trader.
06:00:49 pm: GoPro shares down ~15 percent.
05:57:49 pm: GoPro conference calls ends.
05:57:17 pm: Lazar: Looking at Q1 2015, keep tracking sellthrough. But make sure we're priming channel to meet demand. 5.2 mil units/year is small for what we should be able to do.
05:56:15 pm: Lazar: Biggest driver in Q4 was 'groundswell in demand.'
05:53:03 pm:Lazar: We're growing 42% at midpoint of guidance, that seems good for company. $100 mil. in growth rev. is pretty good too. We're quite pleased with how it looks going into the year
05:51:19 pm: Woodman: You're going to see a new user exp. in the management and editing of content to facilitate more sharing. From there, we have expanded media opportunity
05:42:00 pm: Woodman: Battery life is always an issue. Nothing will happen in the next 2 months, but we will improve battery perf. in the future.
05:40:31 pm: Lazar: On sell-through basis, mix is quite good. Best-selling product in Europe and US were HERO4 Black and HERO4 Silver
05:36:56 pm: Woodman on NHL and X-Games rollout: We haven't even officially debuted our new live TV product. Stayed tuned for more news on that.
05:34:38 pm: Woodman, on monetizing content: in terms of live TV, GoPro benefits form increased brand exposure and getting consumers excited about perspectives. These aren't revenue events, but are used by broadcasters to improve the show for fans at home
05:32:33 pm: Woodman: Overall, geographical distributor mix is something we're very happy with
05:29:13 pm: GoPro conference call Q&A begins.
05:27:52 pm: Woodman confirms departure of COO Nina Richardson.
05:27:00 pm: Lazar: Anticipate Q1 2015 operating expense of $150 mil. and EPS of $0.15-$0.17
05:26:01 pm: Lazar: Anticipate Q1 2015 rev. of $330-$340 mil, YOY increase of $100 mil. or 42% at midpoint of guidance. Gross margin of 44.4%
05:21:49 pm: Lazar: Diluted Q4 2014 EPS of $0.99 was up 200% YOY.
05:18:29 pm: CFO Jack Lazar: FY2014 rev. of $1.4 billion up 41% from 2013
05:15:31 pm: Woodman: GoPro enjoys double-digit lead over closest competitor in many international markets.
05:12:43 pm: Woodman: Shipped an avg. of 1,000 cameras/hr in 2014 Q4
05:10:03 pm: Woodman in 2014: more than 9.3 years of content was uploaded to YouTube in 2014, up from ~3 years in 2013.
05:08:13 pm: GoPro CEO Nick Woodman caps off 'most exciting year ever', touts Q4 14 revenue of $633.9 million up 75% vs. Q4 13; 2014 revenue up 41% to $1.4 billion
05:03:11 pm: GoPro conference call begins.
04:38:27 pm: GoPro Shares Resume up ~8%
04:26:38 pm: GoPro Shares to Resume Trade at 4:35 p.m. EDT
04:05:56 pm: GoPro Reports Q4 Adj. EPS $0.99 vs $0.70 Est.
04:04:46 pm: GoPro Shares Halted News Pending
The preceding article is from one of our external contributors. It does not represent the opinion of Benzinga and has not been edited.
Posted-In: Earnings News After-Hours Center
View Comments and Join the Discussion!