Chipotle Q4 Conference Call: A Chronological Review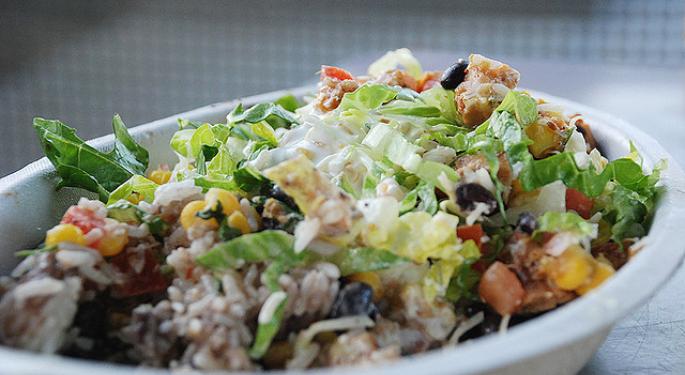 Want an edge during Chipotle earnings? Try this.
Chipotle Mexican Grill, Inc. (NYSE: CMG) reported earnings this Tuesday afternoon. Below is a live blog of the highlights, delayed by 10 minutes. The live feed is available on Benzinga Pro.
05:34:15pm: Conference Call Has Concluded
05:32:44pm: G&A As A Pct. Of Sales Should Drift Slightly Lower Over The Coming Years
05:26:47pm: 'Customer Loyalty Overcomes Minor Changes In Customer Spending Ability'
05:14:40pm: On Whether Or Not Chipotle Will Offer A Second Line In-Restaurant: 'It Is An Option. It's An Idea That Has Occurred To Us. We've Even Experimented With It.'
05:12:15pm: 'Our Worst-Run Restaurants Are Much, Much Better.'
05:11:54pm: The Ratio Of Restaurants-To-Field Leader Is Lower Than It's Been In Years
05:09:53pm: 'We Want To Be Affordable'
05:09:09pm: On Why Broad Price Increase Isn't Considered For 2015 (With COGS near 35%): 'We Don't Put A High Importance On Our Food Cost Pct. As A Pct. Of Sales' We Focus On Overall Margins. In Terms Of Investment, We're Looking At Near 70% ROI.
05:01:51pm: Hartung: Will 'Opportunistically' Repurchase Stock To Enhance Shareholder Value
04:55:12pm: Hartung: No Across The Board Menu Price Hike In Plans For 2015
04:53:48pm: CFO John R. Hartung: Expects Beef Prices To Remain Elevated, Due To Supply Constraints. Expect Dairy To Come Down From Record Highs.
04:51:20pm: Moran: Expect 2015 Average Restaurant Development Cost To Decrease
04:50:17pm: Moran: 80% of New Restaurants Opened In Proven And Developed Markets
04:45:46pm: Co-CEO Montgomery Moran: 2015 Will Be A Breakout Year In Terms Of Restaurateur Development
04:42:41pm: Ells on ShopHouse and Pizzeria Locale: 'This Is A Much Better Way To Create Shareholder Value'...Compared To Traditional Peer Strategy Of Adding Menu Items
04:39:57pm: Ells: 'Our Popularity Among These Younger Consumers Is Tied To Our Vision,' Tied To How Food Is Raised.
04:39:21pm: Ells: Chipotle Is The 3rd Most Popular Brand Among Teens, Up From No. 8 In 2013..
04:36:16pm: CMG Shares Now Down nearly 7%.
04:34:55pm: Chipotle Co-Chief Executive Officer Steve Ells: 192 new restaurants were opened last year. Now have nearly 1,800 restaurants.
04:32:38pm: Chipotle Q4 Conference Call Beginning
04:21:00pm: Chipotle stock is down 5.04 percent after-hours, to $691.00 per share
04:02:13pm: Chipotle reports Q4 comps growth of 16.1 percent vs 16.5 percent estimates
04:01:45pm: Chipotle reports Q4 EPS of $3.84 vs. $3.79 estimates, sales of $1.07 billion, below estimates
Image credit: Punctuated, Flickr
Posted-In: Earnings News Events After-Hours Center Best of Benzinga
View Comments and Join the Discussion!