Gilead Sciences Q4 Conference Call Play-By-Play Recap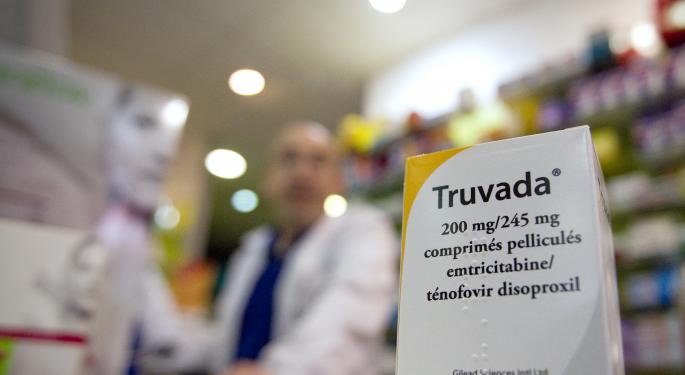 Want an edge on biotech earnings? Try this.
Gilead Sciences reported earnings this Tuesday afternoon. Below is a live blog of the highlights, delayed by 10 minutes. Get real-time trading picks from experts in the biotech sector with the Biotech Trader.
Gilead Sciences (NASDAQ: GILD) Update:
05:45:48 pm: Gilead Sciences Beats Q4 Views But Outlook Disappoints, Shares Fall. Read full article here.
05:36:38 pm: Gilead Sciences conference call ends.
05:32:44 pm: Gilead has a large, sustainable market in Europe that will continue with healthy growth in the coming years.
05:22:31 pm: The timing of our dividend reflects our confidence in our cash flow and balance sheet. Does not in any way prevent the company from investing in its business pipeline or M&A. We do not feel constrained in any way by issuing this dividend.
05:21:19 pm: Gilead sales team has been a lot of time securing access in 2014 and will shift to drive demand in 2015.
05:19:31 pm: Harvoni has proven to be effective on a much wider range of patients than previously thought, we are not concerned about future competition and this represents a very strong category for Gilead based on this profile.
05:05:05 pm: 70% of patients in 2014 came from the private sector
04:59:35 pm: We are confident that we will see a large increase in patients across the US based on our goals to achieve greater accessibility.
04:58:52 pm: Intentions for dividend are to grow over time, but at the moment they will still use share repurchases as the larger portion of the share returns in the near future.
04:57:17 pm: Gilead conference call Q&A begins
04:55:05 pm: CFO Washington: Expecting 2015 product sales to be $26-27B, increase of 6-10% over 2014
04:54:28 pm: CFO Washington: Repaid $1B in outstanding debt in Q4
04:52:40 pm: CFO Washington: HCV product sales $12.4B for 2014, helped by continued launches of Sovaldi and Harvoni and geographic expansion
04:51:52 pm: Gilead Estimates 2015 Gross to Net Hepatitis C Drug Adjustments at 46% vs 22% at End of 2014
04:48:52 pm: HIV: In 2014, Gilead continues clinical and commercial success, $1.9B in sales in the Q4 and $6.3B in sales for the whole year, lead by Complera and Stribild
04:48:08 pm: 80% of new HIV patients started treatment on a Gilead product, 70% of which were on Truvada
04:46:15 pm: We expect 2015 gross to net adjustments in product in the US to be 46%, over double in 2014 which was 22%
04:42:38 pm: 140,000 have started HCV therapy on a Gilead product in the United States.
04:41:08 pm: CEO Martin: Board has approved quarterly cash dividend program and $15B, 5-year repurchase. 2015 will be as busy as 2014, and will continue to provide collaboration and medication to those in need. I am proud of our progress thus far.
04:36:46 pm: CEO John Martin: Sovaldi has been approved in India and currently has 15,000 under treatment
04:30:00 pm: Conference call begins
04:26:34 pm: Gilead conference call expected to start at 4:30 pm ET. Click here to listen to the webcast.
04:07:50 pm: Gilead Sciences Announces Initial Dividend Of $0.43/share
04:07:06 pm: Gilead Sciences Announces $15B Buyback Program
04:04:04 pm: Gilead Reports Q4 Adj. EPS $2.43 vs $2.21 Est., Sales $7.31B vs $6.74B Est.
02:13:45 pm: Gilead Sciences earnings preview.
Posted-In: john martin Paul CarterEarnings News Health Care Management Events General Best of Benzinga
View Comments and Join the Discussion!