Earnings Expectations For The Week Of January 26: Apple, Google, Microsoft & More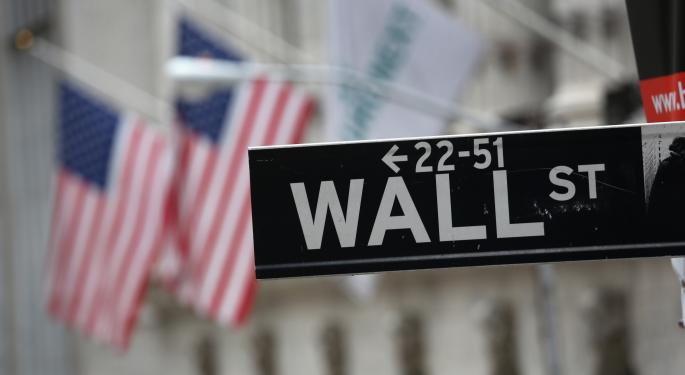 The earnings crunch is on this week.
Tech and Internet giants will be stepping into the earnings spotlight, with forecasts calling for profit growth from Apple Inc. (NASDAQ: AAPL), Facebook Inc (NASDAQ: FB) and Google Inc (NASDAQ: GOOGL) but shrinking profits from Amazon.com, Inc. (NASDAQ: AMZN), Microsoft Corporation (NASDAQ: MSFT) and Yahoo! Inc. (NASDAQ: YHOO).
Big oil companies such as Chevron Corporation (NYSE: CVX), industrial giants like Boeing Co (NYSE: BA) and Big Three automaker Ford Motor Company (NYSE: F) also will take their turns on the earnings stage this week, along with drug companies, defense contractors, homebuilders, credit card companies and many others.
Below is a quick day-by-day run down of analyst expectations for these and some of the week's other most anticipated reports.
See also: Will Apple Rise On Record iPhone Sales Or Fall On Weak Apple Watch Guidance?
Monday
The fiscal second-quarter forecast for Microsoft calls for per-share earnings of $0.71 on revenue of $26.33 billion. In the same period of last year, the company behind Windows and Xbox posted a profit of $0.78 per share but $24.52 billion in revenue. Note that growth is expected on both the top and bottom lines in the current quarter.
DR Horton and Norfolk Southern are expected to join Microsoft in posting earnings declines, but analysts are looking for higher earnings from Seagate Technology, Texas Instruments and Zions Bancorp when they report on Monday.
Tuesday
Tuesday's highlight, and perhaps the highlight of the week, will be the after-the-bell report from Apple. The iPhone and Mac maker will post per-share earnings of $2.59 on revenue of $67.50 billion, if the consensus forecast for the fiscal first quarter is correct. That would be up from EPS of $2.07 and $57.59 billion in revenue in the year-ago period. Note that analysts underestimated EPS in the previous four quarters, and that the consensus forecast was just $2.52 per share 60 days ago.
Yahoo is also scheduled to share its results after the markets close. Per-share earnings are expected to have dropped about 37% to $0.29. The estimate for the full year has EPS up about seven cents to $1.59. Revenue for both the quarter and the year are forecast to be marginally lower to $1.19 billion and to $4.41 billion, respectively.
Of the many reports due on Tuesday, Amgen, American Airlines, AT&T, Corning, DuPont, Novartis, 3M, United Technologies and U.S. Steel are anticipated to offer up earnings growth, relative to the year ago quarters.
However, Bristol-Myers Squibb, Caterpillar, Coach, Electronic Arts, Freeport-McMoRan, Juniper Networks and Procter & Gamble are believed to have shrinking earnings, and Peabody Energy is expected to have swung to a net loss.
Wednesday
The forecast for Boeing calls for an more than 11 percent rise in earnings to $2.12 per share, as well as for revenue of $23.89 billion, which would also up marginally from the same period of last year. EPS have handily topped consensus estimates in recent quarters. The aerospace leader will share its results before the opening bell.
In its post-session report, Facebook will say it had per-share earnings of $0.48 on revenue of $3.78 billion, if the consensus forecast for the fourth quarter is accurate. That would be up from EPS of $0.31 and revenue of $2.58 billion a year ago. Strong growth on the top and bottom lines is expected for the full year as well.
Furthermore, analysts on average believe EMC, General Dynamics, General Growth Properties, Las Vegas Sands and Progressive will report earnings growth in the middle of the week. However, quarterly EPS are expected to be lower than a year ago at International Paper and Qualcomm.
Thursday
First thing in the morning, Ford is expected to show a quarterly profit of $0.23 per share, which would be eight cents less than in the fourth quarter of last year. Also, the anticipated quarterly revenue of $34.89 billion would be about 2 percent lower year-over-year. Declines on the top and bottom lines are predicted for the full year as well.
After the end of the trading day, the earnings spotlight will fall on Amazon and Google. The consensus forecast calls for EPS from the former to have tumbled two-thirds to $0.17 in the fourth quarter. From the latter, earnings of $7.12 per share are anticipated, up from the $6.01 per share posted a year ago.
Revenue at Amazon is expected to be $29.70 billion, or about 16 percent higher than a year ago. Revenue growth of less than 10 percent to $18.47 billion is predicted for the Internet search giant. Full-year revenues will be sharply higher for both companies, if forecasts hit the nail on the head.
Also on Thursday, another busy day for quarterly reports, look for anticipated earnings gains from Abbott Labs, Alibaba (sequentially), Broadcom, Celgene, Dow Chemical, JetBlue Airways, Nokia, Potash, Royal Caribbean Cruises, Royal Dutch Shell, Time Warner Cable, Viacom and Visa. In addition, look for lower EPS from Blackstone, ConocoPhillips, Occidental Petroleum, PulteGroup and Valero Energy.
Colgate-Palmolive, Harley-Davidson and Phillips 66 are expected to have EPS that are the same, relative to the year ago period.
See also: Will RadioShack Be The First Retailer To Go Bust In 2015?
Friday
Declines will be the order of the day when Chevron shares its results first thing in the morning. The consensus revenue estimates have year-on-year declines of more than 45 percent to $30.65 billion and more than 7 percent to $212.07 billion for the fourth quarter and the full year, respectively. EPS are projected to have retreated around 36 percent to $1.64 in the quarter, as well as about 12 percent to $9.75 for the year.
AbbVie, Altria, MasterCard, Tyson Foods and Weyerhaeuser are also expected to show growth on the bottom line Friday, while Eli Lilly, Honda and Mattel report earnings declines and EPS for Xerox are the same as a year ago.
Keep up with all the latest breaking news and trading ideas by following Benzinga on Twitter.
Posted-In: Amazon Amazon.comEarnings News Previews Top Stories Pre-Market Outlook Trading Ideas Best of Benzinga
View Comments and Join the Discussion!