#PreMarket Primer: Wednesday, December 3: Investors Weigh The Possibility Of More Easing In The Eurozone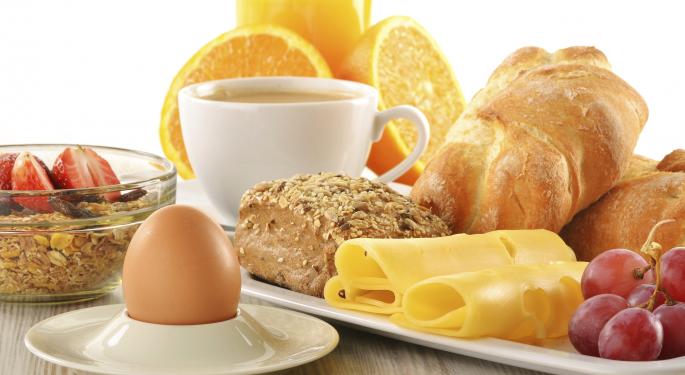 The euro tumbled on Wednesday morning as investors placed their bets on whether or not the European Central Bank would announce a large-scale easing plan at Thursday's policy meeting. Though there has been a great deal of division within the bank's governing council over whether or not more stimulus would be beneficial, most expect the bank to eventually step in; but the question on trader's minds is when.
Data out on Wednesday showed that the bloc's business activity declined in November, a telling sign of the region's performance in the fourth quarter and something that will likely pressure the ECB to step in and inject more cash into the eurozone's stalling economy.
In other news around the markets:
Democrats and Republicans in Washington are at odds again as policymakers work to put together a budget that both sides will agree on in order to avoid a government shut down next week. Republicans in Congress are pushing a deal that will keep the government running after its funding expires on December 11, but funding for the Department of Homeland Security would only continue until early 2015, something that will hinder President Obama's latest immigration reforms. The deal hasn't been rejected, but it has set the stage for yet another battle between the two parties that could end with another shutdown.
The telecommunications industry has seen fierce competition for customers over the past weeks as companies like Sprint Corporation (NYSE: S), AT&T Inc. (NYSE: T) and Verizon Communications Inc. (NYSE: V) all try to poach each others customers.On Tuesday, Sprint made a bold move by announcing it would allow customers to pay half of their current bills with AT&T or Verizon. The offer is set to begin on Friday, and shows Sprint's dedication to recovering after years of subscriber and revenue loss to industry leaders AT&T and Verizon.
Chinese data out on Wednesday showed that the nation's economy saw some improvement despite the slowdown in its manufacturing sector. The nation's official non-manufacturing PMI reading increased to 53.9 in November, a modest rise from October's 53.8 reading, while its HSBC services PMI rose to 53.0. The figures indicate a small improvement in the nation's service sector, something that won't counterbalance the slowdown in manufacturing.
Pro-democracy demonstrations in Hong Kong looked to be losing momentum on Wednesday after some of the movement's leaders turned themselves into police. Benny Tai, Chan Kin-man and Chu Yiu-ming all called on their followers to clear out of protest sites and voluntarily entered the police station to turn themselves in. Though the three did not face any charges, the act was symbolic and likely marks the end of the city's push for full democracy.
Asian Markets
Asian markets were mostly higher with the exception of the Hang Seng Index, which lost 0.95 percent. The NIKKEI gained 0.32 percent, the Shanghai composite rose 0.59 percent, the KOSPI rose 0.21 percent and the Shenzhen composite had the largest gains, up 1.53 percent.
European Markets
Europe's markets were mostly higher with the exception of the FTSE, which lost 0.20 percent. The STOXX 600 gained 0.46 percent, the DAX rose 0.18 percent, the MIB gained 0.67 percent and the IBEX was up 0.71 percent
Energy futures were higher; Brent futures gained 0.31 percent and WTI futures were up 0.69 percent. Gold and silver gained 0.36 percent and 0.30 percent, respectively, while industrial metals were mostly lower. Copper lost 0.47 percent, aluminum was down 2.37 percent and zinc fell 1.07 percent.
The euro declined on Wednesday with the European Central Bank meeting approaching. The common currency lost 0.43 percent against the dollar, 0.66 percent against the pound and 0.31 percent against the yen. The dollar was also lower against the pound, down 0.17 percent, but gained 0.17 percent against the yen and 0.26 percent against the Australian dollar.
Earnings
Notable earnings released on Tuesday included:
Bank of Montreal (USA) (NYSE: BMO) reported fourth-quarter EPS of $1.63, compared to last year's EPS of $1.64 on revenue of $4.19 billion.
OmniVision Technologies, Inc. (NASDAQ: OVTI) reported second-quarter EPS of $0.60 on revenue of $394.00 million, compared to last year's EPS of $0.60 on revenue of $397.25 million.
Bob Evans Farms Inc (NASDAQ: BOBE) reported second-quarter EPS of $0.36 on revenue of $333.30 million, compared to last year's EPS of $0.35 on revenue of $332.60 million.
Stocks moving in the premarket included:
Notable releases expected on Wednesday include:
Economics
Notable economic releases expected on Wednesday include U.S. oil inventory data, service PMI readings from the eurozone, the UK, the US, Spain, Italy, France and Germany, the eurozone's composite PMI and eurozone retail sales.
For a recap of Tuesday's market action, click here.
Tune into Benzinga's pre-market info show with Dennis Dick and Joel Elconin here.
Posted-In: Earnings News Guidance Dividends Emerging Markets Eurozone Futures Commodities
View Comments and Join the Discussion!