#PreMarket Primer: Tuesday, December 2: Hackers Turn To Wall Street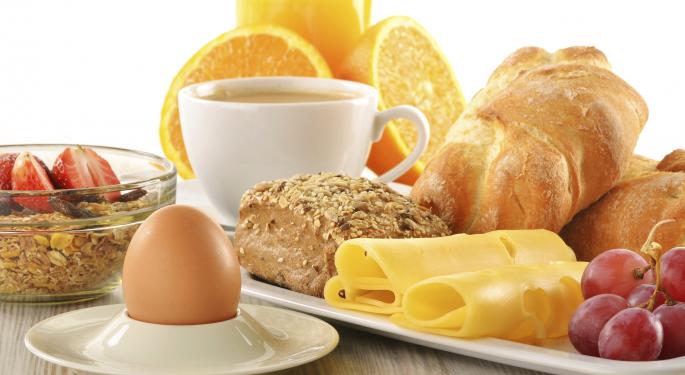 The latest in a string of cyber attacks on U.S. companies suggested that the hackers were interested in sensitive information that would give them a leg up in the stock market.
The computer security firm FireEye said hackers appear to have targeted healthcare and pharmaceutical companies over the past six months in an effort to gain intel regarding companies' acquisitions. In several cases, there was evidence of the hackers spying on communications from several companies which were all involved in one business deal, but irregular trading linked to the attacks has not be uncovered.
In other news around the markets:
On Tuesday morning, Wal-Mart Stores, Inc. (NYSE: WMT) released a statement announcing its plans to cut back in China in order to counter balance its falling sales within the country. The discount retailer is planning to reduce its workforce by cutting 250 jobs and restructuring its management team. Additionally, Wal-Mart is planning to invest $9.7 million in order to open nine new stores and a distribution center in China, as well as building a shopping mall in Zhuhai.
As Hewlett-Packard Company (NYSE: HP) prepares to divide its business into two separate entities, the company is looking to reassure its corporate customers by offering the choice two different computer server lines. A reasonable portion of HP's revenue comes from customers who are concerned about reliability, like banks and telecommunications companies, so as the company prepares to split it will be essential to continue offering products and services that are compatible with their current systems.
After pro-democracy protesters in Hong Kong violently clashed with police on Monday, one of the movement's student leaders, Joshua Wong, called on the protestors to continue their efforts and regroup in the city center on Tuesday. Wong has also announced that he is going on a hunger strike in order to draw attention to the cause. The demonstrations have been going on for over two months, but the government has been reluctant to discuss making any changes.
On Monday, Moscow announced that it was abandoning plans to create a new pipeline that would bypass Ukraine to supply southern Europe with gas in favor of a new agreement with Turkey. Tension between the EU and Russia has reached an all-time high over the conflict in Ukraine, and European policy makers have been opposed to the pipeline project, which would have run through Bulgaria. Instead, Moscow is planning an undersea pipeline to Turkey which will have a 63 billion cubic meter annual capacity.
Asian Markets
Asian markets were up across the board; the NIKKEI was up 0.42 percent, the Shanghai composite gained 3.10 percent, the KOSPI rose 0.03 percent, the Shenzhen composite gained 1.68 percent and the Hang Seng index rose 1.18 percent.
European Markets
Europe's markets were up across the board; the FTSE rose 1.25 percent, the STOXX 600 gained 0.68 percent, the CAC 40 rose 0.49 percent and the MIB gained 0.63 percent.
Energy futures were lower after a modest rally on Monday. Brent futures lost 0.73 percent and WTI futures fell 0.75 percent. Gold and silver lost 0.89 percent and 2.02 percent, respectively, while industrial metals were mostly higher with the exception of copper, which lost 0.74 percent. Aluminum was up 1.10 percent, zinc gained 0.95 percent and tin rose 0.25 percent.
The euro lost 0.15 percent against the dollar to traded at $1.245, but gained 0.22 percent against the yen and remained flat against the pound. The dollar was up 0.36 percent against the yen, 013 percent against the pound and 0.16 percent against the Australian dollar.
Earnings
Notable earnings released on Monday included:
Thor Industries, Inc. (NYSE: THO) reported first quarter EPS of $0.73 on revenue of $922.00 million, compared to last year's EPS of $0.68 on revenue of $799.96 million.
Shoe Carnival, Inc. (NYSE: SCVL) reported third quarter EPS of $0.54 on revenue of $254.70 million, compared to last year's EPS of $0.54 on revenue of $235.77 million.
Stocks moving in the premarket included:
Morgan Stanley (NYSE: MS) was up 1.65 percent after falling 1.46 percent over the past week.
Leucadia National Corp. (NYSE: LUK) gained 1.33 percent after falling 2.29 percent on Monday.
Freeport-McMoRan Inc (NYSE: FCX) was down 0.76 percent after losing 10.00 percent over the past week.
Archer Daniels Midland Company (NYSE: ADM) was down 0.63 percent after falling 0.93 percent over the past five days.
Notable releases expected on Tuesday include:
Bank of Montreal (USA) (NYSE: BMO) is expected to report fourth quarter EPS of $1.68 on revenue of $4.34 billion, compared to last year's EPS of $1.64 on revenue of $4.19 billion.
OmniVision Technologies, Inc. (NASDAQ: OVTI) is expected to report second quarter EPS of $0.51 on revenue of $377.90 million, compared to last year's EPS of $0.60 on revenue of $397.25 million.
Bob Evans Farms Inc (NASDAQ: BOBE) is expected to report second quarter EPS of $0.33 on revenue of $343.76 million, compared to last year's EPS of $0.35 on revenue of $332.60 million.
Economics
Notable economic releases expected on Tuesday include U.S. construction spending, Chinese manufacturing PMI, Australian GDP, British construction PMI and eurozone PPI.
For a recap of Monday's market action, click here.
Tune into Benzinga's pre-market info show with Dennis Dick and Joel Elconin here.
Posted-In: Earnings News Guidance Emerging Markets Eurozone Futures Commodities Previews
View Comments and Join the Discussion!