#PreMarket Primer: Wednesday, November 26: Big Retailers Gear Up For Black Friday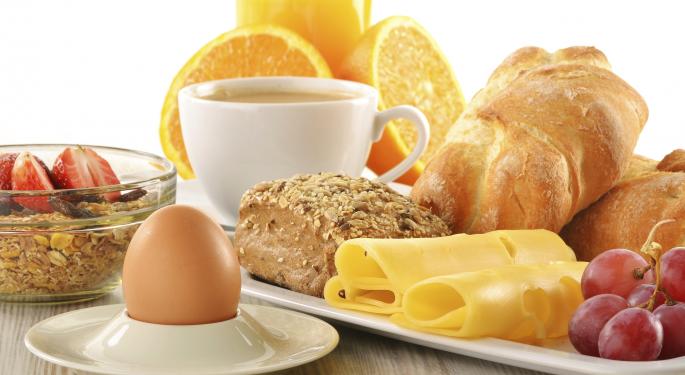 The annual day-after-Thanksgiving shopping frenzy is quickly approaching, and large retailers are looking to make this year count by spreading out their deals and luring consumers in with big-ticket items. The holiday has already made its way over the Europe, where Thanksgiving isn't even celebrated, but ads for Black Friday can be seen throughout the continent.
Last year marked the first year that the holiday was celebrated in the UK, but this year retailers say it will be one of their most important shopping days. China will see its first Black Friday sales this year as U.S. retailers like Macy's Inc. (NYSE: M) offer deep discounts in an effort to include the nation in the binge shopping craze.
In other news around the markets:
On Tuesday more National Guard troops were deployed to Ferguson, Missouri, as riots raged in the small town's streets following a grand jury's decision not to bring criminal charges against the policeman who fatally shot an unarmed African-American teenager. Those who believe the shooting was racially motivated flooded the streets in protest, but the demonstrations quickly turned violent with several buildings being burned down and cars destroyed. Police tasked with breaking the crowds up were met with mobs who threw bricks, fired shots and lit their cars on fire.
As the EU considers adding to its sanctions against Russia, many are worried about the economic impact as the eurozone economy may feel just as much pain if trade with Moscow is further limited. Eurostat reported that EU exports lost around 2 billion euros worth of trade after the sanctions cut down on exports to Russia, something that the struggling continent cannot afford.
With OPEC set to meet on Thursday, the cartel's members are working to make an agreement about whether or not to cut supplies in meetings ahead of their annual summit. The group has been divided over whether or not to cut production, with Saudi Arabia suggesting that the group accept the commodity's falling price. This week, Saudi Arabian officials looked likely to agree on strict compliance to the group's current ceiling of 30 million barrels, but a cut to production has not been the nation's preference.
U.S. prosecutors are investigating claims that HSBC Holdings PLC (NYSE: HSBC) gave confidential client information to a major hedge fund in March 2010. The investigation ties in to the government's probe into illegal activity in the foreign exchange market. Several banks were forced to pay penalties for their involvement in sharing market sensitive data with each other, but this event suggests that the banks could have been sharing the same information with chosen clients as well.
Asian Markets
Asian markets were higher with the exception of the NIKKEI, which lost 0.14 percent. The Shanghai composite rose 1.45 percent, the KOSPI gained 0.03 percent, the Shenzhen composite was up 0.43 percent and the Hang Seng index gained 1.24 percent.
European Markets
Europe's markets were mixed; the FTSE gained 0.24 percent and the STOXX 600 was up 0.07 percent, but the CAC 40 lost 0.14 percent and the IBEX lost 0.44 percent.
Energy futures were quiet ahead of OPEC's meeting; Brent futures gained 0.05 percent and WTI futures were flat at $74.09 per barrel. Gold and silver gained 0.18 percent and 0.26 percent respectively, while industrial metals were mostly lower with the exception of aluminum, which gained 0.15 percent. Copper fell 0.24 percent, zinc was down 0.92 percent and tin lost 0.98 percent.
The dollar lost some of its strength on Wednesday, down 0.25 percent against the yen and 0.29 percent against the Australian dollar. The euro continued lower, down 0.04 percent against the dollar, 0.01 percent against the pound and 0.27 percent against the yen.
Earnings
Notable reports released on Tuesday included:
Stocks moving in the premarket included:
Apple Inc. (NASDAQ: AAPL) was up 0.36 percent after falling 0.86 percent on Tuesday.
Transocean Ltd (NYSE: RIG) was down 3.20 percent after losing 2.09 percent over the past five days.
Gilead Sciences, Inc. (NASDAQ: GILD) was down 0.01 percent after rising 0.51 percent on Tuesday.
Notable releases expected on Wednesday include:
Deere & Company (NYSE: DE) is expected to report fourth quarter EPS of $1.57 on revenue of $7.75 billion, compared to last year's EPS of $2.11 on revenue of $8.62 billion.
Seadrill Limited (NYSE: SDRL) is expected to report third quarter EPS of $0.67 on revenue of $1.23 billion, compared to last year's EPS of $0.58 on revenue of $1.28 billion.
Economics
Notable economic releases expected on Wednesday include French consumer confidence, Italian consumer confidence, British GDP, U.S. durable goods, U.S. consumer sentiment and U.S. new home sales.
For a recap of Tuesday's market action, click here.
Tune into Benzinga's pre-market info show with Dennis Dick and Joel Elconin here.
Posted-In: Earnings News Guidance Emerging Markets Eurozone Futures Commodities Previews
View Comments and Join the Discussion!