#PreMarket Primer: Monday, November 17: Japan's Economy Unexpectedly Slips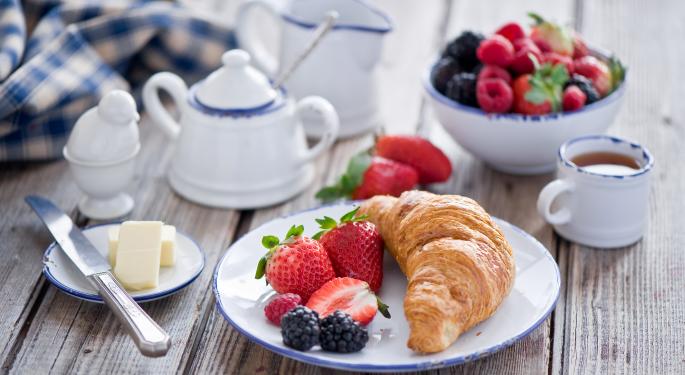 Data out on Monday showed that the Japanese economy fell into a recession in the third quarter, an unexpected report as most analysts were expecting to see 2.1 percent growth.
Instead, the figures showed that Japanese GDP declined by an annualized 1.6 percent from July to September, a worrying sign that Prime Minister Shinzō Abe's policies were flawed.
Abe said he would use the data in order to decide whether or not to move forward with another sales tax increase, planned for October of next year. The nation already suffered earlier this year when Tokyo hiked sales taxes in April, and many believe the already shaky economy cannot withstand another increase.
Many are expecting Abe to announce plans to delay the tax increase as early as Tuesday.
In news around the markets:
Actavis Close To A Deal With Allergan
According to The Wall Street Journal, Actavis plc (NYSE: ACT) and Allergan, Inc. (NYSE: AGN) are near a deal that would help Allergan escape the hostile takeover bid from Valeant Pharmaceuticals Intl Inc (NYSE: VRX). Over the next week, the boards from both Actavis and Allergan are set to meet to review the terms of the deal, which is likely result in Actavis paying a premium to Allergan's $95 billion market capitalization in order to overtake the Botox maker.
General Motors Extends Deadline For Ignition Switch Claims
General Motors Company (NYSE: GM) has extended the deadline for families of those injured or killed due to the company's faulty ignition switches to make claims. The company bowed to public pressure and pushed the deadline back one month to January 31. The company has been under scrutiny recently as it tries to deal with the aftermath of a company-wide cover up that allowed the public to continue using cars that had been deemed unsafe.
New Islamic State Video Surfaces
A new Islamic State video shows the aftermath of the decapitation of a fifth Western hostage on Sunday, reigniting calls for the U.S. to send ground troops to the Middle East to stop ISIS advances. The radical group's victim was Peter Kassig, an American aid worker who was captured in Syria last year while delivering supplies to victims of the country's civil war. Kassig is the group's third American victim, and while President Barack Obama expressed his sympathy for his family, he did not mention any willingness to send in troops.
Decline In Oil Prices Shows Disagreements In OPEC
The recent slide in oil prices has exposed several cracks in OPEC's unity as member countries within the cartel disagree on whether or not to cut supplies in order to boost prices. Saudi Arabian officials have been clear about their intentions to maintain the nation's current output and cope with low prices, but other nations like Venezuela are calling for a cut to boost prices. The group is set to meet on November 27, and many worry that its members will not be able to agree on a course of action, something that would diminish the cartel's effectiveness.
Asian Markets
Asian markets were mostly lower with the exception of the Shenzhen composite, which gained 0.67 percent. The NIKKEI was down 2.96 percent, the Shanghai composite fell 0.15 percent, the KOSPI lost 0.08 percent and the Hang Seng index was down 1.21 percent.
European Markets
European Markets were down across the board; the FTSE lost 0.47 percent, the STOXX 600 was down 0.66 percent, the DAX lost 0.69 percent and the CAC 40 was down 0.73 percent.
Energy futures were lower. Brent futures were down 1.50 percent and WTI futures fell 1.15 percent. Gold gained 0.06 percent and silver was down 1.22 percent, while industrial metals were mostly lower with the exception of zinc, which gained 0.36 percent. Copper fell 0.58 percent, aluminum was down 0.93 percent and tin fell 0.55 percent.
The euro was steady at $1.249 and fell just 0.01 percent against the pound, but lost 0.41 percent against the yen. The dollar was also lower against the yen, down 0.15 percent, but gained 0.26 percent against the pound and 0.32 percent against the franc.
Earnings
Notable reports released on Friday included:
Metalico, Inc. (NYSE: MEA) reported a third quarter loss of $0.04 on revenue of $128.59 million, compared to last year's loss of $0.58 per share on revenue of $135.78 million.
Stocks moving in the #PreMarket included:
Notable releases expected on Monday include:
Economics
Monday's notable economic releases will include the eurozone's trade balance, U.S. industrial and manufacturing production, Spain's trade balance and Italy's trade balance.
For a recap of last week's market action, click here.
Tune in to Benzinga's #PreMarket info show with Jordan Terry, Herb Morgan & Thomas Simpson here.
Posted-In: Actavis PLCEarnings News Commodities Forex Pre-Market Outlook Markets Movers
View Comments and Join the Discussion!