#PreMarket Primer: Tuesday, November 11: China Announces Plans To Open Investment To Foreigners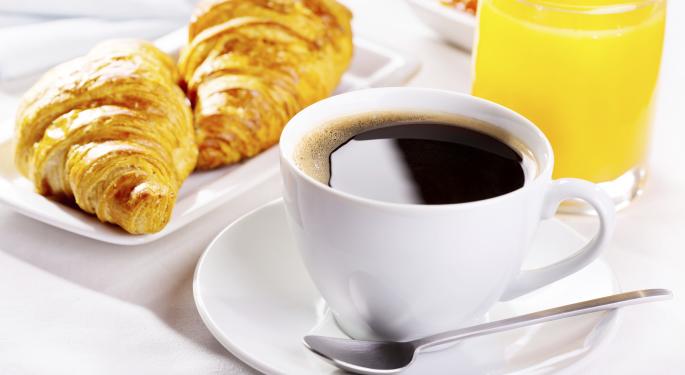 On Monday, Chinese officials detailed their plans to open the nation's stock markets to international investors, giving Asian stocks a lift and investors a new pool of companies to examine.
On November 17, investors will have the opportunity to invest in $2 trillion worth of companies via brokers in Hong Kong.
Many see investment in China's companies as a worthwhile opportunity as Beijing's stimulus spending is likely to benefit many of the nation's businesses.
In news around the markets:
Ukrainian Currency Plummets
With the fragile ceasefire in Ukraine looking less likely to hold, the nation's currency plummeted, and Kiev sunk closer to bankruptcy. The nation's currency has fallen 12 percent, making it nearly impossible for the government to pay back international loans, including energy-related debts to Russia. Ukraine's central bank has said it expects the currency to stop falling somewhere between 15 and 16 hryvnias to the dollar.
Apple Begins Aggressive Partnership Moves
According to Reuters, Apple Inc. (NASDAQ: AAPL) has begun to execute its plans to break into corporate America by partnering with startups already serving the sector. Following the formal announcement of its partnership with International Business Machines Corp. (NYSE: IBM), Apple executives began to work closely with the app developers from ServiceMax, an app designed to manage field service technicians, and PlanGrid, a program that allows construction workers to share blueprints. The two programs are likely to announce a formal partnership later in the year. Meanwhile, Apple's sales team is aggressively pitching to several major companies, including Citigroup Inc (NYSE: C), which is rumored to be close to signing on.
U.S. Postal Service Suffers Data Breach
The U.S. Postal Service is the latest entity to fall victim to a cyber attack that compromised personal data. The USPS employees make up the bulk of those affected with names, birth dates, social security numbers and other sensitive data made vulnerable. Hackers broke into the USPS databases earlier in the year and accessed data from the company's workers, as well as those who contacted the call center during the first eight months of the year. The FBI is investigating the incident, but no details about who was behind it have been released.
Nuclear Talks With Iran Yield No Resolution
After two days of negotiations, U.S. Secretary of State John Kerry and Iran's Javad Zarif were unable to come to an agreement about Tehran's nuclear capabilities. The decades-old issue has been given a November 24 deadline for resolution, but so far the West and Iran have been unable to agree on how to move forward. Both sides admitted that there are major issues that have not been resolved, but said they were committed to continuing negotiations in order to meet the November deadline.
Asian Markets
Asian markets were mixed; the NIKKEI was up 2.05 percent and the KOSPI gained 0.24 percent, but China's Shanghai and Shenzhen composites lost 0.12 percent and 2.74 percent, respectively. The Hang Seng index was up 0.27 percent and New Zealand's NZ 50 rose 0.37 percent, but Australia's ASX 200 was down 0.12 percent.
European Markets
Europe's markets were up across the board. The FTSE gained 0.15 percent, the STOXX 600 gained 0.38 percent, the DAX rose 0.36 percent and the CAC 40 was up 0.53 percent.
Energy futures continued to drop. Brent futures were down 0.47 percent and WTI futures lost 0.58 percent. Gold and silver lost 0.75 percent and 0.87 percent, respectively, and industrial metals were also lower. Copper fell 0.86 percent, aluminum lost 1.05 percent and tin was down 0.89 percent.
The dollar gained 0.98 percent against the yen and 0.22 percent against the Australian dollar, but lost 0.08 percent against the pound. Meanwhile, the euro was 0.11 percent lower than the greenback and lost 0.15 percent against the pound, but gained 0.86 percent against the yen.
Earnings
Notable reports released on Monday included:
Stocks moving in the #PreMarket included:
Bank of America Corp (NYSE: BAC) gained 0.06 percent in premarket trade after gaining 0.58 percent over the past week.
International Business Machines Corp. (NYSE: IBM) was down 0.18 percent in premarket trade after rising 0.88 percent on Monday.
Anadarko Petroleum Corporation (NYSE: APC) was down 0.11 percent in premarket trade after falling 2.09 percent on Monday.
Notable releases expected on Tuesday include:
Economics
Tuesday will be another slow day for economic data with releases including the U.S. Redbook, U.S. chain store sales and Mexican industrial production.
For a recap of Monday's market action, click here.
Tune in to Benzinga's #PreMarket info show with Sarah Potter, Cate Long & Nic Chahine here.
Posted-In: Earnings News Eurozone Commodities Forex Economics Pre-Market Outlook Markets
View Comments and Join the Discussion!