2 Solar Energy Giants To Keep An Eye On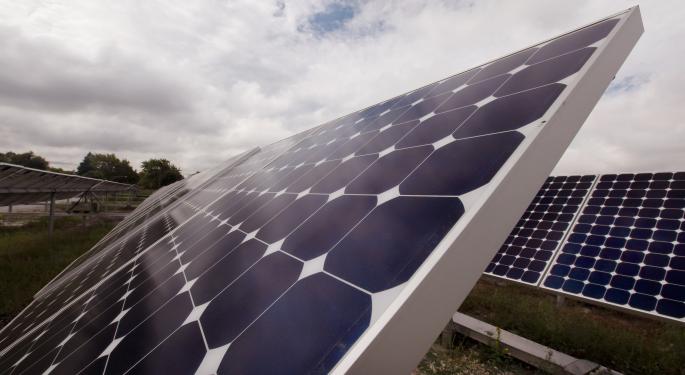 Investors in solar energy companies like industry-leader SolarCity Corp (NASDAQ: SCTY) and No. 2 Vivint Solar Inc (NYSE: VSLR) are betting that high rates of growth and resulting economies of scale will result in future operations that will be profitable.
SolarCity had previously reported non-GAAP losses for Q3 that were lower than expected, but still significantly higher year over year (Y/Y) compared to the same period in 2013.
SolarCity and Vivint Solar each report both GAAP and non-GAAP results, which can make it a bit more confusing to follow these companies.
Vivint Has Blackstone Roots
The majority Vivint Solar shareholder, and October 1, 2014 IPO sponsor, is private equity giant The Blackstone Group L.P. (NYSE: BX). Blackstone bought home security and automation portfolio company Vivint for $2 billion in 2012.
Related Link: Exclusive: Vivint Solar CEO Greg Butterfield Glows Over Company's Future
Vivint Solar will have access to hundreds of thousands of Vivint home security and home automation customers as well as additional sales and marketing synergies.
Related Link: Would A REIT Actually Help Sears?
Vivint Highlights Growth
CEO Greg Butterfield, in prepared remarks, chose to remind listeners on the earnings call that 99 percent of the U.S. market still depends on sources of energy other than solar.
Regarding the 1 percent of solar power market penetration, Vivint Solar (in 2011) had zero market share. By 2014, the company had grown from 9 percent (in Q1) to 15 percent (in Q2).
As Butterfield pointed out, the overall solar industry compound annual growth rate (CAGR) was 37 percent compared to what has been a 264 percent CAGR for Vivint Solar.
Seasonal Variation
During Q3 2014, Vivint installed 49 MWs -- an increase of 196 percent year over year. Guidance, however, for Q4 2014 was just 45 to 47 MW.
During the conference call Q&A, it became clear that the holiday season and cold weather in New England markets were anticipated to reduce the rate of growth of installations during Q4.
Management further explained that the first quarter is typically the low point, with installations ramping up through the summer months and into the fall. This makes sequential quarter comparisons far less meaningful than comparing same quarter year-over-year results.
Vivint Q3 Operating Highlights
Vivint noted that while installations are seasonal, the rate of sales has continued to increase:
• MW Booked: approximately 62 MW for the quarter, up 196 percent year over year.
• Installations: were 6,935 for the quarter, up 137 percent year over year.
• Estimated Retained Value: increased by about $89 million during the quarter to $399 million at September 30, up 172 percent compared to Q3 2013.
• Estimated Retained Value per Watt: $2.24 as of September 30, 2014.
Some of the economic benefits from the sale of a typical 20-year residential solar energy contract are derived from government incentive programs.
The accounting and financial reporting can vary from company to company when it comes to calculating non-GAAP metrics such as "Estimated Retained Value."
Vivint Solar Q4 2014 Guidance
Management remains confident in its ability to scale and grow the business. Vivint Solar opened 23 new sales offices during the past year. The company is currently opening 20 more sales offices in existing markets such as California and Hawaii, plus expansions into new markets.
Revised Q4 guidance is:
• MW Installed: 45 to 47 MWs.
• Total Revenue: $5.5 million to $6.5 million.
• Total Operating Expenses: $47 million to $51 million.
The weighted average cost per watt for the nine months ended September 30 was $3.43 per watt. During Q3, the normalized cost per watt was reduced to $3.12 per watt, with cost savings across the board in installation, sales and marketing and G&A.
However, during Q4, management expects to see it ramp back up to $3.20 to $3.30 per watt, anticipating increases in G&A to support expected growth in 2015.
Sector leader SolarCity reported a Q3 all-in cost of $2.90 per watt and has announced a goal of reducing its cost per watt to $1.90 by 2017.
Final Thoughts
Both Vivint Solar and Solar City continue to work to drive down the cost per watt of installed solar projects and grow market share at the same time. Quarterly performance will likely continue to be lumpy for some time while these businesses mature and grow to a profitable scale.
Investors in Vivint Solar have the benefit of investing alongside Blackstone Group -- patient capital with a proven track record and deep roots in the energy sector.
SolarCity shareholders, meanwhile, are investing alongside Tesla Motors' visionary CEO Elon Musk.
Posted-In: Solar PowerLong Ideas Trading Ideas Best of Benzinga
View Comments and Join the Discussion!