#PreMarket Primer: Monday, November 3: Commercial Space Travel Questioned After Failed Flights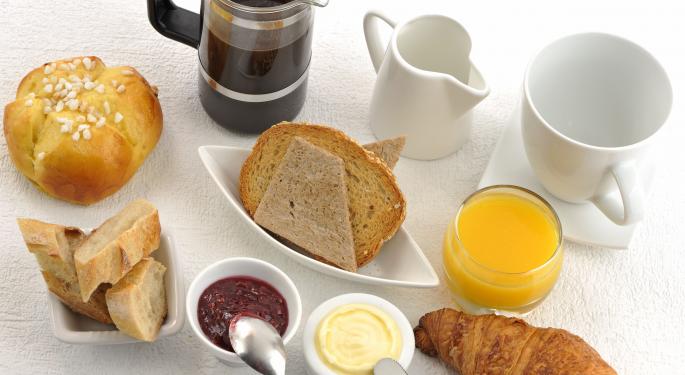 Hopes of commercial space travel advancement were dashed last week after two launch failures within days of each other raised serious questions about privately funded space travel.
On Friday, a Virgin Galactic LLC rocket broke apart shortly following its launch, killing one of its pilots and leaving the other with serious injuries. The incident has raised questions about the danger of rocket launches and given consumers a reason to question the safety of the flights.
On Sunday, the National Transportation Safety Board blamed the fatal Virgin Galactic flight on pilot error, saying that some moving parts of the tail had been deployed prematurely.
Dozens of cameras and data recording devices have provided investigators with a comprehensive account of what happened on board, prompting the NTSB to look into how the pilots were trained.
In news around the markets:
Kurdish Border Town Receives Reinforcements Against Islamic Militants
The town of Kobani received some military reinforcements over the weekend as Iraqi Kurdish fighters arrived to help fend off Islamic State militants' attack on the Syrian border town. The U.S. has launched more airstrikes in hopes that the combination of targeted air support coupled with the newly dispatched ground troops would stop the radical group from continuing their push into Turkey. ISIS militants have already made their way through northern Iraq and parts of Syria and are looking to expand their stronghold onto Turkish soil.
Pro-Moscow Separatists Hold Elections In Ukraine
On Sunday, pro-Moscow separatists held elections that have been deemed illegal by the Ukrainian government and denounced by the West. Still, the separatists elected their own leader in the war-torn eastern part of the nation, further escalating the ongoing conflict in Ukraine. Russia, unlike the U.S. and E.U., has agreed to recognize the vote despite growing pressure from the West to use Moscow's influence to end the separatist movement in Ukraine.
Publicis Groupe Makes Takeover Bid For Sapient Corporation
Publicis Groupe SA (OTC: PUBGY) announced on Monday that it was offering $3.7 billion in cash to take over Sapient Corporation (NASDAQ: SAPE) in an effort to gain a leg up in digital marketing. The French advertising company will pay $25 for each share, an offer that both companies' boards have already approved. However, the deal isn't likely to go through until mid-2015, as Sapient shareholders will still have to approve the offer.
China Data Shows Weakness
Worries that China will be unable to meet its economic growth targets in the fourth quarter compounded on Monday after PMI data showed that the nation's slowdown was continuing. Manufacturing PMI came it at 50.4 in October, in line with expectations and above September's 50.2 reading. However, the nation's composite PMI figure fell to 50.8 in October, exposing some weaknesses in important sectors and edging closer to the 50-point mark that denotes contraction.
Asian Markets
Asian markets were mixed. The NIKKEI rose 4.83 percent and China's Shanghai and Shenzhen composites gained 0.45 percent and 0.69 percent, respectively. However the Hang Seng index was down 0.34 percent and the KOSPI lost 0.58 percent.
European Markets
European markets were mostly lower. The FTSE was down 0.08 percent, the STOXX 600 fell 0.03 percent, the DAX lost 0.06 percent and the CAC 40 was down 0.09 percent.
Energy futures were lower. Brent futures fell 0.31 percent and WTI futures were down 0.42 percent. Gold and silver lost 0.20 percent and 0.81 percent, respectively, while industrial metals were mixed. Copper fell 0.02 percent and tin was down 2.09 percent, but aluminum gained 0.69 percent and zinc was up 0.30 percent.
The dollar continued to rally on Monday, gaining 0.47 percent against the yen, 0.11 percent against the pound and 0.57 percent against the Australian dollar. The euro was moving in the opposite direction, down 0.30 percent against the greenback and 0.22 percent against the pound, but the common currency gained 0.18 percent against the yen.
Earnings
Notable reports released on Friday included:
Stocks moving in the #PreMarket included:
Facebook Inc (NASDAQ: FB) is down 0.11 percent in the premarket trade.
Sapient Corporation (NASDAQ: SAPE) is up more than 40 percent in the premarket trade after the news of Publicis Groupe's takeover bid.
Notable releases expected on Monday include:
Economics
Notable economic releases expected on Monday include French manufacturing PMI, German manufacturing PMI, British manufacturing PMI, U.S. manufacturing PMI, Japanese manufacturing PMI, Spanish manufacturing PMI and Italian manufacturing PMI.
For a recap of Friday's market action, click here.
Tune in to Benzinga's #PreMarket info show with Adam Sarhan, Greg Harmon & Bob Lang here.
Posted-In: Earnings News Commodities Previews Forex Econ #s Pre-Market Outlook Markets
View Comments and Join the Discussion!