#PreMarket Primer: Wednesday, October 29: Fed Likely To End Bond Purchases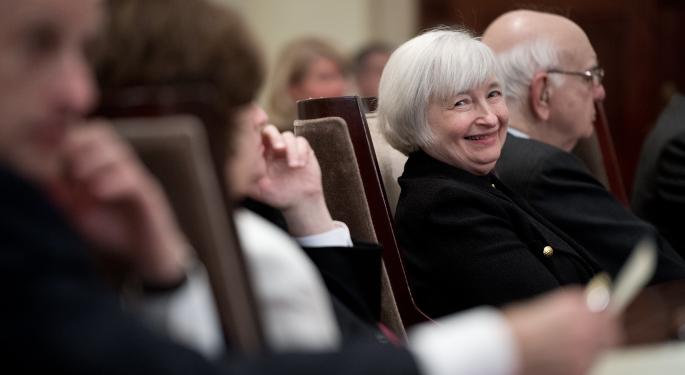 The U.S. Federal Reserve will likely announce its exit from the markets on Wednesday afternoon after having injected $85 billion per month into the U.S. economy at the height of the crisis.
The bank will likely finish tapering its quantitative easing program and withdraw the final $15 billion in monthly purchases at this month's meeting. Though the bond-buying program has been the focus as the bank tries to return to normal policy, the U.S. economy still has a long way to go before it will be standing on its own.
The next important step for the Fed will be raising interest rates, something the bank will probably hold off on in the near term in order to keep markets from experiencing more volatility. The bank is also concerned about weakness in inflation, as well as external threats from struggling economies in China and Europe.
Wednesday's forward guidance will be closely watched as investors try to decipher how much weakness the Fed foresees and how long the bank is planning to maintain low interest rates.
In news around the markets:
Time Warner Plans Job Cuts
Time Warner Inc (NYSE: TWX) is planning to cut jobs from several of its networks in an effort to increase profits after rejecting a takeover offer from Twenty-First Century Fox Inc (NASDAQ: FOXA). The network will cut 7 percent of HBO's staff and is planning further cuts at Turner Broadcasting and Warner Bros.
Unmanned Orbital Sciences Rocket Explodes Shortly After Takeoff
An unmanned rocket built by Orbital Sciences Corp (NYSE: ORB) exploded just seconds after takeoff at a Virginia launch pad on Tuesday. The vessel was 14 stories high and was destined for the International Space Station, where it would deliver supplies to the six astronauts currently in orbit. No one was hurt, and the supplies were not crucial to the astronauts' survival, but the accident is NASA's first since the organization began using private operators.
Dendreon Employees Subpoenaed In Federal Investigation
A Federal investigation is looking into whether or not employees of Dendreon Corporation (NASDAQ: DNDN) leaked confidential information which eventually made its way to the market. The Wall Street Journal reported that several of the company's employees have been subpoenaed and made agreements with authorities to speak freely without their statements being used against them. The investigation includes three insider-trading accusations that involve the Centers for Medicare and Medicaid Services and is one of the largest investigations into government leaks on Wall Street in history.
Facebook Warns That Increased Spending May Slow Revenue Growth
Facebook Inc (NASDAQ: FB) showed signs of weakness in its earnings report on Tuesday as the company warned that increased spending could slow revenue growth in 2015, causing shares to drop. Facebook CFO David Wehner said on Tuesday that investment in some of Facebook's new products like WhatsApp and Oculus will fuel a 55 to 75 percent increase in expenses through 2015.
Asian Markets
Asian markets were mostly higher; the NIKKEI was up 1.46 percent, the Shanghai composite rose 1.51 percent, the KOSPI rose 1.84 percent, the Shenzhen composite gained 1.26 percent and the Hang Seng index was up 1.27 percent.
European Markets
European markets were up across the board; the FTSE rose 0.57 percent, the STOXX 600 was up 0.53 percent, the DAX gained 0.91 percent and the CAC 40 rose 0.50 percent.
Energy futures were higher; Brent futures gained 0.35 percent and WTI futures were up 0.42 percent. Gold was flat at $1,229.40 per ounce and silver lost 0.09 percent, while industrial metals were mostly higher with the exception of copper, which lost 0.10 percent. Aluminum was up 0.66 percent, zinc gained 0.04 percent and tin rose 1.53 percent.
Currency markets were quiet; the euro was steady at $1.2729 and lost 0.15 percent against both the yen and the Australian dollar. The dollar lost 0.10 percent to the yen and 0.24 percent to the Australian dollar, but gained 0.04 percent against the pound.
Earnings
Notable reports released on Tuesday included:
Stocks moving in the #PreMarket included:
Vornado Realty Trust (NYSE: VNO) was up 0.19 percent in premarket trade after choppy trading took the stock up 0.71 percent over the past week.
Kinder Morgan Inc (NYSE: KMI) was down 0.43 percent in premarket trade after gaining 1.10 percent over the past five days.
Notable releases expected on Wednesday include:
Economics
Notable economic releases expected on Wednesday include U.S. crude oil inventory data, British consumer credit, British mortgage approvals, Spanish retail sales and the Federal Reserve's policy statement.
For a recap of Tuesday's market action, click here.
Tune in to Benzinga's #PreMarket info show with Rachel Shasha, Fari Hamzei & Sheldon McIntyre here.
View Comments and Join the Discussion!
Posted-In: Earnings News Commodities Forex Economics Pre-Market Outlook Markets Movers