Is Ventas's Astounding 320% 10-Year Shareholder Return Plausible Going Forward? Q3 Earnings & Future Focus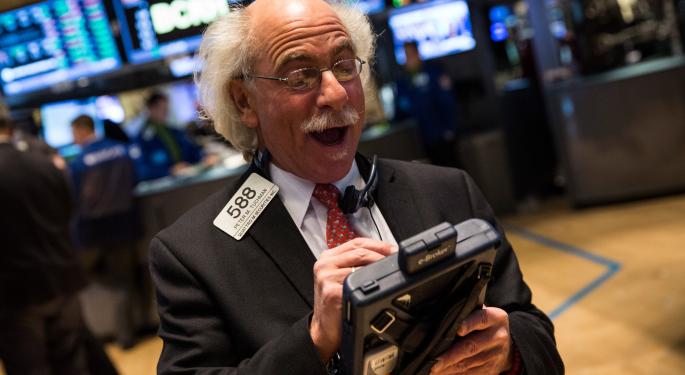 During the past decade or so, investors in this leading health care REIT have been rewarded with outsized gains. What do Q3 earnings and future plans tell investors moving forward?
Past Performance
The Ventas, Inc. (NYSE: VTR) website displays a calculated 10-year total shareholder return of 319.9 percent according to Bloomberg statistics. Keeping in mind that all of the Great Recession years are included in that calculation, that is incredible performance.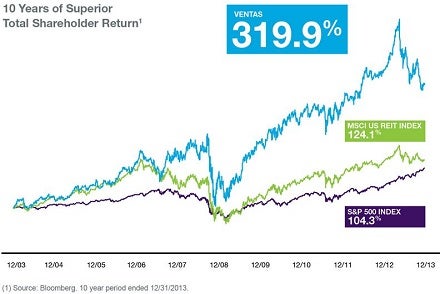 Related Link: Logistics Giant Prologis Shares Global Industrial Outlook During Q3 Earnings Call
Equally impressive is that this chart indicates Ventas, Inc.'s strategy of owning seniors housing, medical office building (MOB) and hospital real estate assets has outperformed both the S&P 500 and the broader REIT during each year.
The Ventas Not-So-Secret-Sauce
Why has Ventas been so successful? Ventas is not a technology company where the next disruptive invention or discovery dries up the moat and crushes its stock price. In fact, ~$20 billion Ventas, much like a fine wine, actually improves with age.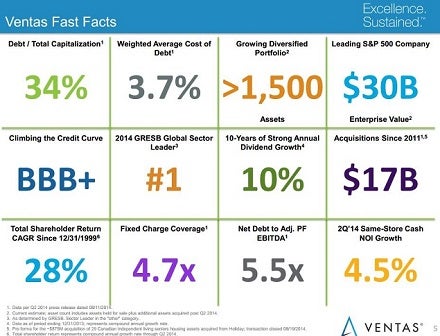 As U.S. "baby boomers" reach retirement age they require on-going health care and specialized housing alternatives. This aging "meta-trend" is a compelling reason why Ventas is worth a closer look for long-term investors.
Ventas Business Model - Focused On Profitable Growth
Longtime Ventas CEO Debra Cafaro observed on the earnings call "…we are good investors, we're consistent investors. We've created a lot of value over a long period of time. And we think when we pick our spots, we can continue to invest accretively and strategically, and we'll continue to be smart investors."
During Q3 Ventas closed $1.1 billion of acquisitions, including the Holiday Retirement portfolio for a purchase price of CA$957 million. During September 2014, Ventas issued CA$650 million of senior notes at a weighted average interest rate of 3.5 percent and maturity of approximately seven years to partially hedge returns on this significant Canadian senior housing investment.
The previously announced Ventas $2.9 billion American Realty Cap Healthcare Trust Inc (NASDAQ: HCT) acquisition continues to be on track for a year-end 2014 closing.
HCT Acquisition Highlights
The acquisition will be "balance sheet friendly," with equity comprising $1.8 to $2 billion of the total acquisition.
Acquiring HCT will add 10 new senior living operators and more than 20 new health systems in the MOB portfolio.
The HCT MOB portfolio is 90 percent occupied with average lease terms of more than eight years, with half of the buildings being newly constructed -- all three of these metrics surpass the current Ventas MOB portfolio.
Ventas expects to sell a pool of "non-strategic" HCT MOB assets as a partial funding source for the acquisition.
How Does Ventas Stack Up vs Peers?
There are three "Big Dogs" in the health care REIT sector based upon market capitalization. The other two REITs with market caps in the $19 to $20 billion range are dividend aristocrat HCP, Inc. (NYSE: HCP) and Health Care REIT, Inc. (NYSE: HCN).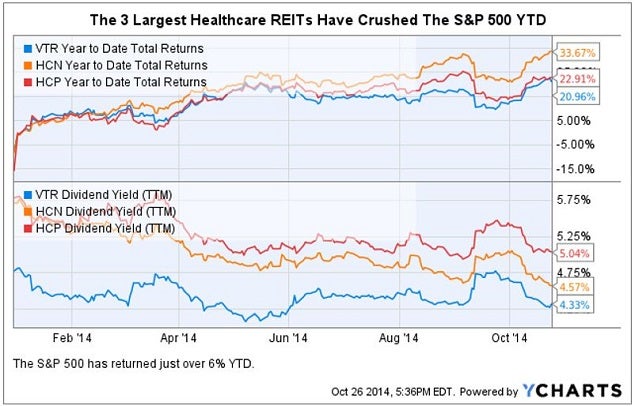 All three of these health care landlords have been active on the acquisition front during 2014. On June 2, Healthcare REIT completed a $1 billion secondary stock offering to fund accretive growth, while HCN, Inc. announced a $1.2 billion JV with Brookdale Asset Management earlier this year.
Ventas Q3 Highlights
Normalized Q3 Funds From Operations (FFO) of $1.12 per share versus $1.04 per share year over year (Y/Y) represents a 9 percent increase.
4.4 percent growth in same store Net Operating Income (NOI) on its senior housing operating portfolio (SHOP) managed by Altria Senior Living, Sunrise Senior Living and Brookdale Senior Living.
Average unit occupancy for SHOP communities increased to 91.4 in Q3, compared to 90.3 percent occupancy in Q2 2014, with a positive net absorption forecast for 2015 as well.
Full year FFO guidance is boosted to $4.44 to $4.47 per share from previous guidance of $4.39 to $4.43 per share -- exclusive of the HCT acquisition.
Ventas Strategy Moving Forward
Ms. Cafaro pointed out during the call that she expected "consolidation and vertical integration trends" in the U.S. health care market to continue.
During the conference call Q&A Cafaro was asked if the Canadian expansion and one recent U.K. expansion might indicate a future trend. She left the door open for international expansions and pointed out that the Ventas model is particularly well suited because of its ongoing reliance on local operating partners.
However, Cafaro emphasized that the "healthy and dynamic" ~$1 trillion U.S. health care market will remain the major focus for Ventas.
Bottom Line
Ventas Q3 earnings and future guidance indicate that the company continues to execute on its strategic plan while managing a solid balance sheet. The aging demographic tailwind combined with a low interest rate environment makes the private pay senior housing sector look attractive moving forward.
However, at a nearly $20-billion market cap, the sheer size and past success of Ventas represents a headwind that makes duplicating the returns of the past decade particularly challenging.
Posted-In: baby boomers Debra CafaroEarnings News REIT Trading Ideas General Real Estate Best of Benzinga
View Comments and Join the Discussion!