#PreMarket Primer: Friday, October 24: Ebola Fears Weigh On Markets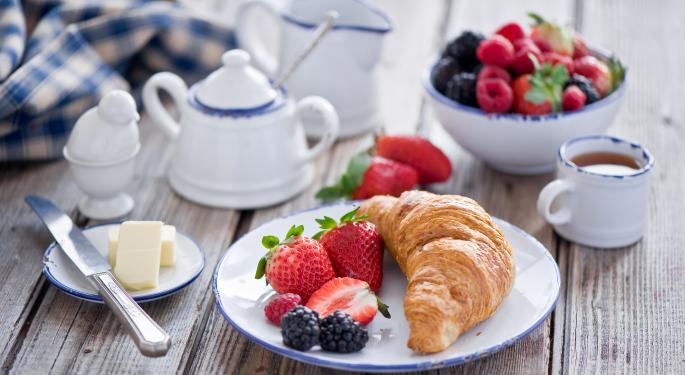 Another case of Ebola in one of America's largest cities has reignited fears about its spread.
Thirty-three-year-old Dr. Craig Spencer contracted the disease while working in West Africa with infected patients through the Doctors Without Borders organization. Spencer was taken into isolation on Thursday when he began showing symptoms, but spent time on the subway, in a taxi and bowling before he was diagnosed.
Health officials are telling NYC residents not to panic as the threat of spread is minimal since Spencer had not shown any symptoms until Thursday when he was quarantined. Still, markets took a hit when the news was released as many began to worry that the epidemic could spread further.
In news around the markets:
More Recalls Increase Concern For Auto Industry
Worries about safety in the auto industry worsened on Thursday after another large automaker issued a recall due to faulty air bags. Germany's Audi AG recalled one of its sedans, saying that problems with the car's internal computer could prevent the airbag from properly deploying. The company said that the problem is not linked to the recent recalls due to Takata Corp's (OTC: TKTDY) air bag defects, which affected roughly 12 million cars around the world.
Amazon Earnings Disappoint, Shares Plummet
Amazon.com, Inc. (NASDAQ: AMZN) posted worse-than-expected earnings for its third quarter due largely to the company's increased spending as it developed new smartphones and other businesses. Shares plummeted following the release, and investors worried about the holiday shopping season as the company forecasted just between 7 and 18 percent revenue growth in the fourth quarter.
Details Emerge For Gunman Who Fatally Shot Canadian Soldier
As more details about the gunman responsible for the fatal shooting of a Canadian soldier surface, it is looking more and more likely that the man, Michael Zehaf-Bibeau, had a political motive. Officials now say he was waiting for his passport to be processed in order to travel to Syria and think that a problem with the processing of the document could have factored in to his mental state. Police are still unclear as to whether or not Zehaf-Bibeau is linked to the man who ran down two Canadian police on Monday.
Hong Kong Demonstrators To Hold Sunday Vote
As the protests in Hong Kong entered the fifth week and an agreement between the protest leaders and the government looked unlikely, the demonstrators are set to hold a vote on Sunday to determine whether or not the people of Hong Kong are behind the protesters' calls for a full democracy. The poll will allow people to vote on some of the reform proposals that the government has rejected and give an idea of how much support these issues have from those outside the student community.
Asian Markets
Asian markets were mostly higher with the exception of the KOSPI and the Hang Seng index, which lost 0.31 percent and 0.13 percent, respectively. The NIKKEI was up 1.01 percent and the Shanghai composite and the Shenzhen composite were both flat.
European Markets
European markets were mostly lower; the FTSE was down 0.24 percent, the STOXX 600 was down 0.12 percent, the DAX lost 0.07 percent and the CAC 40 fell 0.22 percent.
Energy futures were lower; Brent futures lost 0.60 percent and WTI futures were down 0.69 percent. Gold and silver gained 0.17 percent and 0.51 percent, respectively, while industrial metals were down across the board. Copper fell 0.02 percent, aluminum was down 1.19 percent, zinc lost 0.11 percent and tin fell 0.38 percent.
The euro was steady against the dollar at $1.2641, but lost 0.09 percent against the yen and 0.04 percent against the pound. The dollar lost 0.08 percent against the yen, 0.04 percent against the pound and 0.10 percent against the Australian dollar.
Earnings
Notable reports released on Thursday included:
Stocks moving in the #PreMarket included:
Ford Motor Company (NYSE: F) was up 0.83 percent in premarket trade after gaining 1.91 percent on Thursday.
The Bank of New York Mellon Corporation (NYSE: BK) gained 0.69 percent in premarket trade after rising 0.27 percent on Thursday.
Facebook Inc (NASDAQ: FB) was down 0.19 percent in premarket trade after gaining 10.20 percent over the past week.
Notable releases expected on Friday include:
Economics
Notable economic releases expected on Friday include Germany's consumer climate, Italian retail sales, British GDP, Italian consumer confidence and U.S. new home sales.
For a recap of Thursday's market action, click here.
Tune in to Benzinga's #PreMarket info show with Dr. Kris Andersen, Timothy McDermott & Jonathan Corpina here.
Posted-In: Amazon.comEarnings News Commodities Forex Economics Pre-Market Outlook Markets
View Comments and Join the Discussion!