#PreMarket Primer: Wednesday, October 22: Johnson & Johnson Develops Ebola Vaccine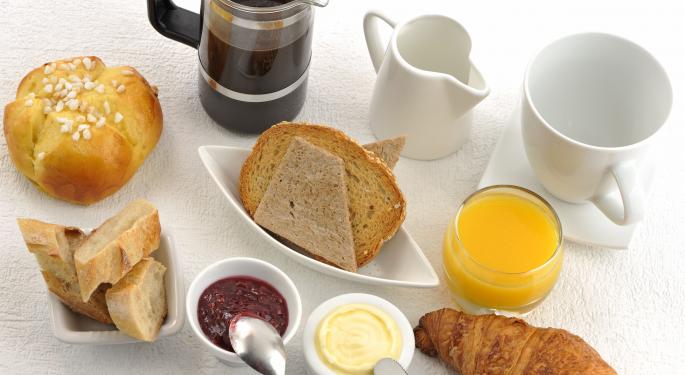 Johnson & Johnson (NYSE: JNJ) has developed a vaccine to fight Ebola and will begin testing the drug on humans in January.
If the vaccine is deemed safe by health authorities, the company could make 250,000 doses available by May.
The vaccine will be the world's first and is expected to perform well in human trials as earlier tests on monkeys suggested that the drug was both safe and effective.
In news around the markets:
Apple, GT Advanced Technologies Part Ways
Apple Inc. (NASDAQ: AAPL) has agreed to an "amicable parting of the ways" with GT Advanced Technologies Inc (OTC: GTATQ), according to the company's lawyer, Luc Despins. The Wall Street Journal reported that together with Apple, GT Advanced will revise part of its bankruptcy filing in order to remove the flaws in their relationship from public records. Apple initially set up a $578 million agreement for the company to create a synthetic sapphire screen for the new iPhones, but Apple ended up using screens made by Corning Incorporated (NYSE: GLW) instead.
U.S. Places Restrictions On Travelers From West Africa
On Tuesday, U.S. officials put travel restrictions in place on travelers coming from West Africa in an effort to contain the spread of the Ebola virus. Now, planes coming from that region will only be allowed to arrive in New York, New Jersey, Virginia, Atlanta and Chicago, where screenings for the virus are more rigorous. The Department of Homeland Security has said the restrictions will go into effect on Wednesday.
Depressed Global Economies Create Concern for U.S.
Despite increasingly stable economic conditions in the U.S., many are bracing themselves for another fall as other major economies across the globe present a problem for America. Both Europe and China are facing sluggish growth and slow demand, something that could hinder U.S. growth in the future. Although the economy has shown signs of improvement over the past few months, in order to sustain its growth, international demand and a stable global market will be necessary.
Hong Kong Talks Between Government, Protesters Ends In Stalemate
Protests in Hong Kong continued on Wednesday after talks between protest leaders and the government ended in a stalemate. The demonstrations have cut off crucial roads in downtown Hong Kong and disrupted transportation for nearly a month as students push for the rights of a full democracy. Most are not expecting to see the two sides come to an agreement any time soon as the government has said it would be impossible to change the rules governing elections.
Asian Markets
Asian markets were mostly higher with the exception of China's Shanghai and Shenzhen composites, which lost 0.57 percent and 1.11 percent, respectively. The NIKKEI was up 2.64 percent, the KOSPI gained 1.13 percent and the Hang Seng index rose 1.37 percent.
European Markets
European markets got off to a rocky start on Wednesday with the majority of indexes moderately lower. The FTSE fell 0.36 percent, the STOXX 600 was down 0.17 percent, the CAC 40 lost 0.22 percent and the MIB was down 0.30 percent.
Energy futures were higher; Brent futures rose 0.44 percent and WTI futures gained 0.29 percent. Gold and silver lost 0.19 percent and 0.42 percent, respectively, while industrial metals were mostly higher with the exception of zinc, which lost 0.23 percent. Copper gained 0.25 percent, aluminum was up 0.96 percent and tin rose 0.49 percent.
The euro lost some ground on Wednesday after the European Central Bank signaled that it was open to considering expanding its bond-buying program. The common currency lost 0.17 percent against the dollar and 0.25 against the yen, but gained 0.04 percent against the pound. The dollar was also lower against the yen, down 0.07 percent, but gained 0.25 percent against the pound and 0.09 percent against the franc.
Earnings
Notable reports released on Tuesday included:
Stocks moving in the #PreMarket included:
Notable releases expected on Wednesday include:
Economics
Several notable economic releases are due out on Wednesday including U.S. retail sales, U.S. CPI, Japanese manufacturing PMI and China's HSBC manufacturing PMI.
Tune into Benzinga's #PreMarket info show with Scott Redler, Fari Hamzei & Dave Landry here.
Posted-In: Apple Inc.Earnings News Commodities Forex Pre-Market Outlook Markets Movers
View Comments and Join the Discussion!