#PreMarket Primer: Friday, October 17: CDC Under Fire As Ebola Panic Grows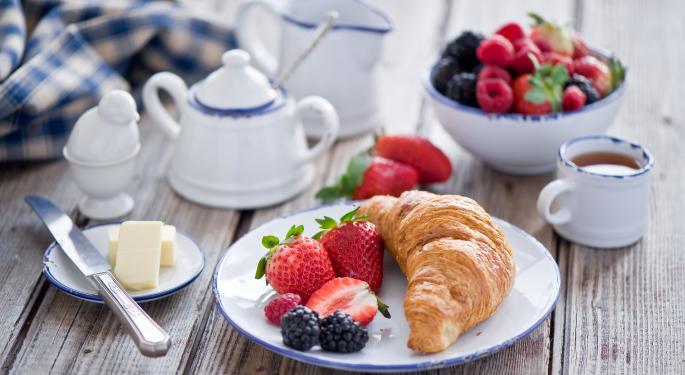 After a second case of Ebola among nurses working with a Liberian man surfaced, Americans began to worry about the disease spreading across the country.
The second nurse, Amber Joy Vinson, took a flight to and from Cleveland while exhibiting symptoms of the disease, something that could have exposed hundreds more, though the chances are slim.
On Thursday, Congress began a probe into the capability of U.S. health care organizations to handle the deadly disease in an effort to calm public fears and better understand how the contamination took place.
In news around the markets:
U.S.-Led Airstrikes Slowing Islamic State Militants
After two days of continuous airstrikes in and around the Syrian border town of Kobani, it seemed that Islamic State militants' forward push has been halted. They nearly overtook the town by attacking from three sides, but a series of U.S.-led airstrikes has slowed the group's advances. Despite the gains made in Kobani, the town remains in jeopardy as the Kurdish forces tasked with defending the town are under-armed.
Better Employment Data Calms Fears For U.S. Economy
On Thursday, employment data helped mitigate worries about the U.S. economy due to poor retail sales and consumer sentiment data released earlier in the week. Initial unemployment claims fell by 23,000 last week, the lowest the figure has been since April of 2000. The report helped take some pressure off of U.S. stocks, which have been sharply declining due to worries about plunging oil prices and a faltering global economy.
CBS Offers Online Subscription Service
CBS Corporation (NYSE: CBS) is tossing its hat into the online subscription service arena with a new streaming services called CBS All Access. The online platform will allow viewers to access new and old programs, as well as watch a live feed of its broadcast network for $5.99 per month. CBS is setting itself apart by offering the online service without any connection to another online streaming service like Hulu, meaning that anyone with an Internet connection can sign up.
Talks Between Ukraine And Russia Yield Few Results
Russian President Vladimir Putin and Ukrainian President Petro Poroshenko sat down with European Union leaders on Thursday night to try to come to an agreement over natural gas supplies and the fragile ceasefire in Ukraine. However, the two made little progress and sanctions against Russia remained in place. The Kremlin released a statement saying that the two disagreed over the cause of the conflict in Ukraine and were unable to compromise on their opinions.
Asian Markets
Asian markets were mostly lower with the exception of the Hang Seng index, which gained 0.53 percent. The NIKKEI was down 1.40 percent, the Shanghai composite lost 0.64 percent, the KOSPI fell 0.95 percent and the Shenzhen composite was down 0.62 percent.
European Markets
European markets rebounded; the FTSE rose 0.95 percent, the STOXX 600 was up 1.46 percent, the DAX and the CAC 40 both gained 1.62 percent and the MIB was up 1.89 percent.
Energy futures made modest gains; Brent futures rose 0.10 percent and WTI futures were up 0.18 percent. Gold and silver lost 0.11 percent and 0.07 percent, respectively, and industrial metals were also lower. Copper fell 0.89 percent, aluminum was down 0.31 percent, zinc fell 2.57 percent and tin was down 1.84 percent.
The euro continued its downward spiral, trading at $1.2785 and losing 0.03 percent to the yen and 0.04 percent to the pound. The dollar gained, rising 0.22 percent against both the yen and the pound and 0.18 percent against the franc.
Earnings
Notable reports released on Thursday included:
Stocks moving in the #PreMarket included:
Notable releases expected on Friday include:
Economics
Friday will be another quiet day for economic data, with releases including U.S. building permits, U.S. housing starts and U.S. consumer sentiment.
For a recap of Thursday's market action, click here.
Tune into Benzinga's#PreMarket Prep with Tony Posawatz, John Ramsay & Jay Hatfield here.
Posted-In: CBS CorporationEarnings News Commodities Forex Economics Pre-Market Outlook Markets
View Comments and Join the Discussion!