Delta Air Lines Earnings Preview: Can It Overcome Headwinds?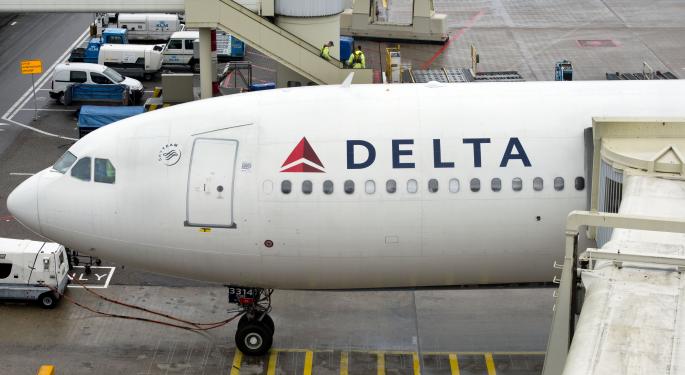 Delta Air Lines, Inc. (NYSE: DAL), which like its rivals has seen shares suffer due to the Ebola scare, is scheduled to report its third quarter results Thursday, October 16, before the markets open.
Can investors have any hope for another big positive earnings surprise like the one back in the first quarter? While fuel prices remained low in the quarter and the September operating performance report offered little for investors to worry about, those concerns about a possible spread of Ebola could have scared away passengers and caused delays.
See also: 2 Transportation ETFs Breakout
Expectations
Analysts on average predict Delta Air Lines will report that its revenue for the quarter increased about 6 percent year over year to $11.12 billion. Yet, earnings of $1.18 per share are also in the consensus forecast. That would be down from a reported profit of $1.41 per share in the comparable period of last year.
Note that the consensus earnings per share (EPS) estimate has dropped in the past 60 days from $1.23, and individual estimates now only range from $1.15 to $1.22. Earnings have not fallen short analysts' expectations in the previous four quarters, though. The consensus estimate was spot on in the previous quarter.
In the second quarter report, the CEO said, "Delta's performance this quarter ... shows the financial strength and resilience of our company. We expect our September quarter performance will be even stronger, as we expand our operating margins to 15-17% and further improve our profitability." The share price fell almost 3 percent following the second quarter report.
Looking ahead, the forecast for the current quarter so far calls for revenue up less than 5 percent than a year ago, along with EPS just a penny higher. Full-year revenues are predicted to be up more than 6 percent, while earnings are about 2 percent higher than in the previous year.
The Company
Delta Air Lines provides scheduled air transportation services for passengers and cargo worldwide with a fleet of about 700 aircraft. It has gateway airports from Amsterdam to Atlanta, Tokyo to Minneapolis, Paris to Seattle. It sells tickets through various distribution channels, including Delta.com, and also offers charters and aircraft maintenance and repair services.
This S&P 500 component has a market capitalization near $27.5 billion, and it is headquartered in Atlanta. The company was founded in 1924. Richard H. Anderson has been chief executive since September 2007.
Delta Air Lines' competitors include American Airlines, for which strong growth on the top and bottom lines are forecast for the third quarter, as well as United Continental, which is also expected to offer up strong earnings growth in its next quarterly report. Both are expected to report next week.
During the three months that ended in September, Delta briefly suspended service to Tel Aviv, declared a dividend, announced some executive changes, warned of possible fuel price increases, offered early retirement to some pilots and said it would expand its Los Angeles hub.
See also: Airlines Rally; Imperial Capital Says Fuel Trend 'Largely Overlooked'
Performance
Delta has a long-term earnings per share growth forecast of more than 12 percent, and its price-to-earnings (P/E) ratio is less than the industry average. Its operating margin is greater than the industry average, and it has a return on equity of about 122 percent. It offers a dividend yield near 1.1 percent.
Note that the number of Delta shares sold short, as of the most recent settlement date, represented more than 2 percent of the total float. That was the highest level of short interest so far this year after rising since the end of July. At the current average daily volume, it would take less than two days to close out all short positions.
All of the 18 analysts surveyed by Thomson First Call who follow the stock recommend buying Delta shares. Six of them rate the stock at Strong Buy. The analysts' mean price target, or where they expect the share price to go, is about 36 percent higher than the current share price, now that shares have plunged.
Shares are down more than 18 percent since the beginning of September, despite a more than 6-percent pop on Tuesday. They have fallen well below the 50-day and 200-day moving averages. Over the past six months, the stock has underperformed United Continental and the S&P 500, but it outperformed American Airlines.
At the time of this writing, the author had no position in the mentioned equities.
Keep up with all the latest breaking news and trading ideas by following us on Twitter.
Posted-In: American Airlines Delta Air Lines united continentalEarnings News Previews Top Stories Trading Ideas Best of Benzinga
View Comments and Join the Discussion!