Earnings Expectations For The Week Of October 13: The Crunch Is On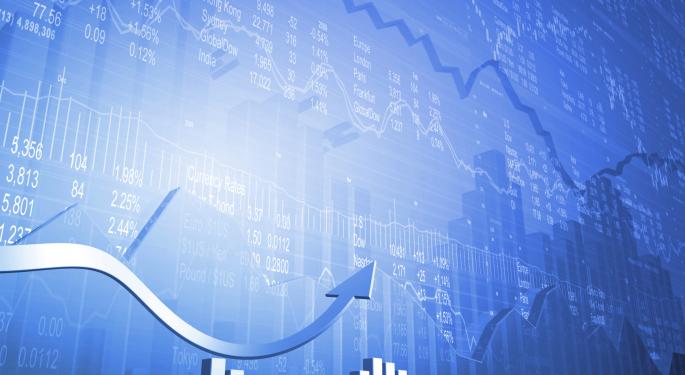 The new earnings crunch is on, and this week brings a good look at state of the big banks, some key technology and Internet players, and others.
Expectations are high for the likes of Goldman Sachs Group Inc (NYSE: GS), Google Inc (NASDAQ: GOOGL) and Intel Corporation (NASDAQ: INTC).
Modest growth on the top and bottom lines is forecast for Citigroup Inc (NYSE: C), General Electric Company (NYSE: GE) and Wells Fargo & Co (NYSE: WFC), but expectations are low for Bank of America Corp (NYSE: BAC).
Here is a closer looked at what is expected from some of the most prominent quarterly reports scheduled for this week.
See also: Is McDonald's Going Fast Casual?
Big Banks
Citigroup Inc, JPMorgan Chase & Co. (NYSE: JPM) and Wells Fargo & Co start things off Tuesday morning for the big banks and other financials. Analysts predict JP Morgan will post its earnings per share (EPS) of $1.38, compared to a net loss a year ago. Revenue of $24 billion would be hardly higher than last year. As referenced above, Citigroup and Wells Fargo are expected say EPS were up more than 10 percent to $1.12 and about 3 percent to $1.02, respectively. Revenue growth of at least 3 percent is predicted for both as well.
Analysts are looking for EPS of $3.20 on revenue of $7.78 billion when Goldman Sachs Group Inc reports Thursday morning. That would be up from last year's reported $2.88 per share and $6.72 billion. Expectations for Morgan Stanley Inc's (NYSE: MS) report on Friday morning are more modest: earnings of $0.54 (up more than 7 percent) and $8.16 billion in revenue (essentially flat).
When Bank of America shares its latest results before the opening bell Wednesday, it will post a net loss of $0.09 per share on revenue of $21.35 billion, if analysts are correct. That would compare to a reported profit of $0.20 per share and $21.53 billion in revenue in the year-ago period.
Others forecast to show earnings growth this week include American Express, Bank of New York Mellon, BB&T, Capital One Financial and Northern Trust. Earnings declines are expected from Keycorp, Fifth Third Bancorp and PNC Financial Services.
Technology
Intel steps into the earnings spotlight Tuesday after the markets close. The consensus forecast calls for $0.65 EPS and revenue of $14.44 billion, which would be up from $0.58 per share and $13.48 billion in the same period of the previous year.
Google's report Thursday afternoon will no doubt be one of the highlights of the week. For its A shares (GOOGL), the forecast calls for EPS growth of nearly 18 percent to $6.54 and revenue up more than 11 percent to $16.59 billion. For the C shares (GOOG), which were created by the stock split earlier this year, earnings of $6.33 per share and revenue of $13.22 billion are expected.
Advanced Micro Devices, Inc. (NYSE: AMD) and International Business Machines Corp. (NYSE: IBM) are also scheduled to report late Thursday. For the former, the forecast calls for $0.04 EPS and $1.47 billion in revenue, or essentially the same as a year ago (though results may be overshadowed by what the unexpected CEO change means). The latter is expected to say EPS were up more than 7 percent to $4.32, but on a revenue decline of more than 1 percent to $23.41 billion.
When eBay Inc (NASDAQ: EBAY) reports late Wednesday, look for EPS up more than 4 percent to $0.67 and revenue of $4.37 billion, which would be more than 12 percent higher, relative to a year ago.
Cypress Semiconductor and Linear Technology are also expected to offer earnings growth, but EPS from SanDisk will be smaller, if the consensus forecast is accurate.
See also: How To Use S&P 500 Futures To Predict Market Movement
And Others
The forecast for General Electric Company (NYSE: GE) calls for EPS of $0.38 and $36.81 billion in revenue when it shares its results first thing Friday. That would be up from $0.36 and $35.72 billion in the year-ago quarter.
Analysts, on average, believe Johnson & Johnson (NYSE: JNJ) will say Tuesday morning that its per-share earnings rose less than 6 percent to $1.44 and revenue totaled $18.38 billion, or up more than 6 percent from a year ago.
Other anticipated earnings gainers for the week include Baker Hughes, CSX, Honeywell International, Kinder Morgan, Las Vegas Sands, Netflix and St. Jude Medical. On the other hand, EPS at UnitedHealth Group are expected to be the same as a year ago, and earnings declines are forecast for Mattel, Philip Morris International and SUPERVALU.
Keep up with all the latest breaking news and trading ideas by following Benzinga on Twitter.
View Comments and Join the Discussion!
Posted-In: Bank of America Citigroup GE Goldman SachsEarnings News Previews Trading Ideas Best of Benzinga