#PreMarket Primer: Friday, October 3: JP Morgan Suffers Largest Cyberattack Against A Financial Institution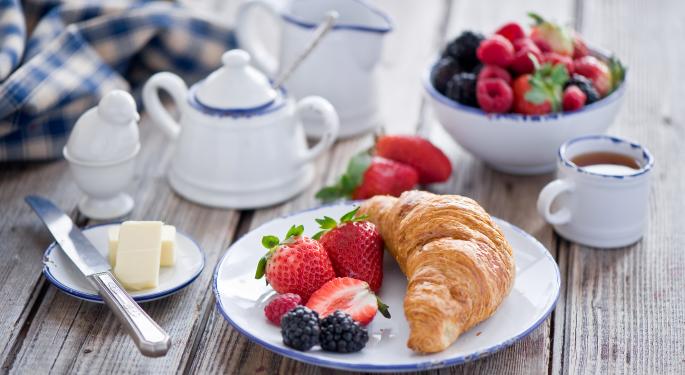 JPMorgan Chase & Co. (NYSE: JPM) reassured its customers that their money was safe, but disclosed that 76 million households were affected by a hacking attack on the company's data.
Over the summer, the bank's cyber security was breached allowing hackers access to customer data like emails, phone numbers and physical addresses. The bank said that more detailed information such as Social Security numbers, account information and passwords were not compromised, but that any unauthorized purchases should be reported to the bank so that the customer was not held liable.
The incident, which was the largest data breach to a financial institution, raises valid concerns about the U.S. financial system's vulnerability to a cyberattack.
In other news around the markets:
CDC Screens More People For Ebola
U.S. health officials are screening around 100 people who potentially came into contact with Thomas Eric Duncan, a man who returned to the United States from Liberia on September 20 and contracted the Ebola virus. The number of people being screened has been raised as the Centers for Disease Control is trying to be overly cautious in order to ensure that the virus doesn't spread. Duncan's family members have been ordered to remain inside their home without any visitors until October 19, when the 21-day incubation period for the virus has passed.
Hong Kong Chief Executive Won't Step Down, Protests Continue
On Friday, protesters throughout Hong Kong continued to call for Chief Executive Leung Chun-ying to resign. Leung made it clear he will not consider stepping down, but offered to meet with protesters to discuss how to move forward from this stalemate. Protest groups have threatened to escalate their demonstrations if their demand for full democracy is not met, but Hong Kong's police force warned that it is ready to use force to prevent demonstrators from occupying government buildings.
Data Show China Needs Economic Boost
Services PMI data from China showed that the nation's service sector expanded at its slowest rate in eight months in September. The nation's official non-manufacturing PMI reading fell to 54.0 in September from 54.4 in August, another sign that the nation's economy will need further stimulus from Beijing.
Facebook Moves To Compete In Health Care
Reuters reported that Facebook Inc (NASDAQ: FB) is in the beginning stages of developing new features that will help the company compete with companies like Apple Inc. (NASDAQ: AAPL) and Google Inc (NASDAQ: GOOG) in the health care sector. The company is looking into using online communities to help users connect to others who deal with similar health concerns and offering applications that help its users improve their lifestyle.
Asian Markets
Asian markets were mostly higher with the exception of the KOSPI, which lost 0.77 percent, and the Shanghai composite, which remained flat. The NIKKEI was up 0.30 percent, the Shenzhen composite rose 0.54 percent and the Hang Seng index was up 0.61 percent.
European Markets
European markets were mostly higher with the exception of the DAX, which fell 1.99 percent. The FTSE was up 0.70 percent, the STOXX 600 was up 0.47 percent, the CAC 40 gained 0.55 percent and the MIB was up 0.78 percent.
Energy futures were higher; Brent futures rose 0.52 percent and WTI futures were up 0.62 percent. Gold and silver lost 0.64 percent and 0.16 percent, respectively, while industrial metals were mixed. Copper gained 0.10 percent and tin was up 0.02 percent, but aluminum was down 1.64 percent and zinc lost 0.75 percent.
The euro was steady at $1.2645 after making some gains following the ECB meeting on Thursday. The common currency gained 0.09 percent against the yen and 0.10 percent against the pound. The dollar was also on the rise, gaining 0.27 percent against the yen, 0.25 percent against the pound and 0.16 percent against the Australian dollar.
Notable earnings released on Thursday included:
Constellation Brands, Inc (NYSE: STZ) reported second quarter EPS of $1.11 on revenue of $1.61 billion, compared to last year's EPS of $0.96 on revenue of $1.46 billion.
McCormick & Company, Incorporated (NYSE: MKC) reported third quarter EPS of $0.95 on revenue of $1.04 billion, compared to last year's EPS of $0.78 on revenue of $1.02 billion.
Global Payment Inc. (NYSE: GPN) reported first quarter EPS of $1.10 on revenue of $704.90 million, compared to last year's EPS of $1.00 on revenue of $629.68 million.
Stocks moving in the #PreMarket included:
Earnings
No notable earnings releases expected on Friday.
Economics
PMI data will dominate Friday's economic calendar with services PMI reports due out form the eurozone, Spain, Italy, France, Germany, the U.K. and the U.S. Other notable releases include eurozone retail sales, the U.S. trade balance and the U.S. non-farm payrolls report.
For a recap of Thursday's market action, click here.
Tune into Benzinga's #PreMarket Prep show with Christian Tharp, Jim Tassoni & Todd Schoenberger here.
Posted-In: Apple Inc. FacebookEarnings News Commodities Forex Pre-Market Outlook Markets
View Comments and Join the Discussion!