Stocks Record Weakest Week In Month Despite Friday Rally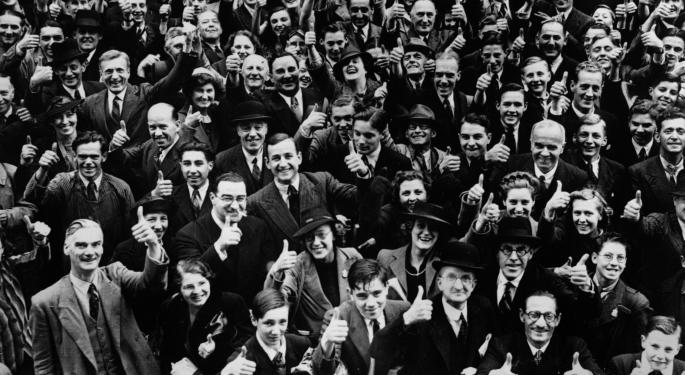 Stocks recorded the most losses in a month this past week. The S&P 500 gave up 1.4 percent, the Dow Jones Industrial average dropped 1 percent and the Nasdaq fell 1.6 percent.
Daily Change
The Dow Jones Industrial Average rose 167.4 points, or 0.99 percent, to close at 17,113.
The S&P 500 added 16.9 points, or 0.86 percent, to close at 1,983.
The Nasdaq climbed 45.5 points, or 1.02 percent, to close at 4,512.
Top Stories
The final estimate of second quarter GDP is 4.6 percent. This is an increase from the second reading of 4.2 percent and the first quarter's sharp 2.1 percent decline.
Bill Gross, founder of PIMCO, is leaving his company to join Janus Capital. The announcement follows a record amount of capital leaving the firm last year and conflict with other managers. Gross said, "I look forward to returning my full focus to the fixed income markets and investing, giving up many of the complexities that go with managing a large, complicated organization."
Yahoo (NASDAQ: YHOO) and AOL (NYSE: AOL) shares spiked higher after activist hedge fund Starboard said it would push for Yahoo to acquire AOL and sell its non-core assets. According to Starboard, the deal could create more than $1 billion in synergies.
Stock Movers
Shares of Nike (NYSE: NKE) got a boost, shooting up 12.2 percent to $89.50 after the company reported stronger than expected fiscal first quarter results. Analysts at Bank of America and Janney Capital released positive notes on the company.
Micron Technology (NASDAQ: MU) shares were also up, gaining 6.7 percent to $33.83 after the company posted better than expected fiscal fourth quarter results and issued a strong revenue forecast for the fiscal first quarter.
Shares of Finish Line (NASDAQ: FINL) were down 14.6 percent to $25.11 after the company reported downbeat second quarter results.
Powell Industries (NASDAQ: POWL) shares tumbled 8.4 percent to $45.54 after the company lowered its FY14 outlook.
Philip Morris International (NYSE: PM) was down, falling 0.6 percent to $83.23. Analysts at Bank of America downgraded Philip Morris International from Buy to Neutral and lowered the target price to $87.
Commodities
Gold have been trading in a tight range ($1,210 to $1,230) for the past several sessions. The commodity sold off after reaching the top of the range Friday, closing down 0.4 percent at $1,216.27
After a bounce higher Thursday, crude oil is once again within 1 percent of making a new low. Contracts fell 0.21 percent to $91.35 on the session.
Global Markets
Asian markets ended the week mixed. The Shanghai index rose 0.11 percent with Hong Kong's Hang Seng down 0.38 percent. Japan's Nikkei gave up 0.88 percent on the session.
Europe, on the other hand, moved higher. The Euro Stoxx index, which tracks 50 blue chips, rose 0.54 percent, London's FTSE added 0.15 percent and France's CAC gained 0.91 percent.
Currencies
The dollar made another new high Friday after gained 0.51 percent to 85.63 on the U.S. Dollar Index. The greenback is the strongest it has been since 2010 and is within 5 percent of an eight-year high.
Posted-In: Bill Gross dollar Gold Oil PIMCOEarnings News After-Hours Center Best of Benzinga
View Comments and Join the Discussion!