#PreMarket Primer: Friday, September 26: US Coalition Picks Up A New Supporter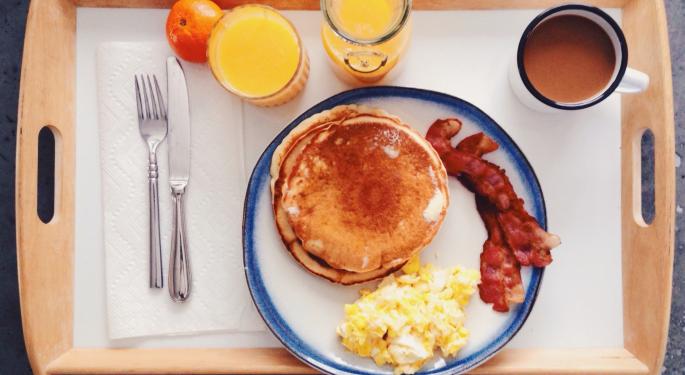 Britain announced that it was going to join the U.S.-led airstrikes against Islamic militants in Syria and Iraq after weeks of considering the decision.
On Thursday, Prime Minister David Cameron announced his willingness to participate and called for a parliamentary vote on Friday to approve the nation's participation.
Meanwhile, France sent fighter jets to hit ISIS targets in Iraq on Thursday following the beheading of a French tourist in Algeria. The militant group said the beheading was retaliation for France's decision to join the campaign against ISIS.
In news around the markets:
New York, Paris Increase Security After ISIS Threat
New York and Paris beefed up security around the city after Iraqi Prime Minister Haider al-Abadi said officials had received what he deemed a credible threat that ISIS was planning to attack both cities' subway systems. New York Governor Andrew Cuomo and Mayor Bill de Blasio both took subway rides and made announcements on Thursday, assuring New Yorkers that increased security was necessary, but that there was no immediate threat to the city's safety.
Chiquita, Fyffes Revise Merger Deal
On Friday, Chiquita Brands International Inc (NYSE: CQB) and Fyffes plc revised the terms of their merger deal in order to give Chiquita a larger share of the new company. The revision is likely a ploy to move the deal along as it came shortly after Chiquita delayed its share holder vote in order to allow Brazilian orange juice producer Cutrale Group and investment firm Safra Group to make an acquisition offer.
Intel Invests In Smartphone Computer Chips
Intel Corporation (NASDAQ: INTC) is planning to spend about $1.5 billion in order to buy a 20-percent stake in Tsinghua Unigroup, a move that will help the company expand further into the smartphone market. Tsinghua owns Spreadtrum Communications and RDA Microelectronics, companies that manufacture smartphone computer chips. When the deal is completed, Intel is expected to team up with the Chinese corporation to make a new line of chips.
Apple Defends iPhone Hardware
On Thursday, Apple Inc. (NASDAQ: AAPL) defended its new iPhone 6 and 6 Plus from rumors that it bends easily, which have been circulating on social media. Videos showing users easily bending the phones with their hands and complaints that the phones warped from being sat on in a user's back pocket quickly grabbed popular attention and created a public relations nightmare for Apple. However, the company said only nine customers have come to the company with this complaint and that the company is confident that this is a rare problem, as the phones were extensively tested for their durability.
Asian Markets
Asian markets were mostly lower; the NIKKEI was down 0.88 percent, the KOSPI fell 0.12 percent and the Hang Seng index lost 0.38 percent. Only China's Shanghai composite and Shenzhen composite gained, up 0.14 percent and 0.20 percent, respectively.
European Markets
Europe's markets were mostly lower, except France's CAC 40 and Italy's MIB, which gained 0.04 percent and 0.24 percent, respectively. The FTSE was down 0.29 percent, the STOXX 600 fell 0.22 percent, the DAX lost 0.27 percent and the IBEX fell 0.11 percent
Energy futures were lower; Brent futures lost 0.18 percent and WTI futures were down 0.12 percent. Gold and silver gained 0.41 percent and 1.04 percent, respectively, while industrial metals were mostly lower with the exception of copper, which gained 0.21 percent. Aluminum was down 1.19 percent, zinc lost 0.66 percent and tin fell 2.47 percent.
The euro was steady at $1.2744 after recovering from yesterday's losses and gained 0.25 percent against the yen. The dollar gained 0.28 percent against the yen, 0.15 percent against the Australian dollar and 0.02 percent against the pound.
Earnings
Notable earnings released on Thursday included:
Stocks moving in the #PreMarket included:
Notable earnings expected on Friday include:
BlackBerry Ltd (NASDAQ: BBRY) is expected to report a second quarter loss of $0.16 on revenue of $942.93 million, compared to last year's loss of $0.47 on revenue of $1.57 billion.
Finish Line Inc (NASDAQ: FINL) is expected to report second quarter EPS of $0.60 on revenue of $477.61 million, compared to last year's EPS of $0.54 on revenue of $436.03 million.
Economics
U.S. data will be the focus on Friday's economic calendar with GDP, consumer sentiment, consumer spending and current conditions data all set to be released. Other notable releases will include Italian business confidence, French consumer confidence and Germany's consumer climate data.
For a recap of Thursday's market action, click here.
Tune into Benzinga's #PreMarket Prep show with Rachel Shasha, Dirk Friczewsky & Greg Michalowski here.
Posted-In: Earnings News Emerging Markets Commodities Forex Economics Pre-Market Outlook Markets
View Comments and Join the Discussion!