#PreMarket Primer: Friday, September 19: Scottish Independence Supporters Narrowly Defeated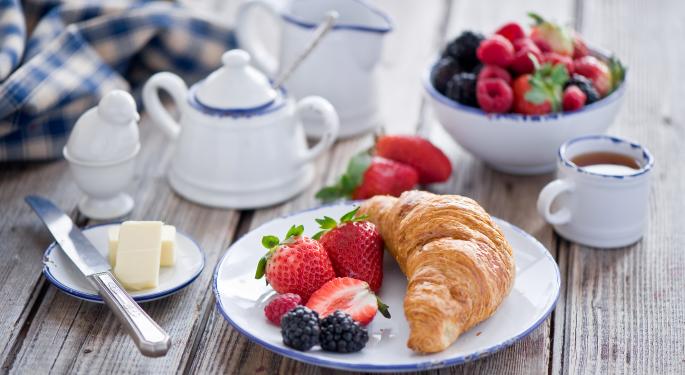 Scottish election officials confirmed that pro-U.K. voters outnumbered independence supporters in a highly anticipated election that brought out 89 percent of the nation's registered voters. "No" votes made up just 54 percent of the election, a narrow victory that has many asking if this vote is only the beginning.
Scottish nationalists have said they don't see the issue going away any time soon and that this referendum is only the beginning. The controversy in Scotland is likely to reignite nationalist movements across the eurozone as radical political parties calling for separation from the eurozone gain momentum across the region.
In other news around the markets:
On Thursday, Alibaba Group Holding (NYSE: BABA) raised $21.8 billion in its initial public offering, one of the largest ever. The Chinese e-commerce company priced its shares at $68, the high end of the expected range. The high share price values the company at $167.6 billion, leading many analysts to put Alibaba in the same class as Google (NASDAQ: GOOG) or Apple (NASDAQ: AAPL).
ISIS released a new video on social media Thursday showing a British journalist who claims he is going to "convey some facts" about the group via a series of "programs." The video follows three others, which all depicted the beheading of both American and British citizens in what ISIS claimed was retaliation for U.S. airstrikes in Iraq and Syria. This video stands out, as it suggests that there will be others to follow and did not threaten his life.
Home Depot (NYSE: HD) has said that around 56 billion customer payment cards may have been at risk following a cyber attack that began back in April.The company estimated that the hacking incident is going to cost them $62 million, but has said it will take more time to determine how much damage has been done.
On Thursday, Oracle Corporation (NYSE: ORCL) announced that Larry Ellison, the company's co-founder and CEO will be replaced by Safra Catz and Mark Hurd, who will become co-CEOs. Although Ellison was widely expected to step down soon amid criticism of the direction of the company, his decision to leave came earlier than most had been speculating. Following the announcement, Oracle shares lost about 2 percent as investors worried about Oracle's future with Hurt and Catz at the helm.
Asian Markets
Asian markets were up across the board; the NIKKEI rose 1.58 percent, the Shanghai composite gained 0.57 percent, the KOSPI rose 0.30 percent, the Shenzhen composite was up 0.87 percent and the Hang Seng index rose 0.57 percent.
European Markets
Europe's markets were also higher; the FTSE gained 0.72 percent, the STOXX 600 was up 0.81 percent, the DAX rose 0.81 percent and the CAC 40 was up 0.50 percent.
Commodities
Energy futures were lower as a global supply glut depressed prices. Brent futures lost 0.11 percent and WTI futures were down 0.58 percent. Gold and silver lost 0.30 percent and 0.23 percent, respectively, but industrial metals were mostly higher, with the exception of aluminum, which lost 0.83 percent. Copper gained 0.03 percent, zinc rose 0.10 percent and tin was up 0.47 percent.
The euro continued its slide on Friday, losing 0.32 percent against the dollar, 0.28 percent against the pound and 0.10 percent against the yen. The dollar gained against most of its peers, up 0.22 percent against the yen, 0.08 percent against the pound and 0.52 percent against the Australian dollar.
Earnings
Notable earnings released on Thursday included:
Oracle Corporation (NASDAQ: ORCL) reported first quarter EPS of $0.62 on revenue of $8.60 billion, compared to last year's EPS of $0.59 on revenue of $8.77 billion.
Rite Aid Corporation (NYSE: RAD) reported second quarter EPS of $0.13 on revenue of $6.52 billion, compared to last year's EPS of $0.03 on revenue of $6.28 billion.
ConAgra Foods, Inc. (NYSE: CAG) reported first quarter EPS of $0.39 on revenue of $3.70 billion, compared to last year's EPS of $0.37 on revenue of $4.20 billion.
IHS Inc. (NYSE: IHS) reported third quarter EPS of $1.49 on revenue of $556.00 million, compared to last year's EPS of $1.27 on revenue of $480.29 million.
Stocks moving in the Premarket included:
No notable earnings releases expected on Friday.
Economics
European data will dominate Friday's economic calendar with releases including German PPI and the eurozone current account. Other notable releases will include the U.S. CP leading index and Canadian CPI.
For a recap of Thursday's market action, click here.
Tune into High Frequency Friday on Benzinga's pre-market info show with Joe Saluzzi, Haim Bodek, Eric Hunsader, Ezra Rapoport, Larry Tabb, Dave Lauer & Chris Nagy here.
Posted-In: Alibaba home depot OracleEarnings News Commodities Pre-Market Outlook Markets
View Comments and Join the Discussion!