Earnings Expectations For The Week Of September 15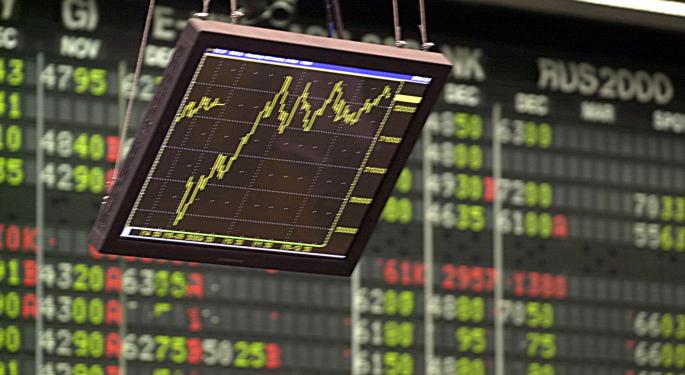 Ostensible economic bellwether FedEx (NYSE: FDX) is scheduled to step into the earnings spotlight midweek, and the consensus forecast calls for earnings growth.
Analysts are also looking for earnings growth from homebuilder Lennar (NYSE: LEN), tech giant Oracle (NYSE: ORCL) and retailer Rite Aid (NYSE: RAD) this week. However, ConAgra Foods (NYSE: CAG) and General Mills (NYSE: GIS) are expected to offer up earnings declines.
ConAgra Foods
The fiscal first-quarter forecast for the maker of Swiss Miss, Slim Jim, Chef Boyardee and many other brands calls for earnings per share (EPS) to have fallen from $0.37 in the year-ago period to $0.35 in Thursday morning's report. Revenues are expected to be almost 11 percent lower to $3.74 billion.
Note that 60 days ago, the consensus EPS estimate was the same and that EPS were in line with consensus expectations in the previous quarter. So far, the consensus forecast for the current quarter shows sequential growth on the top and bottom lines, but both figures lower than a year ago.
See also: FedEx Shares Catch A Tailwind In The Form Of Crude Oil
FedEx
The forecast for this global courier and e-commerce service provider calls for $1.96 in earnings per share and for revenue to come to $11.48 million for the fiscal first quarter. In the year-ago period, the company posted a profit of $1.53 per share, and revenue totaled $11.02 million.
Per-share earnings exceeded analysts' expectations by a dime in the previous quarter after falling short in the two periods before that. The consensus estimate for the period that ended in August has not changed in the past 60 days. Look for the company to share its latest results Wednesday morning.
General Mills
Analysts expect this maker of Cheerios, Old El Paso and Häagen-Dazs to say that it had a profit of $0.69 per share in its fiscal first quarter. That would be a penny less than in the year-ago period. Yet, revenues are forecast to have risen marginally from a year ago to $4.38 billion for the period that ended in August.
The Minneapolis-based company fell short of EPS estimates in the previous three periods by at least 3 percent. The consensus EPS estimate for the most recent quarter has remained steady over the past 60 days, though. General Mills is scheduled to report Wednesday before the markets open.
Lennar
When it shares its results early Wednesday, this Miami-based company is expected to say its earnings for the most recent quarter swelled year over year by more than 19 percent to $0.67 per share. Analysts seem sure as the consensus estimate is unchanged from 60 days ago.
The consensus forecast also calls for fiscal third-quarter revenue of $ 1.96 billion. That would be more than 22 percent higher than a year ago. Analysts thus far are looking for about a 33 percent gain in revenue for the current quarter as well as almost 30 percent for the full year.
Oracle
This enterprise software and database management system provider is expected to report a profit of $0.64 per share in Thursday afternoon's report. That would be a gain of less than 8 percent from the same period of last year. Note that analysts underestimated its EPS in the previous two quarters.
The Redwood City, California-based company also is expected to say that revenues gained more than 4 percent from a year ago to $8.77 billion for the fiscal first quarter. So far, similar year-on-year revenue growth is predicted for both the current quarter and for the full year.
Rite Aid
In its report early Thursday, this drugstore chain operator is expected to say that its EPS doubled from the year-ago quarter to $0.06 for the three months that ended in August. Note though that the consensus EPS estimate has ticked down by a penny in the past 60 days, and EPS matched estimates in the previous period.
Revenues for the fiscal second quarter are predicted to have grown by more than 3 percent to $6.48 billion, relative to the same period of last year. So far, the full-year forecast has revenue up about 3 percent to $26.29 billion and earnings more than 32 percent higher to $0.34 per share.
See also: Tips For Getting Risk Tolerance Right
And Others
Others expected to report earnings gains this week include Cracker Barrel Old Country Store, Factset Research and Red Hat. Analysts are looking for a year-over-year earnings decline from Adobe Systems, Analogic, Pier 1 Imports and Tibco Software, as well as EPS the same as a year ago at United Natural Foods and a narrower net loss from Scholastic.
In the following week, keep a look out for results from Bed Bath & Beyond, BlackBerry, Nike and others.
Keep up with all the latest breaking news and trading ideas by following Benzinga on Twitter.
Posted-In: conagra foods fedex General Mills lennar OracleEarnings News Trading Ideas Best of Benzinga
View Comments and Join the Discussion!