Benzinga Weekly Preview: Fed Meeting In Focus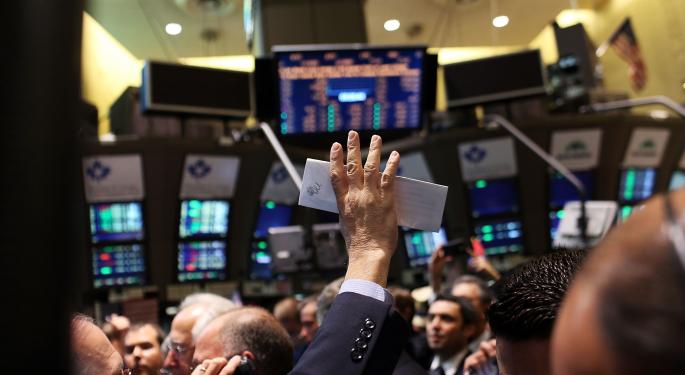 The Federal Reserve is set to hold its two-day monthly policy meeting next week on Wednesday and Thursday, which investors will be eagerly awaiting for details about the bank's rate hike plans.
Ahead of the meeting, Fed officials have indicated that the bank will likely maintain a low interest rate well into 2015, however there has been a lot of speculation that the bank will make a move sooner than expected should the labor market improve more quickly than forecast.
Next week, investors will be waiting for several key earnings reports, including FedEx Corporation (NYSE: FDX), Oracle Corporation (NASDAQ: ORCL), Rite Aid Corporation (NYSE: RAD) and ConAgra Food, Inc. (NYSE: CAG).
FedEx Corporation
FedEx is expected to report first quarter EPS of $1.94 on revenue of $11.47 billion, compared to last year's EPS of $1.53 on revenue of $11.02 billion.
On August 7, Merrill Lynch gave FedEx a Buy rating with a $175 price objective, noting that the company has a high potential for growth.
"FedEx reiterated its $1.6 billion profit improvement plan at Express (from fiscal year 2013's full-year base) and its target for a 75 percent run-rate by year-end fiscal year 2015, leading to its $8.50-$9.00 EPS target in fiscal year 2015 (we are at $8.75). In its recent 10-K filing, it noted that pension expense was expected to decrease $215 million in fiscal year 2015, indicating that EBIT needs to improve only $530 million, or 15 percent from fiscal year 2014, to reach its target.
"Its original plan was to reach $950 million in EBIT improvement by this point (75 percent of $1.6 billion at Express, or $1.2 billion, less the $250 million improvement it gained in fiscal year 2013). We believe this highlights that FedEx's targets could prove conservative, although since it set those targets, international trade down, a new postal service contract and rising fuel costs have tempered some of that original potential. Beneficially, staff cuts were bigger than expected,with 3,600 employees accepting buyouts, with the final 25 percent off the payrolls in May 2014 (boosting fiscal year 2015)."
On June 19, Credit Suisse was more conservative on FedEx, giving the company a Neutral rating with a $156 target price. The analysts at Credit Suisse said that oil prices present a considerable risk to the company's profits.
"Credit Suisse's Global Commodities research team believes that there is considerable upside price risk for oil, and further note that 'not much has to go "wrong" for oil to enter an upward spiral/trajectory,' given already tight supply/demand dynamics. More recently, escalating turmoil and violence in the Middle East (particularly Iraq) is creating further upside risk to oil prices."
On September 8, Morgan Stanley gave FedEx an Equal-Weight rating, saying that the company will likely beat expectations.
"Taking a look at normal seasonality, FedEx's earnings in the fiscal first quarter have typically shown a 18 -19 percent sequential decrease (depending on whether we look at average sequential change over the past 10 years or 5 years). Consensus at $1.94 per share implies first quarter earnings decline ~21 percent sequentially, which may be conservative for the following reasons: (1) Freight data points have remained strong, even accelerated in some instances, through August; (2) Savings from cost realignment initiatives at FedEx Express, while expected to be back-half loaded in fiscal year 2015, should provide some tailwind to first quarter earnings vs. normal seasonality; and (3) Fuel surcharge lag impact, which was a significant year-over-year headwind to first quarter 2014 results, should be a year-over-year tailwind to first quarter 2015 results."
On September 6, S&P Capital IQ gave FedEx a Strong Buy rating with a $180 price target, noting that the company's profit improvement program will likely increase its operating income significantly.
"We are positive on FedEx's profit improvement program, which seeks to add $1.7 billion to operating income by fiscal year 2016, with up to 75 percent of this target expected to be achieved by fiscal year 2015. We think the goal is realistic, using a combination of cost savings, efficiency improvements and incremental revenue-generating ideas.
"We also expect the company to benefit from improvement in the U.S. and global economies over the next year, which we believe will lead to increased volumes across FedEx's entire network. We think the shares will benefit from increased investor interest in logistics stocks on concrete signs of economic improvement."
Oracle Corporation
Oracle is expected to report first quarter EPS of $0.64 on revenue of $8.77 billion, compared to last year's EPS of $0.59 on revenue of $8.38 billion.
On June 25, Merrill Lynch gave Oracle a Buy rating with a $46 price objective, saying that the company's plans for its cloud services will help drive revenue in the coming year.
"To what extent Oracle will see success in all the cloud layers –- Software as a Service (SaaS), PaaS (Platform as a Service), IaaS (Infrastructure as a Service) -– is debatable, but at a minimum, it makes it harder to lose existing customers and easier to upsell add-on cloud solutions. One advantage that Oracle has is that the integrated stack allows it to deliver cloud services more profitably. Oracle added just 35 employees in the fourth quarter to its 19 global data centers, while the cloud accelerated."
On June 23, Credit Suisse gave Oracle an Outperform rating with a $45 target price, noting that the company's acquisition of Micros Systems will help expand the company's customer portfolio.
"Micros extends Oracle's commerce platform, customer experience cloud and industry portfolio, which includes commerce, sales, service, social, and the oracle marketing cloud. Specifically, by combining (1) Responsys and Eloqua (i.e., providing CMOs support for both B2C and B2B marketing automation and campaign management), (2) BlueKai (i.e., enabling for customization of campaigns and analysis of customer data), (3) RightNow Service (e.g., web self-service, chat, e-mail, social network integration, community building, fully integrated agent desktop, Intelligent Voice Automation) and (4) Endeca InFront (e.g., catalog search, navigation) with Oracle's ATG Commerce and WebCenter and Oracle's leading CRM and merchandising solutions (e.g., Fatwire, Siebel Marketing, Oracle Fusion CRM SFA), Oracle can enable omni-channel CRM, retail and commerce for sales, marketing, service and loyalty, as well as provide merchandising, pricing and order capture (e.g., Web, store, phone, mobile device). The acquisition of Micros provides Oracle with software at the point of sale and thus visibility into store activity (as well as deeper exposure to both the hospitality and retail verticals), enabling a broad omni-channel commerce experience similar to the strategy highlighted by NetSuite's acquisition of Retail Anywhere in early 2013."
On September 9, DA Davidson gave Oracle a Neutral rating with a $46 price target, noting that the addition of Micros will likely help grow the company's global portfolio.
"We estimate that Micros will add roughly $1.5 billion to Oracle's revenue line, or 3.7 percent of our current fiscal year 2015 revenue estimate of $40.1 billion. The acquisition, which will cost Oracle $5.3 billion, or $4.6 billion net of cash, should be immediately accretive, and is Oracle's largest acquisition since its purchase of Sun Microsystems in 2010."
On September 6, S&P Capital IQ gave Oracle a Hold rating with a $44 price target, cautioning that the company's shares are fully valued.
"We downgraded our opinion on the shares in March 2014, reflecting our concerns about revenue growth and what we saw as a largely full valuation. Oracle has been acquiring SaaS companies over the past few years. In January 2012, it purchased RightNow in a transaction valued at $1.5 billion. In April 2012, it acquired Taleo in a deal valued at $1.9 billion. In February 2013, Oracle purchased Eloqua in a transaction worth some $935 million. In February 2014, the company acquired Responsys for some $1.6 billion."
Rite Aid Corporation
Rite Aid is expected to report second quarter EPS of $0.07 on revenue of $6.47 billion, compared to last year's EPS of $0.03 on revenue of $6.28 billion.
On September 4, Credit Suisse gave Rite Aid an Outperform rating with an $8.50 price target, citing the company's impressive August sales.
"Rite Aid reported solid August sales driven by continued strength in the pharmacy, which offset weaker than expected front-end results. Total comp growth of 3.9 percent was slightly ahead of our estimate of 3.7 percent and consensus of 3.3 percent. The pharmacy comp of 5.2 percent exceeded our 4 percent estimate, as sales likely benefited from continued inflation. Script growth of 3.7 percent was the second-highest result seen in the last 18 months, although the trend decelerated modestly from July. The front-end comp of 1.1 percent missed our 3.0 percent target. A pullback in promotions and a shift in back-to-school shopping to other channels could be drivers of the weaker-than-expected front-end result, in our view. We continue to rate Rite Aid Outperform. While the company's fiscal second quarter should experience similar headwinds to the first quarter, the back half of the year should see a meaningful ramp from MCK benefit, new generics and ACA, as well as benefits from Rite Aid's internal initiatives (remodels, file buys, expense control)."
On September 6, S&P Capital IQ gave Rite Aid a Hold rating with a $7.50 price target, noting that the company will likely see expansion in the coming quarter.
"We expect benefits over the next 12 months from expansion of the company's loyalty card program, continued progress on Wellness store remodeling efforts, increased prescription file buys and improved purchasing efficiencies. Despite limited flexibility due to a highly leveraged balance sheet, we expect progress on these actions to help strengthen its store base and better position the company to benefit from provisions of the new health care law that went into effect in January 2014."
ConAgra Food, Inc.
ConAgra Food is expected to report first quarter EPS of $0.35 on revenue of $3.77 billion, compared to last year's EPS of $0.37 on revenue of $4.20 billion.
On June 27, Merrill Lynch gave ConAgra an Underperform rating with a $30 price objective, cautioning that the company's earnings growth will likely be depressed in the coming quarter.
"Our $30 price objective is based on a 13x target multiple on our C2015 estimate of $2.32, which includes Ralcorp and Ardent Mills. Our target multiple represents a discount to the packaged food group, which reflects expectations for muted earnings growth. Stabilizing/improving sales growth for consumer and private brands are key factors needed to improve earnings and valuation."
On June 26, Credit Suisse gave ConAgra Foods a Neutral rating with a $31 target price, citing headwinds in the coming quarter for their caution.
"ConAgra reported fourth quarter adjusted EPS of $0.55, in-line with last week's pre-announcement.The company recorded $605 million of goodwill impairment charges related to Ralcorp and $76 million of impairments to the Chef Boyardee brand, due in part to the sales declines following the curious decision to eliminate EZ open lids. Management demonstrated appropriate humility on the earnings call regarding the Ralcorp integration but asserted that the problems had to do with the weak condition of the Ralcorp assets rather than the strategy of marrying a private label business with brand. That may be the case, but in our view, the pendulum shift to private label has regrettably diverted management attention and resources away from the stewardship of brands like Chef, Healthy Choice and Orville. We may be jumping to conclusions, but it is quite possible that the urgency to compensate for weakness in private label played a role in the decision to cut costs on Chef at the expense of packaging convenience."
On September 6, S&P Capital IQ gave ConAgra Foods a Buy rating with a $34 target price, citing the integration of Ralcorp for its optimism.
"While we are disappointed in recent results from the private label business and the quality of the potato crop for Lamb Weston, we believe the company is well-positioned to benefit in fiscal year 2015 from completion of the integration of Ralcorp and expected margin benefits from efficiency improvements and supply chain cost savings as comparisons ease."
Economic Releases
The Fed meeting will be the star of next week's economic calendar, but U.S. labor data will also take top bill. Investors will be interested to see how the U.S. labor market is progressing for a better idea of the Fed's future plans for an interest rate hike.
Daily Schedule
Monday
Earnings Releases Expected: Analogic Corporation (NASDAQ: ALOG)
Economic Releases Expected: U.S. industrial production, U.S. manufacturing production
Tuesday
Earnings Expected: Adobe Systems Incorporated (NASDAQ: ADBE)
Economic Releases Expected: British PPI, British CPI, German ZEW economic sentiment survey, U.S. PPI, U.S. rebook
Wednesday
Earnings Expected: Cracker Barrel Old Country Store, Inc. (NASDAQ: CBRL), FedEx Corporation (NYSE: FDX), Lennar Corporation (NYSE: LEN), United Natural Foods, Inc. (NASDAQ: UNFI)
Economic Releases Expected: British unemployment rate, Eurozone CPI, U.S. CPI, U.S. current account, Japanese trade balance
Thursday
Earnings Expected From: ConAgra Foods, Inc. (NYSE: CAG), Oracle Corporation (NASDAQ: ORCL), Pier 1 Imports, Inc. (NYSE: PIR), Rite Aid Corporation (NYSE: RAD)
Economic Releases Expected: British retail sales, U.S. housing starts, U.S. initial jobless claims, U.S. continuing jobless claims, Federal Reserve rate decision
Friday
Earnings Expected From: No notable earnings expected
Economic Releases Expected: German PPI, eurozone current account
View Comments and Join the Discussion!
Posted-In: Earnings Economic DataEarnings News Previews Pre-Market Outlook Markets Trading Ideas Best of Benzinga