#PreMarket Primer: Friday, September 12: US Allies Vague About Participation In Syrian Airstrikes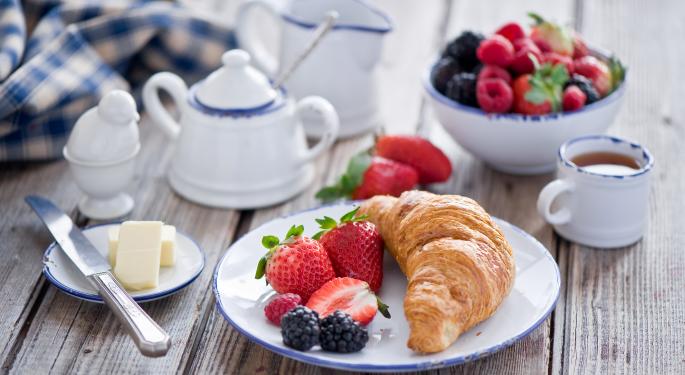 After the U.S. announced that it was planning to extend its military airstrikes outside of Iraq and into Syria to combat the growing number of Islamist Militants, there was a mixed response from America's allies.
Arab officials have committed to helping the U.S., but an agreement under which Saudi Arabia would train Syrian rebels to fight against ISIS is still in negotiations. Meanwhile, the U.K. has said it would consider participating in the airstikes, but Germany refuses.
Many other European nations have also pledged their support for U.S. involvement, but have not made it clear to what extent they will be involved.
In other news around the markets:
General Motors Company (NYSE: GM) faced yet another hurdle this week after it was forced to issue a "stop delivery" on the 2015 Chevrolet Corvette. Several thousand of the popular-selling sports cars have issues with their airbags and parking brakes. As most of the affected vehicles have made it no further than the dealership, the company has not issued a recall.
DirecTV (NASDAQ: DTV) has locked down a deal with Univision (NYSE: UVN) in order to broadcast the company's hispanic content on its new Internet television services. The company's online service, expected to be available later in the year, is set to offer several niche channels such as a Hispanic channel that will be offered at a low price.
With just under a week to go before Scotland votes on whether or not to remain in the U.K., supporters of maintaining the country's current status as a part of the U.K. have picked up a slight edge. Polls out on Friday showed that those wanting independence for Scotland had lost four percent to those that support the union. The figures mark the first time that supporters of the union have made headway.
Labor data out on Thursday surprised many as it showed that initial jobless claims unexpectedly increased last week. A report from the Labor Department showed that the number of Americans filing for unemployment benefits rose by 11,000 to 315,000 last week, compared to analyst expectations for a 300,000 drop. The figure was concerning, but most believe it does not indicate a shift in the direction labor market's recovery.
Asian Markets
Asian markets were mostly higher with the exception of the Hang Seng index, which fell 0.27 percent. The NIKKEI was up 0.25 percent, the Shanghai composite rose 0.88 percent, the KOSPI gained 0.38 percent and the Shenzhen composite was up 0.94 percent.
European Markets
Europe's markets were mixed; the FTSE rose 0.22 percent and the STOXX 600 was up 0.17 percent. However, the DAX lost 0.23 percent, and the CAC 40 was down 0.06 percent.
Energy futures were higher; Brent futures rose 0.24 percent, and WTI futures were up 0.54 percent. Gold lost 0.11 percent, but silver was up 0.01 percent, and industrial metals were also mixed. Copper gained 0.15 percent, and tin was up 0.31 percent, but aluminum lost 0.92 percent, and zinc was down 1.86 percent.
The euro remained below $1.30 and traded at $1.2929. The common currency made some modest gains against the pound and the yen, up 0.10 percent and 0.11 percent, respectively. The dollar was also higher against the pound and the yen, up 0.07 percent on both.
Earnings
Notable earnings released on Thursday included:
Kroger Company (NYSE: KR) reported second quarter EPS of $0.70 on revenue of $25.30 billion, compared to last year's EPS of $0.60 on revenue of $22.72 million.
Ulta Salon, Cosmetics & Fragrance, Inc. (NASDAQ: ULTA) reported second quarter EPS of $0.94 on revenue of $734.20 million, compared to last year's EPS of $0.70 on revenue of $601 million.
lululemon athletica inc. (NASDAQ: LULU) reported second quarter EPS of $0.33 on revenue of $390.70 million, compared to last year's EPS of $0.39 on revenue of $344.51 million.
Stocks moving in the Premarket included:
Notable earnings expected on Friday include:
Darden Restaurants, Inc. (NYSE: DRI) is expected to report first quarter EPS of $0.30 on revenue of $1.60 billion, compared to last year's EPS of $0.53 on revenue of $2.16 billion.
Economics
European data will dominate Friday's economic calendar with releases including Spanish CPI, the French current account, Italian industrial production, Italian CPI and eurozone industrial production. Other notable releases will include Indian industrial production, U.S. retail sales, and U.S. consumer sentiment.
For a recap of Thursday's market action, click here.
Tune into Benzinga's pre-market info show with Tim Biggam, James Koutoulas & Justin Pulitzer here.
Posted-In: DIRECTV UnivisionEarnings News Commodities Forex Pre-Market Outlook Markets
View Comments and Join the Discussion!