#PreMarket Primer: Thursday, September 11: Obama Pledges To Combat ISIS Until Threat Is Eliminated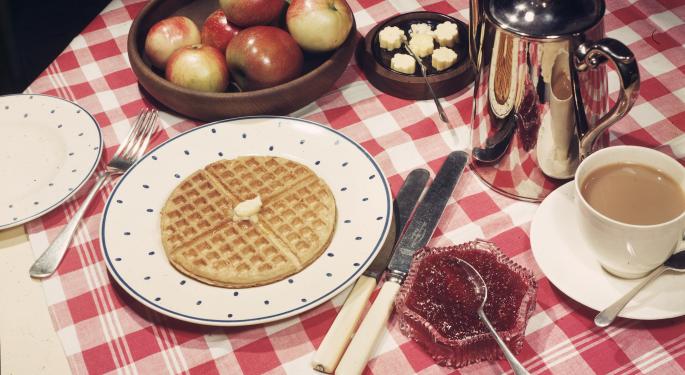 In an effort to combat extremist Islamic militants who have overtaken much of northern Iraq, President Barack Obama said on Wednesday that more Iraqi airstrikes were on their way.
He also said that the U.S. military campaign would advance into Syria, where ISIS members are crossing the border to a nearby military base. Obama also vowed to completely dismantle ISIS through a combination of both military and political action.
In other news around the markets:
On Wednesday, Twitter Inc. (NYSE: TWTR) revealed that it was planning a debt offering, in which it will raise up to $1.5 billion. The company, which went public in November, has been working to expand its advertising efforts by making several strategic acquisitions.
With Scotland's referendum vote on the horizon, British Prime Minister David Cameron appealed to the nation on Wednesday, calling Great Britain a "family of nations" and asking Scotland not to disassemble it. Polls ahead of the September 18 vote have been too close to call, leading many to believe that the nation's exit from Great Britain could be coming up soon.
The situation in Ukraine looked one step closer to a resolution on Wednesday after Ukrainian President Petro Poroshenko announced that the majority of Russian troops had left the country. Though Moscow denies sending any troops at all, Poroshenko said that Kiev's intelligence showed that around 70 percent of Russia's soldiers had returned home. A fragile ceasefire agreement has given lawmakers a chance to broker a peace agreement under which some parts of Ukraine would be given a special status, but the nation will remain a united country.
Sony Corp (NYSE: SNE) has come to an agreement with Viacom Inc. (NASDAQ: VIAB), which will allow Sony to broadcast 20 of Viacom's channels, including popular networks like MTV and Nickelodeon. Sony is currently building an Internet TV service, but will need to beat out companies like Dish Network Corp (NYSE: DISH), which are also racing to make deals with several networks in order to provide a choice of channels.
Asian Markets
Asian markets were down across the board, with the exception of the NIKKEI, which gained 0.76 percent. The Shanghai composite fell 0.29 percent, the KOSPI was down 0.74 percent, the Shenzhen composite fell 0.26 percent and the Hang Seng index was down 0.17 percent.
European Markets
European markets were mixed; the FTSE lost 0.19 percent, and the CAC 40 was down 0.06 percent, but the STOXX 600 rose 0.18 percent, and the DAX gained 0.15 percent.
Commodities
Energy futures were lower; Brent futures lost 0.73 percent, and WTI futures were down 0.61 percent. Gold gained 0.03 percent while silver was down 0.77 percent, and industrial metals were also mixed. Copper and aluminum lost 1.33 percent and 0.44 percent, respectively, while zinc gained 0.17 percent, and tin was up 0.29 percent.
The euro continued to struggle, losing 0.02 percent against the dollar and 0.15 percent against the pound, but gaining 0.25 percent against the yen.The dollar also declined against the pound, down 0.14 percent, but the greenback gained 0.29 percent against the yen and 0.38 percent against the Australian dollar.
Earnings
Notable earnings released on Wednesday included:
Men's Wearhouse, Inc. (NYSE: MW) reported second quarter EPS of $1.10 on revenue of $803.10 million, compared to last year's EPS of $1.01 on revenue of $647.26 million.
Restoration Hardware (NYSE: RH) reported second quarter EPS of $0.67 on revenue of $433.80 million, compared to last year's EPS of $0.49 on revenue of $382.10 million.
Vera Bradley, Inc. (NASDAQ: VRA) reported second quarter EPS of $0.19 on revenue of $120.10 million, compared to last year's EPS of $0.37 on revenue of $125.37 million.
Stocks moving in the Premarket included:
Notable earnings expected on Thursday include:
Kroger Company (NYSE: KR) is expected to report second quarter EPS of $0.69 on revenue of $24.92 billion, compared to last year's EPS of $0.60 on revenue of $22.72 million.
Ulta Salon, Cosmetics & Fragrance, Inc. (NASDAQ: ULTA) is expected to report second quarter EPS of $0.83 on revenue of $712.63 million, compared to last year's EPS of $0.70 on revenue of $601.00 million.
lululemon athletica inc. (NASDAQ: LULU) is expected to report second quarter EPS of $0.29 on revenue of $376.95 million, compared to last year's EPS of $0.39 on revenue of $344.51 million.
Economics
Notable economic releases expected on Thursday will include German CPI, French CPI, U.S. oil inventory data and the U.S. Federal budget balance.
For a recap of Wednesday's market action, click here.
Tune into Benzinga's pre-market info show with Harlan Pyan, Adam Grimes & Tobias Carlisle here.
Posted-In: DISH Network Corp Sony corpEarnings News Eurozone Forex Pre-Market Outlook Markets
View Comments and Join the Discussion!