#PreMarket Primer: Monday, September 8: US Widens Offensive Against Islamic State Fighters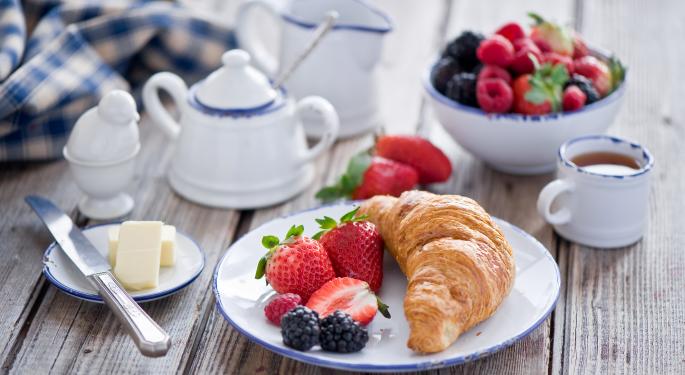 On Sunday, U.S. Secretary of Defense Chuck Hagel announced that further military airstrikes had been launched against Islamic State militants in order to keep them from overtaking the Haditha Dam, a strategically important landmark to the northwest of Baghdad.
Hagel defended the latest round of U.S. military intervention saying the strikes were necessary in order to protect Iraqi infrastructure.
Last week, President Barack Obama met with his counterparts from around the world at a summit where he lobbied for the creation of an international coalition to fight against ISIS and keep it from spreading further throughout the Middle East.
Several other nations, including the U.K. and France, have agreed to support the effort, while others maintained that it wasn't an international responsibility.
In other news around the markets:
On Friday, jobs data came in softer than expected, dashing hopes that the U.S. Federal Reserve was planning to increase interest rates sooner than expected. Nonfarm payrolls data showed that American employers added just 142,000 new jobs last month, a far cry from the expected 225,000.
European leaders agreed to enact a new round of sanctions against Russia on Friday in an effort to get the Kremlin to back out of the conflict in Ukraine and work together with the nation's government to find a peaceful solution. The new sanctions will further impact Russia's energy and defense sectors and are expected to be implemented as early as Tuesday.
Apple (NASDAQ: AAPL) is gearing up for a highly anticipated product launch on Tuesday, at which the company is expected to debut it's newest gadget: a smartwatch. The watch is expected to propel the company into the newly developing wearable device market by attracting customers who want to monitor their health. The company has already developed HealthKit, a data collecting system that will allow users to send their information to doctors and app developers in an effort to make collecting health metrics more streamlined.
The ceasefire agreement in Ukraine was tested over the weekend after fighting on Sunday ended with one woman dead and at least four more injured. Despite an announcement from Russian Presdient Vladimir Putin and Ukrainian President Petro Poroshenko that a peace accord had been reached, fighting broke out on Saturday night near both Mariupol and Donetsk, proving that the region's conflict still had a long way to go before coming to a peaceful resolution.
Asian Markets
Asian markets were mostly higher with the exception of the KOSPI and the Hang Seng index, which lost 0.33 percent and 0.31 percent respectively. The NIKKEI was up 0.01 percent, the Shanghai composite gained 0.85 percent and the Shenzhen composite was up 0.58 percent.
European Markets
European markets were mostly down, especially the FTSE, which lost 1.05 percent. The DAX was down 0.18 percent, and the CAC 40 fell by 0.33 percent.
Energy futures were quiet on Monday, Brent futures were flat at $100.82 per barrel, while WTI futures gained 0.11 percent. Gold and silver gained 0.32 percent and 0.80 percent, respectively, but industrial metals were lower. Copper lost 0.03 percent, aluminum was down 0.57 percent, zinc fell 0.17 percent and tin was down 0.23 percent.
Currencies
The euro remained below $1.30 at $1.2940 and lost 0.10 percent against the yen, but gained 0.55 percent against the pound. The dollar was flat against the yen, but gained 0.72 percent against the pound and 0.11 percent against the Australian dollar.
Earnings
Notable earnings released on Friday included:
Piedmont Natural Gas Company (NYSE: PNY) reported a third quarter loss of $0.09, compared to last year's loss of $0.03 on revenue of $162.94 million.
Notable earnings expected on Monday include:
Campbell Soup Company (NYSE: CPB) is expected to report fourth quarter EPS of $0.49 on revenue of $1.87 billion, compared to last year's EPS of $0.45 on revenue of $1.82 billion.
Pep Boys- Manny, Moe & Jack (NYSE: PBY) is expected to report third quarter EPS of $0.17 on revenue of $534.26 million, compared to last year's EPS of $0.18 on revenue of $527.62 million.
Economics
Monday's economic calendar will be relatively quiet with releases including Germany's trade balance, eurozone investor confidence and U.S. consumer credit.
For a recap of Friday's market action, click here.
Tune into Benzinga's pre-market info show with Paul La Monica, Ashraf Laidi & Karl Setzer here.
Posted-In: AppleEarnings News Eurozone Commodities Pre-Market Outlook Markets Movers
View Comments and Join the Discussion!