#PreMarket Primer: Friday, September 5: US Labor Market Expected To Show Improvement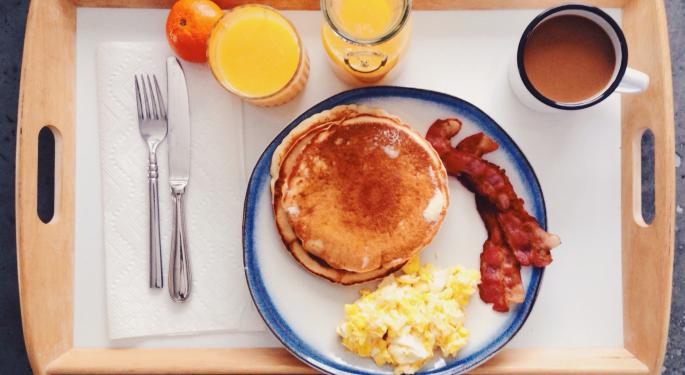 The closely watched U.S. non-farm payrolls report is due out on Friday morning, with investors expecting to see that the nation's labor market improved again in August.
Analysts see an increase of 225,000 new jobs with the unemployment rate dropping to 6.1 percent. If the figures live up to expectations, it will be the country's seventh consecutive month with expansion of more than 200,000 jobs.
Though a positive payrolls report would be an indication that the U.S. economy is continuing its upward trend, most believe the report alone won't be enough to prompt the Federal Reserve to raise interest rates any sooner than expected. Despite that, the report will be highly anticipated, as it will likely play a major role in the Fed's decision making at its next meeting.
In other news around the markets:
On Thursday, the European Central Bank lowered its main interest rate to a record breaking 0.05 percent. Bank President Mario Draghi also announced that the bank was planning to introduce a new asset purchasing program, the details of which will be unveiled in October. Following the announcement, the euro plummeted as most had expected the bank to hold off on further easing for at least another month.
Ukraine's five-month long conflict looked likely to come to an end this week, as Ukrainian President Petro Poroshenko and the pro-Russian separatist leader have agreed on the terms of a ceasefire agreement. Both sides have said they will order their troops to halt fire if a peace plan is agreed to at a meeting in Minsk on Friday. Representatives from Russia, Ukraine and Europe's security watchdog will all be in attendance for Friday's meeting.
NATO gathered on Thursday to discuss the Islamic State militants' growing threat in the Middle East. At the meeting, U.S. and many of its allies pushed to form an international coalition to help keep the extremist group from spreading further. However, some are skeptical, as they believe NATO's role is that of humanitarian aid rather than military intervention.
On Thursday, a federal Judge found BP PLC (NYSE: BP) guilty of gross negligence in the 2010 Deepwater Horizon oil spill. The ruling will cost the company around $18 billion in pollution fines. BP could be facing a financial nightmare, as it had originally budgeted just $3.5 billon for the incident, expecting to be charged with simple negligence.
Asian Markets
Asian markets were mostly lower, with the exception of China's Shanghai and Shenzhen composites, which rose 0.83 percent and 0.58 percent, respectively. The NIKKEI was down 0.05 percent, the KOSPI lost 0.33 percent and the Hang Seng index was down 0.11 percent.
European Markets
Europe's markets were mostly lower, with the exception if the FTSE, which gained 0.09 percent. The STOXX 600 was down 0.12 percent, the MIB lost 0.25 percent and the CAC 40 was down 0.08 percent.
Energy futures made modest gains overnight. Brent traded at $0.08 percent, and WTI was up 0.15 percent. Gold and silver gained 0.13 percent and 0.04 percent, respectively, and industrial metals were also higher. Copper gained 0.30 percent, aluminum was up 1.25 percent, zinc gained 1.40 percent and tin was up 0.70 percent.
The euro was underwater following Thursday's ECB meeting, at just $1.2942. The common currency made a modest recovery against the pound and the yen, up 0.04 percent against each. The dollar advanced 0.01 percent against the yen and 0.03 percent against the pound, but lost 0.03 percent against the Australian dollar.
Earnings
Notable earnings released on Thursday included:
Stocks moving in the Premarket included:
Earnings
Notable earnings expected on Friday include:
Fabrinet (NYSE: FN) is expected to report fourth quarter EPS of $0.35 on revenue of $172.02 million, compared to last year's EPS of $0.35 on revenue of $159.93 million.
Piedmont Natural Gas Company (NYSE: PNY) is expected to report a third quarter loss of $0.07 on revenue of $176.55 million, compared to last year's loss of $0.03 on revenue of $162.94 million.
Economics
All eyes will be on U.S. non-farm payrolls data on Friday, as investors look for any indication that the Fed is ready to raise rates. Other notable releases include German industrial production, French consumer confidence and the U.S. unemployment rate.
For a recap of Thursday's market action, click here.
Tune into Benzinga's pre-market info show with Mark Melin, Tim Anderson & Malte Kaub here.
Posted-In: BP Plc European Central BankEarnings News Eurozone Commodities Pre-Market Outlook Markets
View Comments and Join the Discussion!