#PreMarket Primer: Thursday, September 4: Talk Of A Ceasefire In Ukraine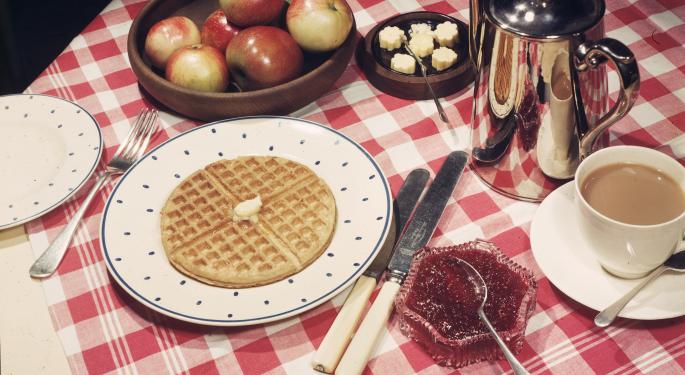 The situation in Ukraine looked to be brightening on Thursday as officials tried to determine the validity of a ceasefire agreement between Russian President Vladmir Putin and his Ukrainian counterpart, Petro Poroshenko. Though Poroshenko was optimistic about the deal, U.S. President Barack Obama and Ukrainian Prime Minister Arseny Yatseniuk are skeptical about Putin's sincerity.
Yatseniuk has said that Russia's plans for peace are simply a ruse designed to distract NATO as the group prepares to meet and discuss the conflict. Obama cautioned that the only way that a lasting truce agreement would hold was if Moscow admitted its role in the Ukrainian conflict.
On Friday, further negotiations are set to take place, at which Poroshenko has said he is hopeful that a lasting solution for peace can be found. Also on Friday, Western policymakers are set to determine whether or not another round of sanctions against Russia will be necessary.
In other news around the markets:
Reuters reported that activist investor Carl Icahn sold his 9.4 percent stake in Family Dollar (NYSE: FDO) amid the ongoing bidding war in the dollar-store sector. Icahn's sale reportedly earned him around $200 million, as the bidding war between Dollar General (NYSE: DG) and Dollar Tree (NASDAQ: DLTR) sent the stock soaring.
U.S. economic data out on Wednesday indicated that the region's recovery was well on its way, as both factory orders and auto sales came in higher than expected. U.S. auto sales in August rose to their highest level in more than eight years, while factory orders rose 10.5 percent in July, compared to June's 1.5 percent increase.
On Thursday, the Bank of Japan decided to stay the course and remained optimistic about the country's economy, despite its recent slowdown. The nation's central bankers maintained their two percent inflation goal and kept their economic assessment largely unchanged with the exception of a downgraded projection for housing. The BOJ sees the nation recovering steadily through the remainder of the year, despite depressed consumer spending due to its April sales tax hike.
The U.S. beige book presented an interesting view of the U.S. labor market with an overall picture of steady growth throughout the summer. The report showed that employers have seen a shortage in some types of skilled workers, but that wage growth was, for the most part, stagnant. With the Labor Department set to report more data on Friday, investors are looking for any indication that the labor market has improved enough for the Fed to move forward its plans for an interest rate hike.
Asian Markets
Asian markets were mixed on Thursday; the NIKKEI was down 0.24 percent, but the Shanghai composite and the Shenzhen composite gained 0.26 percent and 0.45 percent, respectively. The KOSPI was also higher, up 0.20 percent, but the Hang Seng index fell 0.27 percent.
European Markets
European markets were mostly lower with the exception of the FTSE, which gained 0.14 percent. The STOXX 600 fell 0.10 percent, the DAX was down 0.58 percent, the CAC 40 lost 0.21 percent and the IBEX lost 0.28 percent.
Energy futures were lower; Brent futures lost 0.55 percent, and WTI futures were down 0.51 percent. Gold and silver gained 0.22 percent and 0.24 percent, respectively, while industrial metals were mostly lower with the exception of copper, which gained 0.53 percent. Aluminum was down 1.33 percent, zinc fell 0.55 percent and tin was down 0.77 percent.
Currency markets were quiet on Thursday; the euro lost 0.03 percent against the dollar and 0.13 percent against the pound, but gained 0.01 percent against the yen. The dollar rose 0.02 percent against the yen and 0.03 percent against the pound, but lost 0.05 percent to the Australian dollar.
Earnings
Notable earnings released on Wednesday included:
Navistar International Corporation (NYSE: NAV) reported a third quarter loss of $0.04 on revenue of $2.84 billion, compared to last year's loss of $2.94 on revenue of $2.86 billion.
PVH Corp (NYSE: PVH) reported second quarter EPS of $1.51 on revenue of $1.98 billion, compared to last year's EPS of $1.39 on revenue of $1.96 billion.
ABM Industries Incorporated (NYSE: ABM) reported third quarter EPS of $0.47 on revenue of $1.28 billion, compared to last year's EPS of $0.41 on revenue of $1.22 billion.
Toll Brothers Inc. (NYSE: TOL) reported third quarter EPS of $0.53 on revenue of $1.06 billion, compared to last year's EPS of $0.26 on revenue of $689.16 million.
Stocks moving in the Premarket included:
Notable earnings expected on Thursday include:
Economics
The European Central Bank meeting will be the star of Thursday's economic calendar with investors anxious to see whether or not the bank will ease further. Other notable economic releases will include France's unemployment rate, Eurozone retail PMI, the Bank of England's interest rate decision, U.S. initial and continuing jobless claims, the U.S. trade balance, U.S. services PMI and U.S. oil inventory data.
For a recap of Wednesday's market action, click here.
Tune into Benzinga's pre-market info show with Fari Hamzei, Ethan Premock & Mike Seery here.
Posted-In: Earnings News Eurozone Commodities Previews Pre-Market Outlook Markets Trading Ideas
View Comments and Join the Discussion!