#PreMarket Primer: Tuesday, September 2: Russian Sanctions Hit Eurozone Economy Hard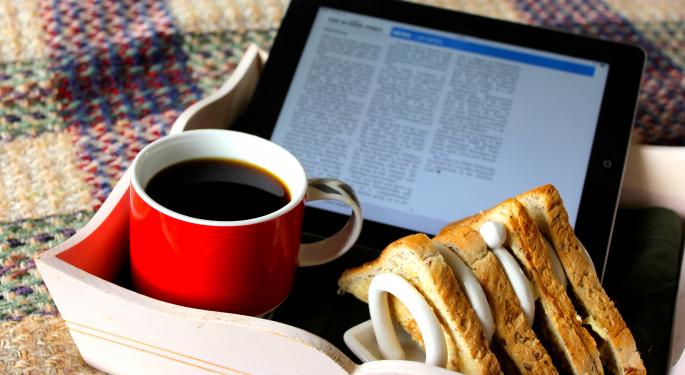 Eurozone factory activity hit a wall in August, as sanctions against one of the bloc's largest trading partners, Russia, hurt the region's growth. Eurozone PMI fell to 50.7 in August, the lowest reading in more than a year and a big drop from July's 51.8 reading.
Data from individual eurozone nations was even more concerning: Germany's reading continued to decline, and France slipped even further below the 50-point mark that indicates expansion. The figures will likely put further pressure on the European Central Bank to do more to stimulate the bloc's sagging recovery, but the bank is expected to hold off until the effects of its June easing package can be measured.
In other news around the markets:
On Monday, Ukrainian President Petro Poroshenko said Russia has begun "direct and undisguised aggression," as the country's conflict worsened. Kiev has been accusing Moscow of sending vehicles, weapons and troops across the border to support pro-Russian separatists fighting in the eastern part of Ukraine for weeks now. When Ukrainian forces began to make some progress in ousting the rebel groups, Poroshenko says Russia sent tanks and personnel in to help regain control of cities in the East. On Sunday, Russian President Vladimir Putin called for negotiations to make south eastern Ukraine into an independent state, but Kiev has been refusing to negotiate with the rebels.
After its $15 billion offer to acquire 56 percent of T-Mobile (NYSE: TMUS) was rejected in July, Iliad SA (NYSE: ILD) said on Monday that it was working to secure a partner that will help boost its offer. The French telecommunications company hasn't given up just yet, and many believe that with a co-bidder, Iliad may try to buy a larger percentage of the company.
Apple (NASDAQ: AAPL) is looking into a possible security breach in its iCloud service after several celebrity accounts were hacked and nude photos and videos stolen. Posts about a weakness in Apple's system that would allow users to continuously enter passwords until the right one was identified showed up on GitHub, a code sharing website, over the weekend, something that may have contributed to the hack.

China's manufacturing activity declined in August, after a period of excessive job cuts, reigniting speculation about another round of stimulus from Beijing. The nation's official manufacturing PMI came in a 51.1 in August, and HSBC's manufacturing PMI reading was 50.2.
Asian Markets
Asian markets were mostly higher, but the KOSPI fell 0.79 percent, and the Hang Seng index was down 0.05 percent. The NIKKEI rose 1.24 percent, the Shanghai composite gained 1.37 percent and the Shenzhen composite rose 1.29 percent.
European Markets
European markets began the day on a bright note with the FTSE up 0.27 percent and the STOXX 600 up 0.22 percent. The German DAX gained 0.67 percent, France's CAC 40 was up 0.26 percent and Italy's MIB rose 0.43 percent.
Energy futures were lower with oversupply concerns still weighing. Brent futures lost 0.30 percent, and WTI futures were down 0.31 percent. Gold and silver lost 0.78 percent and 0.34 percent, respectively, and industrial metals were also down across the board. Copper lost 0.08 percent, aluminum fell 0.07 percent, zinc was down 0.08 percent and tin lost 1.03 percent.
The euro was steady at $1.3126, following disappointing PMI data. However, the common currency gained 0.19 percent against the pound and 0.44 percent against the yen. The dollar was also on the rise, up 0.47 percent against the yen and 0.23 percent against the pound.
Earnings
No notable earnings released on Monday, as it was a market holiday.
Notable earnings expected on Tuesday include:
Economics
PMI data will dominate Tuesday's economic calendar, with Hong Kong and the U.S. set to report manufacturing PMI, China due to release services PMI and the U.K. to put out construction PMI. Other notable economic releases include eurozone PPI and Australian GDP.
Tune into Benzinga's pre-market info show with Nic Chahine, Chris Temple & Todd Schoenberger here.
View Comments and Join the Discussion!
Posted-In: Apple GitHubEarnings News Eurozone Commodities Pre-Market Outlook Markets