Earnings Previews: Ciena Corporation And Finisar Corporation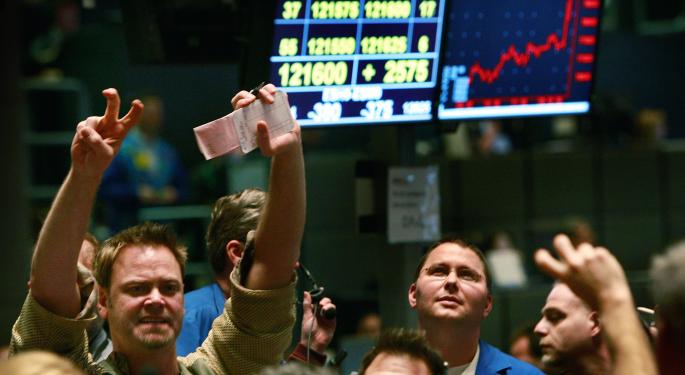 The new earnings season is a few weeks away yet, but among the off-season earnings reports coming up are those from communications and networking equipment companies Ciena Corporation (NYSE: CIEN) and Finisar Corporation (NASDAQ: FNSR).
Both are expected to benefit from higher enterprise spending and AT&T's build out of its high-speed LTE networks. Options traders have been bullish on both companies lately. MKM Partners analysts predicted "upbeat earnings and guidance in line" from Ciena in Barron's last week.
Analysts on average predict that Ciena will report Thursday before the opening bell with revenue for the quarter up more than 11 percent year-over-year to $600.81 million. Earnings of $0.29 per share are also in the consensus forecast, which would be up from a reported profit of $0.23 per share in the comparable period of last year.
Finisar reports Thursday after the markets close, and the consensus forecast calls for its revenue to be more than 23 percent higher than a year ago to $328.66 million. However, per-share earnings of $0.32 are expected. That would be only a penny higher than in the first fiscal quarter of last year.
Analysts underestimated Ciena's EPS by more than 30 percent in the past two quarters, and the current estimate has ticked up by a penny in the past 60 days. Finisar's EPS estimate is unchanged over that time, though its earnings did fall short of expectations in the previous report by more than five percent.
Looking ahead to the current quarter, sequential and year-over-year growth on both the top and bottom lines are anticipated from Ciena. Analysts predict sequential gains for Finisar too, but a decline in EPS of more than 18 percent on a year-on-year basis.
See also: 3 Cybersecurity Firms To Watch Amid J.P. Morgan Breach
Ciena's market cap of about $2.2 billion compares to almost $2.0 billion for Finisar. Neither company offers a dividend. The former is headquartered in Hanover, Maryland and was founded in 1992. Finisar was formed in 1987, in Sunnyvale, California.
Peer Alcatel-Lucent is forecasted to post breakeven EPS and a revenue decline in the current quarter. JDS Uniphase, another competitor, is expected to post declines on both its top and bottom lines in the current period.
During the three months that ended in July, Ciena unveiled its Agility software portfolio and presented a new cloud networking solution at EMC World 2014 in Las Vegas. Early speculation indicated a company of Cisco's stature might buy Finisar, which offered weak guidance to go along with an earnings miss in its previous report.
See also: 6 Companies That Could Buy Peregrine Before The Murata Deal Is Complete
Ciena has a long-term EPS growth forecast of more than 16 percent, with a forward earnings multiple less than the industry average price-to-earnings (P/E) ratio. Finisar, on the other hand, has a long-term EPS growth forecast of more than 24 percent, and trades at a P/E ratio greater than the industry average. Finisar has the advantage in terms of operating margin, and outpaces Ciena by close to eight percentage points. Ciena also sports a return on equity of 44 percent, nearly four times that of Finisar.
Worth noting, both also had a significant level of short interest -- between 16 and 18 percent -- as of the most recent settlement date. The number of Ciena shares short has been falling since May, while short sellers have shied away from Finisar since July.
The consensus recommendation of analysts surveyed by Thomson/First Call for both stocks is to buy shares. That has been so for at least three months in both cases. Analysts' mean price target indicates a potential upside of about 27 percent in Ciena and around 19 percent in Finisar shares.
As of last Friday's close, Ciena's share price was down almost 12 percent year to date, while Finisar was more than 12 percent lower. Over the past six months, Ciena has outperformed Alcatel-Lucent but underperformed Cisco Systems, while Finisar has narrowly outperformed JDS Uniphase and underperformed Avago Technologies. Both stocks have underperformed the broader markets.
At the time of this writing, the author had no position in the mentioned equities.
Keep up with all the latest breaking news and trading ideas by following Benzinga on Twitter.
View Comments and Join the Discussion!
Posted-In: ciena FinisarEarnings Previews Trading Ideas Best of Benzinga