#PreMarket Primer: Wednesday, August 27: Israel And Hamas To Resume Peace Talks In Cairo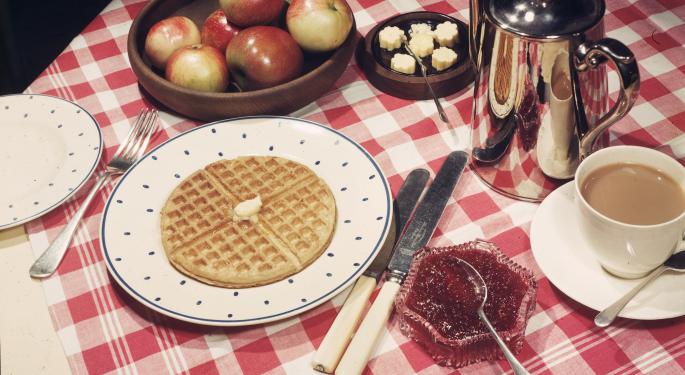 After months of fighting on the Gaza strip, a breakthrough between Israel and Hamas has allowed for an open-ended cease-fire agreement. This will be the ninth truce agreement since the fighting began, but the first without a set deadline.
It was greeted by uncertainty in Israel and celebrations in Gaza City, where most of the conflict's casualties have been. Now policy makers will gather in Cairo to use the opportunity to discuss a longer term peace plan.
In other news around the markets:
Burger King Worldwide (NYSE: BKW) is facing heavy scrutiny from Washington as the company moves forward with its $11 billion agreement to acquire Canadian doughnut chain Tim Hortons (NYSE: THI). Backed by billionaire investor Warren Buffett, Burger King is planning to move its headquarters to Canada, where it will enjoy lower taxes and keep shareholders from paying capital-gains taxes. Recently, several American companies have made similar inversion deals to help minimize taxes, depleting the government's income.
Despite a distinct lack of revenue the messaging service Snapchat is about to become one of the most valuable tech startups. The company has secured a near $20 million investment from Kleiner Perkins Caufield & Byers as it attempts to continue growing in the social media space.
Reuters reported that General Motors' (NYSE: GM) newly created victim compensation program has received 309 claims so far, with 107 of those for fatalities. The company's legal team will now evaluate the claims to find out if they are linked to the faulty ignition switches and then determine how much to award.
Talks between Ukrainian President Petro Poroshenko and Russia's president Vladimir Putin ended as well as could be expected on Tuesday night with Poroshenko vowing to negotiate a cease-fire agreement with rebel groups in the eastern part of the country. Following the meetings, Putin reiterated his stance that Russia would not get involved in the terms of the agreement.
Asian Markets
Asian markets were mostly higher with the exception of the Hang Seng index, which lost 0.04 percent. The NIKKEI was up 0.09 percent, the Shanghai composite gained 0.10 percent, the Shenzhen composite rose 0.27 percent and the KOSPI was up 0.33 percent.
European Markets
European markets were mixed; the FTSE rose 0.07 percent, the STOXX 600 gained 0.12 percent and the MIB rose 0.25 percent. However, the DAX lost 0.10 percent and the CAC 40 fell 0.08 percent.
Energy futures saw moderate gains; Brent futures were up 0.22 percent, and WTI futures gained 0.04 percent. Gold lost 0.04 percent, silver was up 0.08 percent and industrial metals were also mixed. Copper was down 0.37 percent, and tin lost 0.54 percent, while aluminum and zinc gained 0.97 percent and 0.26 percent, respectively.
The euro remained below $1.32 on Wednesday and traded at $1.3172, up 0.04 percent against the dollar. The common currency didn't fare as well against the pound or the yen, losing 0.08 percent against both currencies. The dollar was down 0.12 percent against the yen, 0.15 percent against the pound and 0.24 percent against the Australian dollar.
Earnings
Notable earnings released on Tuesday included:
Stocks moving in the Premarket included:
Notable earnings expected on Wednesday include:
Economics
Eurozone data will dominate Wednesday's economic calendar with releases including Italian consumer confidence, French industrial investments, French business survey and Germany's GFK consumer climate.
For a recap of Tuesday's market action, click here.
Tune into Benzinga's pre-market info show with Harlan Pyan, Joe Fahmy, Serge Berger & Tom Sudyka here.
View Comments and Join the Discussion!
Posted-In: Earnings News Eurozone Commodities Previews Pre-Market Outlook Markets Trading Ideas