#PreMarket Primer: Tuesday, August 26: US Gathers Intelligence In Syria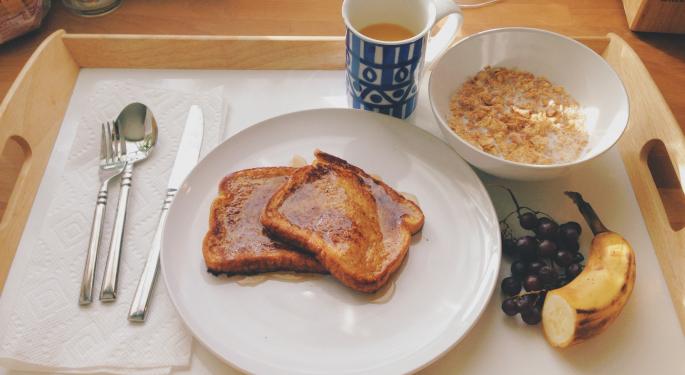 After Islamist militants overtook a third military air base in Syria this week, the U.S. began to re-examine its role in the Middle Eastern conflict.
While the White House initially planned to intervene with targeted airstrikes in northern Iraq, the Pentagon has said it is planning to send surveillance aircraft to Syria to gather intelligence. The decision indicates that the U.S. is contemplating extending its airstrikes into Syria to keep ISIS from growing any more powerful.
In other news around the markets:
In an effort to get ahead of the trend, Amazon.com (NASDAQ: AMZN) announced on Monday that it had inked a deal to acquire Twitch Interactive, a video game broadcasting channel. The deal, worth $970 million, will give Amazon a head start in the spectator aspect of video gaming, as Twitch boasts the United States' fourth-largest internet traffic volume, putting it among the ranks of Netflix (NASDAQ: NFLX), Google (NASDAQ: GOOGL) and Apple (NASDAQ: AAPL).
Infighting within the French government over how to promote growth in the struggling eurozone led to the resignation of Economy Minister Arnaud Montebourg, Education Minister Benoit Hamon and Culture Minister Aurelie Filippetti. Now, the nation's Prime Minister Manuel Valls is tasked with forming a new government for the second time in less than five months.
With accusations flying that Moscow has sent soldiers across the border into Ukraine, hopes are dim for talks between Russian President Vladmir Putin and his Ukrainian counterpart Petro Poroshenko to provide any progress. Though Russia has denied the allegations, the Ukrainian military has said it captured Russian paratroopers, as well as stopping a convoy of 10 tanks and two armored vehicles from entering at the nation's south eastern border.
On Monday, the United Nations condemned what it described as "appalling, widespread" war crimes committed by the Islamic State in Iraq. The group has allegedly carried out mass killings of its prisoners of war, most of which were civilians. The U.N.'s statement came just days after the Islamic State released a video of the beheading of an American journalist.
Asian Markets
Asian markets were mostly lower as investors took profit, with the exception of the KOSPI, which gained 0.35 percent. The NIKKEI was down 0.59 percent, the Shanghai composite lost 0.99 percent, the Shenzhen composite lost 1.50 percent and the Hang Seng index fell 0.37 percent.
European Markets
European markets were mixed; the FTSE gained 0.35 percent, the STOXX 600 was up 0.01 percent and the IBEX rose 0.03 percent. However, the Dax fell 0.38 percent, the CAC 40 fell 0.07 percent and the MIB was down 0.40 percent.
Energy futures improved; Brent futures were up 0.06 percent and WTI futures rose 0.27 percent. Gold and silver gained 0.84 percent and 0.77 percent, respectively, while industrial metals declined. Copper lost 0.53 percent, zinc was down 0.42 percent and tin lost 0.34 percent.
The euro gained modestly overnight after Draghi's comments at the Jackson Hole summit weighed on Monday. The common currency traded at $1.3193 and gained 0.08 percent against the pound, but lost 0.14 percent against the yen. The dollar was also lower against the yen, down 0.15 percent, but gained 0.02 percent against both the pound and the franc.
Earnings
Notable earnings released on Monday included:
OSI Systems (NASDAQ: OSIS) reported fourth quarter EPS of $1.19 on revenue of $260.10 million, compared to last year's EPS of $1.02 on revenue of $227.90 million.
Adept Technology (NASDAQ: ADEP) reported a fourth quarter loss of $0.03 on revenue of $14.30 million, compared to last year's EPS of $0.00 on revenue of $13.70 million.
Stocks moving in the Premarket included:
Exxon Mobil (NYSE: XOM) was up 1.26 percent in premarket trade after gaining 0.25 percent on Monday.
Gilead Sciences (NASDAQ: GILD) was down 0.16 percent in premarket trade after rising 6.09 percent over the past five days.
Notable earnings expected on Tuesday include:
Economics
Notable economic releases expected on Tuesday include U.S. oil inventory data, U.S. house price data, U.S. durable goods and British mortgage approvals.
For a recap of Monday's market action, click here.
Tune into Benzinga's pre-market info show with Nic Chahine, Aurelija Augulyte & Phillip Streible here.
View Comments and Join the Discussion!
Posted-In: Amazon.comEarnings News Eurozone Commodities Events Pre-Market Outlook Markets