#PreMarket Primer: Monday, August 25: Tension In Ukraine Runs High On Independence Day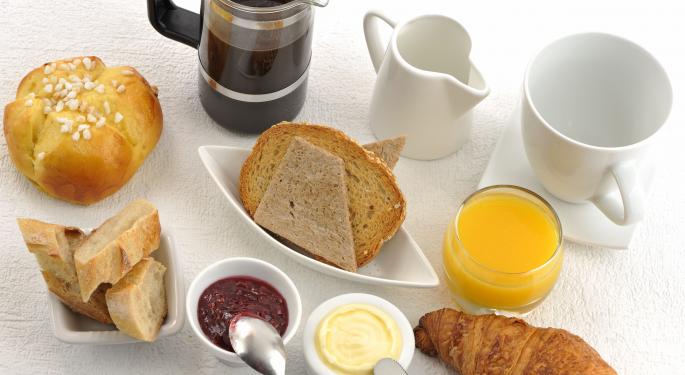 With Russian President Vladimir Putin set to meet with his Ukrainian counterpart Petro Poroshenko on Tuesday, tension in Ukraine looked ready to boil over this weekend as the country's Independence Day celebrations set the stage for more hostility.
Ukrainian forces marched through the streets of Kiev in a show of solidarity against pro-Russian separatists. Rebel groups responded with a parade of captured soldiers through Donetsk, proving that the conflict is far from over.
Western leaders are hoping that Tuesday's meeting will provide a jumping off point to forge an agreement that will ensure lasting peace and end the growing sanctions war between Russia and the West.
However, German Chancellor Angela Merkel, who will be present, has said the divide runs too deep to believe there is any hope of resolution at this one meeting. Instead, she said she hopes it will open a dialogue for the future.
In other news around the markets:
After months of poor economic data proved that France is in need of a change, the nation's Prime Minister, Manuel Valls, formally resigned his government from office on Monday. The nation is expected to form a new government on Tuesday.
At the Jackson Hole summit, European Central Bank President Mario Draghi surprised investors by departing from the speech released on the bank's website and admitting that inflation expectations have declined for the short, medium and longer term. Draghi said the bank is prepared to use all of its available tools to combat the falling inflation, and that the bank is planning to address these problems at its September 4 meeting.
On Sunday, Islamic State militants overtook a Syrian air base, further expanding their stronghold in Syria and northern Iraq. The battle for the base was one of the bloodiest since the war in Syria began, killing more than 500 people. This was the third Syrian military base that ISIS has acquired in the past month.
Burger King Worldwide (NYSE: BKW) has begin negotiations to acquire Canadian doughnut chain Tim Hortons (NYSE: THI). The deal would allow Burger King some tax breaks, as it would move its base to Canada, something that could attract criticism since the company is well known as an American brand. If the two can come to an agreement, the acquisition would create the third-largest fast food chain in the world.
Asian Markets
Asian markets were mixed; the Shenzhen composite and the Shanghai composite fell 0.84 percent and 0.51 percent respectively, but the NIKKIE gained 0.48 percent, the KOSPI rose 0.20 percent and the Hang Sheng index was up 0.22 percent.
European Markets
European Markets were up across the board with the exception of the FTSE, which lost 0.04 percent. The STOXX 600 gained 0.65 percent, the DAX was up 1.15 percent, the CAC 40 rose 1.07 percent and the MIB was up 0.96 percent.
Energy futures were lower; Brent futures lost 0.06 percent and WTI futures were down 0.12 percent. Gold and silver lost 0.17 percent and 0.20 percent, respectively, but industrial metals were mixed. Zinc fell 0.42 percent and tin lost 0.34 percent, but copper was up 0.02 percent and aluminum rose 0.19 percent.
The euro began the week on the back foot, falling 0.37 percent against the dollar. The common currency also lost 0.55 percent against the pound, 0.25 percent against the yen and 0.13 percent against the franc. The dollar gained 0.11 percent against the yen and 0.24 percent against the franc, but lost 0.05 percent against the pound.
Earnings
Notable earnings released on Friday included:
Foot Locker (NYSE: FL) reported EPS of $0.64 on revenue of $1.64 billion, compared to last year's EPS of $0.46 on revenue of $1.45 billion.
ANN\ (NYSE: ANN) reported EPS of $0.70 on revenue of $648.70 million, compared to last year's EPS of $0.76 on revenue of $638.20 million.
Stocks moving in the Premarket included:
Notable earnings expected on Monday include:
OSI Systems (NASDAQ: OSIS) is expected to report fourth quarter EPS of $1.17 on revenue of $245.99 million, compared to last year's EPS of $1.02 on revenue of $227.90 million.
Adept Technology (NASDAQ: ADEP) is expected to report fourth quarter EPS of $0.02 on revenue of $16.22 million, compared to last year's EPS of $0.00 on revenue of $13.70 million.
Economics
Monday's economic calendar will include U.S. new-home sales, Germany's Ifo business climate index and Spanish PPI.
For a recap of Friday's market action, click here.
Tune into Benzinga's pre-market info show with Anne-Marie Baiynd, Kenny Glick, Kristin Bentz & Tim Melvin here.
Posted-In: Burger King Worldwide Manuel Valls Mario DraghiEurozone Commodities Previews Pre-Market Outlook Markets
View Comments and Join the Discussion!