Earnings Expectations For The Week Of August 18: More Retail Earnings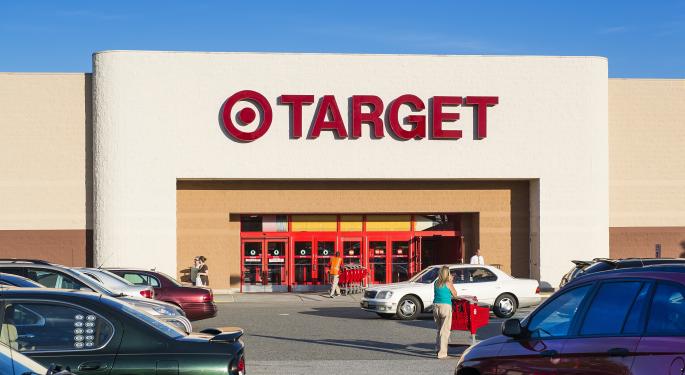 Retail earnings season continues this week, with big-box store operators Home Depot (NYSE: HD), Target (NYSE: TGT) and Staples (NYSE: SPLS) among those companies on deck to share the most recent quarterly results.
This follows last week's highlights in the industry, in which Macy's (NYSE: M) stumbled and Wal-Mart (NYSE: WMT) lowered its forecast, but J.C. Penney (NYSE: JCP) showed that its turnaround is gaining traction.
Below is a quick look at what analysts anticipate from some of this week's most prominent retail earnings reports.
American Eagle Outfitters
The fiscal second-quarter forecast for American Eagle Outfitters (NYSE: AEO) calls for earnings per share (EPS) to have declined a dime from the year-ago period to break even in Wednesday morning's report. Revenues are expected to have fallen about 5 percent to $689.95 million.
Note that the consensus EPS estimate has not changed in the past 60 days, but the retailer topped consensus EPS expectations in the previous two quarters by a penny or two. So far the consensus forecast for the current quarter has earnings essentially flat, relative to a year ago.
See also: Benzinga Weekly Preview: Several Large Retailers Set To Report
Home Depot
Analysts expect this home improvement superstore operator to say that it had earnings of $1.45 per share in its fiscal second quarter. That would be up from $1.24 per share in the year-ago period. Revenues are forecast to have grown from $22.52 billion a year ago to $23.62 billion for the three months that ended in July.
Home Depot missed EPS estimates by 3 percent in the previous period, ending a streak of at least three quarters of earnings beats. The consensus EPS estimate for the most recent quarter has remained steady over the past 60 days. The company is scheduled to report Tuesday before the markets open.
Sears
Struggling retailer Sears (NASDAQ: SHLD) is expected to report a net loss of $2.63 per share in Tuesday morning's report. That would compare to a net loss of $1.70 per share in the same period of last year. Note that analysts underestimated the depth of its per-share loss in the previous quarter by more than 25 percent.
Sears also is expected to say that revenues fell more than 8 percent from a year ago to $8.13 billion for the fiscal second quarter. So far, sales for the current period are predicted to be less than 8 percent lower year over year, and for the full year a less than 5 percent decline is predicted.
Staples
When it shares its results early Wednesday, this specialty retailer is expected to say its earnings for the most recent quarter slipped from $0.16 per share a year ago to $0.11. While the consensus estimate has remained unchanged in the past 60 days, individual estimates range from $0.10 to $0.14.
In addition, the consensus forecast calls for Staples' quarterly revenues to total $5.16 billion. That would be nearly 3 percent lower than a year ago. Analysts thus far are looking for a 12 percent retreat in EPS and a decline on the top line of more than 3 percent for the current quarter.
Target
The forecast for this Minneapolis-based retailer calls for earnings of $0.80 per share and for revenue to come to $17.39 billion for the fiscal second quarter. In the year-ago period, the department store operator posted a profit of $0.97 per share and sales totaled $17.12 billion.
Note that the consensus EPS forecast has fallen by $0.03 in the past 60 days, and Target fell short analysts' expectations in two of the previous three quarters. Look for the company to share its latest results Wednesday before the opening bell.
See also: J.C. Penney Q2 Conference Call Highlights: Momentum Expected To Continue
TJX Companies
In its report early Tuesday, discount retailer TJX Companies (NYSE: TJX) is expected to report that its EPS increased from $0.66 per share in the year-ago quarter to $0.73 for the three months that ended in July. Analysts seem certain, as 60 days ago that consensus EPS estimate was just the same.
Revenues for the fiscal second quarter are predicted to have grown almost 7 percent to $6.88 billion, relative to the same period last year. So far the forecasts have revenue up more than 6 percent in both the current quarter and for the full year.
And Others
Other retailers expected to report earnings gains this week include Buckle, Dollar Tree, Foot Locker, Fresh Market, GameStop, Gap, Limited Brands, Lowe's, PetSmart and Ross Stores. Analysts are looking for year-over-year earnings declines from America's Car-Mart, Dick's Sporting Goods, Hibbett Sports and Urban Outfitters, and wider net losses from Aeropostale and Children's Place.
Elsewhere on the earnings front, Broadcom, Hewlett-Packard, Intuit, J.A. Solar, JinkoSolar, Marvell Technology, Medtronic, Salesforce.com and Trina Solar will also report earnings gains, if the consensus expectations are correct.
The following week, look for earnings reports from Abercrombie & Fitch, Best Buy, Tiffany and more.
Keep up with all the latest breaking news and trading ideas by following us on Twitter.
Posted-In: American Eagle Outfitters home depot sears Staples TargetEarnings Previews Trading Ideas Best of Benzinga
View Comments and Join the Discussion!