RetailMeNot: Coupons Drive Brand Loyalty & Higher Sales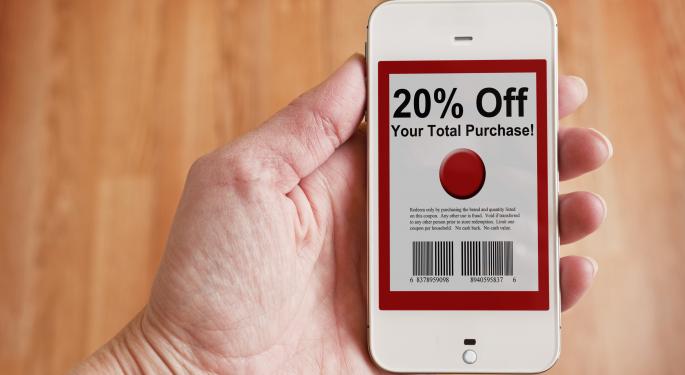 RetailMeNot (NASDAQ: SALE) operates the world's largest market place for digital offers. The company recently released a study it conducted with Forrester Consulting.
The study examined the impact of digital coupons and promotions within the retail industry. The study concluded that digital coupons play an increasingly larger role as retailers continue shifting toward online sales, and customers have become accustomed to discounts and other promotions.
"This new Forrester study reiterates key findings from a similar 2011 study, while highlighting how digital promotional strategies are driving, and will continue to drive, meaningful positive impact on retailer sales through both e-commerce and in-store channels as mobile commerce grows," said RetailMenNot's Senior Vice President of Marketing, Jill Balis, regarding the study's findings.
"How we research, plan and shop is evolving beyond the e-commerce site to include our mobile phone and tablet, yet the basic premise of coupons has remain the same. A great offer can drive incremental revenue, reduce shopping cart abandonment and result in happy repeat customers."
Related Link: 4 Consumer Staples Stocks Trading Higher This Quarter
The release of the study came a few days after the nearly 25 percent decline in share prices. RetailMeNot reported a poor second quarter on August 5, along with third quarter and full-year guidance below the consensus estimate.
Brand Loyalty & Buying Decisions
Sixty-eight percent of consumers surveyed believe that digital coupons have a positive impact on a retailer's brand, while 68 percent of those surveyed also believe that coupons generate loyalty. Meanwhile, 64 percent of those surveyed stated that a digital promotion "closes the deal" when, without one, the consumer is sitting on the fence and undecided about making a purchase.
The study said that most digital coupons are redeemed within several days.
"Digital coupons increase the potential for conversion when consumers are in the cart and checkout phase of a purchase, and they play a key role in combating shopping cart abandonment," the study claimed.
In addition to driving loyalty, customers have a greater incentive to purchase an item from a new brand when presented with a digital coupon on a smartphone. According to the study, nearly half of those surveyed indicated a willingness to do so.
The Breakdown
The study found that:
Ninety-one percent of desktop users redeem a digital coupon within several days.
More than 90 percent of smartphone and tablet users redeem a digital coupon within several days, while nearly one-third of respondents redeem a digital coupon immediately after it is received.
More than 55 percent of smartphone coupon users indicated that they will spend more money during a shopping trip, regardless if it is conducted online or in-store visit. Seventy-seven percent of those respondents indicated they will spend between $10 and $50 more than anticipated, while 17 percent of respondents indicated they will spend an extra $50.
Conclusion
The study concluded, "omnichannel is here, and it's very apparent that customers love digital coupons, embrace the brands they know, and are also willing to try new retailers. Given this prime opportunity, retailers need to master and maximize digital coupons both with pure play coupon partners and their existing digital technologies."
Posted-In: Digital Coupon Forrester ConsultingEarnings Guidance Psychology Topics Tech General Best of Benzinga
View Comments and Join the Discussion!