#PreMarket Primer: Monday, August 4: Investors Wary With Correction In Mind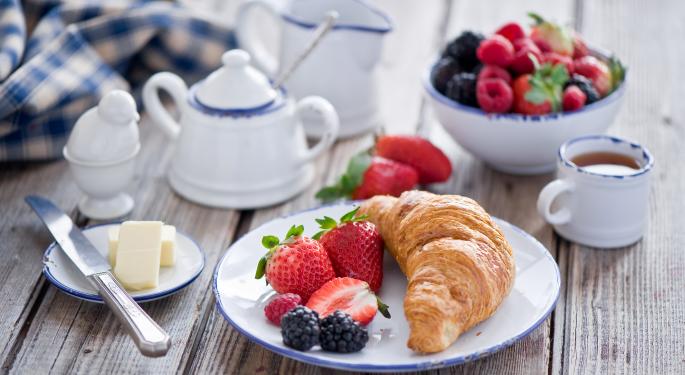 After the S&P 500 lost 2.7 percent last week in a sharp sell-off, investors are likely to be cautious this week as they worry about the possibility of a correction.
Investors haven't seen a decline of more than ten percent in about three years, so most believe that a correction is long overdue.
However, analysts are maintaining their optimism and expecting stocks to rebound as the U.S. economic environment remains conductive to a bullish market.
In other news around the markets:
On Sunday, Lisbon announced that it was planning to spend almost five billion euros in order to rescue its largest bank, Banco Espirito Santo. The news created a wave of relief across the eurozone as the collapse of Banco Espirito Santo could have sparked a fresh wave of banking troubles for the region's already fragile financial markets.
Rebel groups continued to jockey for position in Tripoli over the weekend, leaving more than 20 people dead in battles for control of the nation's airport. As the Libyan conflict worsened, most Western nations evacuated their embassies and advised citizens to leave the country. On Sunday Britain sent a Navy ship to evacuate more than 100 British nationals as the fighting looked to be sliding out of control.
On Monday, Russia made plans to begin new military exercises at the Ukrainian border that will include the use of bombers and fighter jets as accusations that Moscow is supplying rebel groups with arms and training continued to circulate. The demonstration is likely a show of strength to Western nations after Western officials condemned Russia back in March for performing military drills at the border.
After a 6.1 magnitude earthquake struck China on Sunday, rescue officials are working to rescue survivors and get medical attention and supplies to those in need. However, the already difficult task of getting through heavy rubble was made more difficult by bad weather conditions, making the rescue effort a slow process. Reports of nearly 400 people dead and 1,800 more injured are likely to increase as rescuers continue their efforts.
Asian markets were higher except the NIKKEI, which lost 0.31 percent. The Shanghai composite was up 1.74 percent, the Shenzhen composite gained 1.59 percent, the KOSPI rose 0.35 percent and the Hang Seng index was up 0.28 percent.
European Markets
European markets were mostly higher with the exception of the DAX, which lost 0.21 percent. The FTSE rose 0.30 percent, the STOXX 600 was up 0.06 percent, the CAC 40 gained 0.51 percent and the MIB was up 0.46 percent.
Energy futures rose after having a tough week last week; Brent futures were up 0.19 percent and WTI futures gained 0.25 percent. Gold gained 0.01 percent and silver was up 0.31 percent, but industrial metals were down across the board. Copper lost 0.06 percent, aluminum fell 0.65 percent and tin was down 1.75 percent.
Currency markets were quiet on Monday; the euro was down 0.06 percent against the dollar and 0.04 percent against the pound, but gained 0.02 percent against the franc and was flat against the yen. The dollar was also flat against the yen but gained 0.16 percent against the Canadian dollar and 0.06 percent against the Australian dollar.
Earnings
Notable earnings released on Friday included:
Stocks moving in the Premarket included:
Notable earnings releases expected on Monday include:
Economics
Notable economic releases expected on Monday include the U.S. trade balance, British manufacturing PMI and U.S. ISM manufacturing and non-manufacturing PMI.
For a recap of Friday's market action, click here.
Tune into Benzinga's #PreMarket Prep today to hear Larry McDonald, Phil Davis & Jeffrey Barron by clicking here!
Posted-In: Earnings News Eurozone Futures Commodities Previews Forex Global
View Comments and Join the Discussion!