Lumber Liquidators Continues To Bleed Value
Lumber Liquidators (NYSE: LL) reported earnings Wednesday of $0.60 which missed the street estimate by 1 cent alongside revenues of $263.1M which also missed expectations. Sales increased 2.3 percent YoY to $263.1M. The hardwood producer has been under pressure lately after reports surfaced that Global Community Monitor and Sunshine Park LLC filed lawsuits accusing Lumber Liquidators of breaching the regulations laid forth in Proposition 65 in California.
President and CEO Robert Lynch was quoted in the company press release saying:
"Despite the challenges we faced in the second quarter and results that were not at the level we would have hoped, our value proposition is as strong and relevant as ever to our customers".
The company has seen it's cash levels collapse also, reporting $48.1M for Q2 2014 compared with $84.7M for the same period last year.
Lumber Liquidators Cash & Equivalents (data: Capital IQ)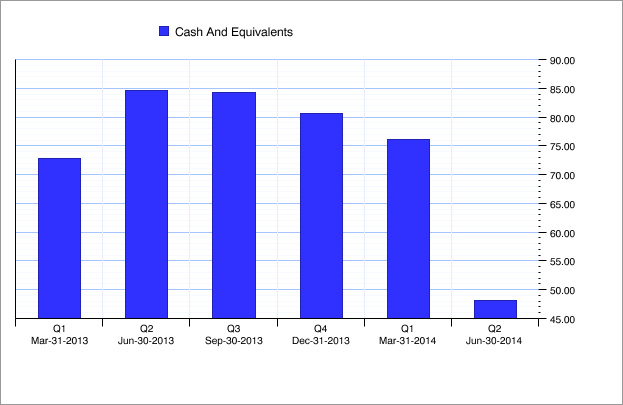 (Click To Enlarge)
As cash dwindles, the company struggles with an ever growing inventory supply since Sept 2012.
Lumber Liquidators Inventory (data: Capital IQ)
(Click To Enlarge)
The stock has been falling since October of 2013 and the bleed in value doesn't appear to show any signs of stopping.

(Click To Enlarge)
As the company struggles to defend itself in California, the rest of the market is growing worrisome over the potential for returns in the future on equities in general. Lumber Liquidators certainly has a difficult road ahead.
Posted-In: Earnings News Top Stories
View Comments and Join the Discussion!