#PreMarket Primer: Monday, July 14: Germany Wins World Cup 1-0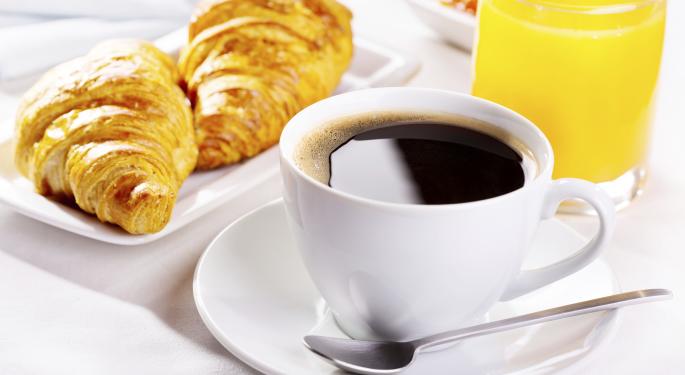 Germany was crowned the world champion on Sunday night after defeating Argentina by one goal in extra time.
The nation's victory was its fourth in World Cup history marks the first time any European team was able to win playing in the Americas giving the entire continent something to celebrate.
In other news around the markets:
President Barack Obama's foreign policy has come under fire in recent weeks as instability across the globe worsens. Crises in all corners of the world from territorial disputes in Asia, to the power struggle between Ukraine and Russia, to the rapidly deteriorating Middle East have put Obama's decision not to deploy troops and send stronger support to allies under the microscope.
On Monday, Chocoladefabriken Lindt & Spruengli AG said it was planning to acquire Russell Stover Candies Inc., positioning the company to become the third largest chocolate maker in North America. The deal, the financial details of which are unknown, is likely to push the company's sales to more than $1.5 billion by expanding the Swiss chocolate maker's reach into the North American market.
Shire has finally agreed to recommend AbbVie's fifth takeover bid at 31 billion pounds. The deal will help AbbVie save on its taxes following the deal as well as providing the company with new products. The new offer increased the AbbVie's previous pitch for 51.15 pounds per share to 53.20 pounds per share.
This week's earnings releases will include some of the most powerful tech companies, giving investors a better picture of the sector's health. Reuters reported that Goldman Sachs has said that the information technology sector is probably the most undervalued sector in the market, so strong earnings reports from heavy hitters like Google and Yahoo will keep the market's record breaking momentum going.
Spanish data showed that the nation's banks saw a decline in bad loans recently, giving the eurozone a bit of hope that the nation was on the rebound after its financial crisis. The banks' non-performing loans fell to 13.4 percent in April from 13.6 percent in December. However, with the European Central Bank's more rigorous health checks on the horizon, some believe the data doesn't tell the whole story and that the nation's banks still have a long way to go before they are stable.
Asian markets began the week on a high note; the NIKKEI rose 0.88 percent, the Shanghai composite was up 0.96 percent, the Shenzhen composite gained 1.32 percent, the Hang Seng index rose 0.49 percent and the KOSPI was up 0.26 percent.
European Markets
European markets were also higher; the FTSE was up 0.75 percent, the STOXX 600 gained 0.72 percent, the DAX rose 0.74 percent and the CAC 40 was up 0.63 percent.
Energy futures were mixed, Brent futures were up 0.12 percent and WTI futures rose 0.32 percent. Gold and silver lost 1.11 percent and 0.94 percent respectively, while industrial metals gained. Copper was up 0.06 percent, aluminum rose 0.83 percent and zinc was up 1.41 percent.
The euro was steady above $1.36 to begin the week, gaining 0.16 percent against the pound and 0.23 percent against the yen. The dollar also gained against the yen, up 0.09 percent, but lost 0.22 percent against the franc.
Earnings
Notable earnings released on Friday included:
Wells Fargo (NYSE: WFC) reported second quarter EPS of $1.01 on revenue of $21.10 billion, compared to last year's EPS of $0.98 on revenue of $21.38 billion.
Fastenal Company (NASDAQ: FAST) reported second quarter EPS of $0.44 on revenue of $949.90 million, compared to last year's EPS of $0.41 on revenue of $847.60 million.
Infosys Limited (NASDAQ: INFY) reported first quarter EPS of $0.84 on revenue of $2.13 billion, compared to last year's EPS of $0.73 on revenue of $1.99 billion.
Stocks moving in the Premarket included:
Notable earnings releases expected on Monday include:
Citigroup (NYSE: C) is expected to report second quarter EPS of $1.10 on revenue of $18.95 billion, compared to last year's EPS of $1.34 on revenue of $20.48 billion.
Wintrust Financial (NASDAQ: WTFC) is expected to report second quarter EPS of $0.72 on revenue of $197.92 million, compared to last year's EPS of $0.69 on revenue of $199.82 million.
Bank of the Ozarks (NASDAQ: OZRK) is expected to report second quarter EPS of $0.33 on revenue of $78.56 million, compared to last year's EPS of $0.29 on revenue of $62.45 million.
Economics
Monday's economic calendar will be relatively quiet with industrial production data from the eurozone and Japan and a speech from ECB President, Mario Draghi.
For a recap of Friday's market action, click here.
Tune into Benzinga's #PreMarket Prep today to hear Eric Scott Hunsader, Brian Peery, Scott Leonard & Kiana Danial by clicking here!
Posted-In: Earnings News Eurozone Futures Commodities Previews Forex Events Best of Benzinga
View Comments and Join the Discussion!