#PreMarket Primer: Friday, July 11: European Banks May Not Be Out Of The Woods Yet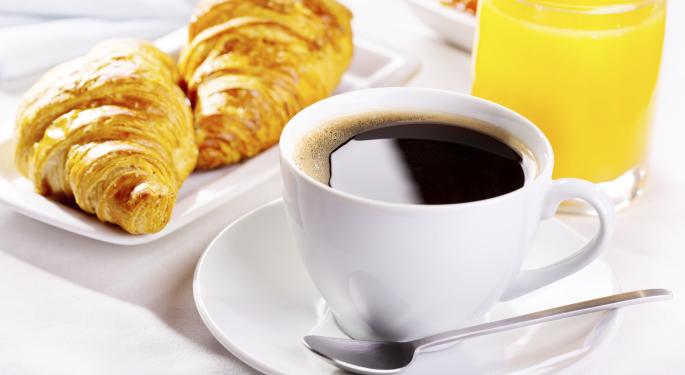 Worries over Portuguese Lender Banco Espirito Santo dragged markets down on Thursday after the bank delayed payments on some of its short-term debt securities.
The news took Portugal's stock market down 4.2 percent and dragged the rest of the world's markets down with it. Asian trading on Friday began with markets lower, suggesting that worries about another financial crisis in Europe are taking hold.
The issue with Banco Espirito is reminiscent of the banking troubles that the eurozone has been trying to remedy over the past year.
This problem has undone much of the region's forward progress in regaining investors' trust in the eurozone's financial systems.
In other news around the markets:
Retailers like Family Dollar Stores (NYSE: FDO) and The Container Store (NYSE: TCS) have reported that decreasing store traffic has had a real impact on growth this year as shoppers are more selective about their visits to shopping centers, reducing the amount of impulse buys. Many worry that it was more than just poor weather keeping shoppers from spending in the first quarter, and that it could take some time for the US' economic gains to translate into more consumer spending.
The Federal Trade Commission has filed a law suit against Amazon.com (NASDAQ: AMZN), saying the company's app store allows children to make purchases without the consent of their parents. Amazon didn't require informed consent for in-app purchases until June, leaving many parents with a huge bill when their children made unsuspecting purchases. The FTC is looking for Amazon to refund affected families as well as reworking their system to require parental consent to make a purchase.
On Friday, Imperial Tobacco announced that it was looking to acquire parts of Reynolds (NYSE: RAI) and Lorillard (NYSE: LO), both of which are in talks to complete a merger. If Imperial is able to buy assets from the two cigarette makers, it could help the company gain market share in the tobacco market, which is dominated by Altria Group (NYSE: MO).
Tension between the US and Germany continued to worsen on Thursday after German Chancellor Angela Merkel ordered Berlin's chief of the CIA station to leave the country. Speaking in Berlin, Merkel expressed her disappointment in the US and said that it was a waste of effort and resources to spy in friends.
Asian markets were mostly lower with the exception of the Shanghai composite and the Shenzhen composite, which gained 0.42 percent and 0.78 percent respectively. The NIKKEI was down 0.34 percent. The KOSPI lost 0.17 percent and the Hang Seng index was down 0.13 percent.
European Markets
Europe's markets recovered modestly on Friday after a scare with one of Portugal's largest lenders took European markets lower. The FTSE was up 0.34 percent, the STOXX 600 gained 0.43 percent, the MIB was up 0.88 percent and the DAX and the CAC 40 were both up 0.49 percent.
Energy futures were poised to end the week on a loss; Brent futures and WTI futures were both down 0.35 percent. Gold and silver lost 0.20 percent and 0.13 percent respectively, while industrial metals were lower across the board. Copper lost 0.03 percent, aluminum was down 0.72 percent, zinc fell 0.44 percent and tin was down 1.03 percent.
Currency markets were quiet; the euro was steady at $1.3607 and lost 0.03 percent against the pound. The dollar gained 0.01 percent against the yen and 0.04 percent against the pound, but lost 0.11 percent against the Canadian dollar.
Earnings
Notable earnings released on Thursday included:
Progressive Corporation (NYSE: PGR) reported second quarter EPS of $0.49 on revenue of $4.63 billion, compared to last year's EPS of $0.39 on revenue of $4.39 billion.
PriceSmart (NASDAQ: PSMT) reported third quarter EPS of $0.70 on revenue of $615.00 million, compared to last year's EPS of $0.61 on revenue of $571.72 million.
Family Dollar Stores (NYSE: FDO) reported third quarter EPS of $0.85, compared to last year's EPS of $1.05 on revenue of $2.57 billion.
Stocks moving in the Premarket included:
Notable earnings releases expected on Friday include:
Wells Fargo & Company (NYSE: WFC) is expected to report second quarter EPS of $1.00 on revenue of $20.80 billion, compared to last year's EPS of $0.98 on revenue of $21.38 billion.
Fastenal Company (NASDAQ: FAST) is expected to report second quarter EPS of $0.44 on revenue of $952.95 million, compared to last year's EPS of $0.41 on revenue of $847.60 million.
Infosys Limited (NASDAQ: INFY) is expected to report first quarter EPS of $0.76 on revenue of $2.13 billion, compared to last year's EPS of $0.73 on revenue of $1.99 billion.
Economics
Friday will be another slow day for economic releases with investors looking forward to the US Federal budget balance, Spanish CPI and German CPI.
For a recap of Thursday's market action, click here.
Tune into Benzinga's #PreMarket Prep today to hear Chris Whalen, Cate Long & Justin Pulitzer by clicking here!
View Comments and Join the Discussion!
Posted-In: Earnings News Eurozone Futures Commodities Previews Forex Events Best of Benzinga