#PreMarket Primer: Monday, July 7: Earnings Season Gets Underway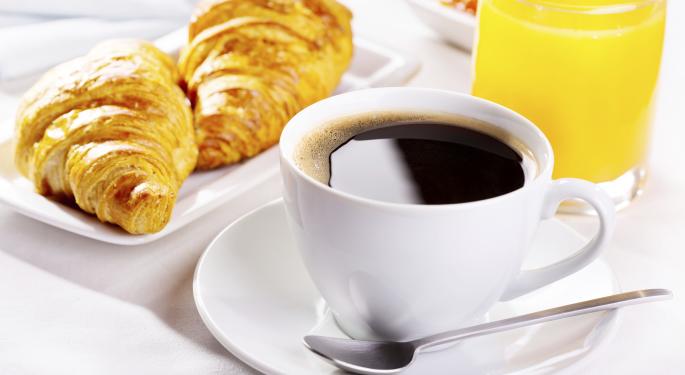 With Alcoa (NYSE: AA) set to kick off the US' second quarter earnings season on Tuesday, there is much speculation about whether or not the stock market's record highs will be justified by companies' profit growth.
Reuters reported that analysts are expecting to see second quarter earnings growth near 6.2 percent in the second quarter, with third and fourth quarter growth forecast at over 10 percent.
So far, earnings preannouncements have been positive, setting high expectations for the next few weeks.
In other news around the markets:
German industrial output data disappointed on Monday, falling 1.8 percent, the nation's largest drop in over two years. The figure was a surprise to analysts who had predicted no change in the nation's output and added to the growing pressure on the European Central Bank to ease further in the coming months.
In an effort to increase production and better serve the quickly growing Chinese market, Volkswagen announced on Monday that it was planning to build two new plants in China. VW will spend nearly two billion euros building the facilities in Qingdao in the east and Tianjin in the north.
A Reuters poll of 21 analysts showed that China's economy is expected to have maintained 7.4 percent growth in the second quarter. If the nation's GDP figure, due out this week, lives up to expectations it will confirm that Beijing's "mini-stimulus" measures are beginning to make a real impact on the country's stalled recovery.
Ukraine has taken control of several of its previously rebel-held eastern cities as the government pushes forward with a renewed offensive following last week's ceasefire. On Sunday, Kiev announced that the military was planning to retake Donetsk, the last major city held by pro-Russian rebels. The conflict looks near to the end since Moscow has done nothing to intervene as rebel groups slowly lose control of their strongholds.
Asian markets were mostly lower with the exception of the Shanghai composite which gained modestly by 0.03 percent. The NIKKEI was down 0.37 percent, the KOSPI lost 0.23 percent, the Hang Seng index lost 0.02 percent and the Shenzhen composite was flat.
European Markets
Europe's markets were down across the board; the UK's FTSE lost 0.24 percent, the STOXX 600 fell 0.31 percent, the CAC 40 was down 0.36 percent, the DAX lost 0.13 percent and the MIB was down 0.60 percent.
Energy futures were lower as investors anticipated the return of Libyan oil to the markets. Brent futures lost 0.11 percent and WTI futures were down 0.27 percent. Gold and silver lost 0.41 percent and 0.65 percent respectively and industrial metals also fell lower. Copper was down 0.78 percent, aluminum lost 0.62 percent and tin was down 0.55 percent.
The euro lost ground as data from the region put more pressure on the ECB to ease at a time when other central banks are considering tightening. The euro traded at $1.3596 and lost 0.14 percent against the yen. The dollar was also lower against the yen, down 0.16, but gained 0.09 percent against the pound and 0.10 percent against the Canadian dollar.
Stocks moving in the Premarket included:
Notable earnings releases expected on Monday include:
Groupo Televisa S.A (NYSE: TV) reported second quarter EPS of $0.33 on revenue of $1.49 billion, compared to last year's EPS of $0.25 on revenue of $1.45 billion.
Economics
Monday will be a slow day for economic releases with German industrial production and Japan's current account data being the only notable reports expected.
For a recap of Thursday's market action, click here.
Tune into Benzinga's #PreMarket Prep today to hear Adam Sarhan, Mike Seery and Evan Kirstel by clicking here!
Posted-In: Earnings News Eurozone Futures Commodities Previews Forex Events Best of Benzinga
View Comments and Join the Discussion!