#PreMarket Primer: Tuesday, July 1: Poroshenko To End The Ceasefire In Ukraine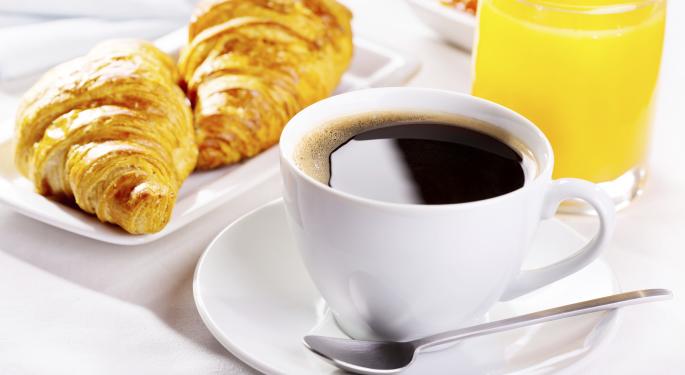 Despite growing pressure from the West and at home to extend the one week ceasefire, Ukrainian President Petro Poroshenko said on Tuesday that he is planning to continue the government's battle against pro-Moscow separatists with a renewed offensive.
Poroshenko has said he would be open to another ceasefire agreement only if rebel groups are willing to follow through with his peace plan, which includes the release of hostages and tightened border security.
So far, Poroshenko said, rebel groups have made no real effort to restore peace to the country and military action is necessary to "free [their] lands."
In other news around the markets:
BNP Paribas pleaded guilty to criminal charges for violating US sanctions and carrying out financial transactions with Sudan, Cuba and Iran. The bank will be forced to pay nearly $9 billion in fines and has been banned from making certain US dollar transactions for one year.
The Bank of Japan's tankan survey showed that sentiment among the 10,000 companies questioned fell sharply due to the nation's April sales tax hike. After the government increased the nation's sales tax from five percent to 8 percent, consumers were less willing to spend, leading Japanese manufacturers to see economic conditions as worsening.
On Monday, General Motors' ongoing ignition switch problems continued as the company recalled another 8.5 million cars, bringing the total number of recalled vehicles to nearly 29 million, more than US car sales from 2005 to 2013. GM also revised its projected earnings charge by $500 million to $1.2 billion.
China's Manufacturing Purchasing Managers' Index rose in June, an encouraging signal that Beijing's mini-stimulus plan was taking effect. The nation's June PMI came in at 51.0, up from May's 50.8 reading and a new six month high for the country.
Asian markets were mostly higher with the exception of the Kospi and the Hang Seng index, which lost 0.16 percent and 0.13 percent respectively. The NIKKEI rose 1.08 percent, the Shanghai composite gained 0.10 percent and the Shenzhen composite was up 0.31 percent.
European Markets
Europe's markets were up across the board; the FTSE rose 0.48 percent, the STOXX 600 gained 0.42 percent, the DAX rose 0.21 percent, the CAC 40 was up 0.56 percent and the MIB gained 0.59 percent.
Energy futures were moderately higher; Brent futures gained 0.11 percent and WTI futures were up 0.43 percent. Gold and silver gained 0.43 percent and 0.49 percent respectively and industrial metals were also higher. Aluminum rose 0.32 percent, zinc gained 1.46 percent and tin was up 1.10 percent.
The dollar fell as speculation about a Fed rate hike faded. The greenback lost 0.24 percent against the pound, 0.08 percent against the franc and 0.20 percent against the Australian dollar, but gained 0.23 percent against the yen. The euro was trading at $1.3694 and gained 0.21 percent against the yen, but lost 0.21 percent against the pound.
Earnings
Notable earnings released on Monday included:
Investors Real Estates Trust (NASDAQ: IRET) reported fourth quarter EPS of $0.14 on revenue of $67.00 million, compared to last year's EPS of $0.19 on revenue of $67.01 million.
Stocks moving in the Premarket included:
Notable earnings expected on Tuesday include:
Paychex (NASDAQ: PAYX) is expected to report fourth quarter EPS of $0.40 on revenue of $617.35 million, compared to last year's EPS of $0.38 on revenue of $585.30 million.
A. Schulman (NASDAQ: SHLM) is expected to report third quarter EPS of $0.66 on revenue of $627.50 million, compared to last year's EPS of $0.50 on revenue of $548.59 million.
Acuity Brands (NYSE: AYI) is expected to report third quarter EPS of $1.12 on revenue of $609.09 million, compared to last year's EPS of $0.97 on revenue of $541.50 million.
Economics
Tuesday will be a busy day for manufacturing PMI with several nations expected to release including the US, the UK, Germany, France and Italy. Other notable releases include the US redbook, Germany's unemployment rate, and US oil inventory data.
For a recap of Monday's market action, click here.
Tune into Benzinga's #PreMarket Prep today to hear Victor Ricciardi, David Hornik & Peter Tuz by clicking here!
View Comments and Join the Discussion!
Posted-In: Earnings News Guidance Eurozone Futures Commodities Previews Forex Best of Benzinga