#PreMarket Primer: Friday, June 27: U.S. Data Fuels Fed Rate Hike Debate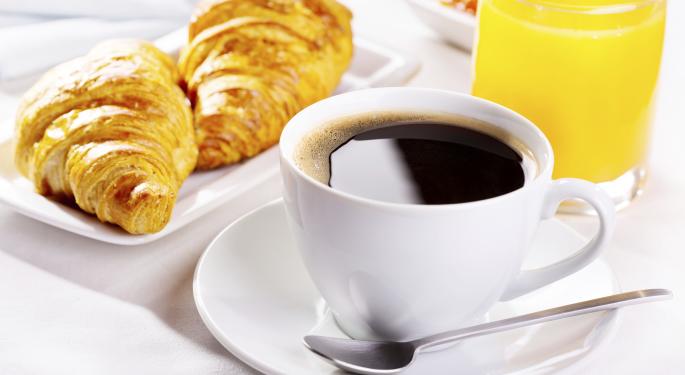 This week was a rollercoaster for US economic data as investors tried to determine how the new figures would play into the Fed's timing for an interest rate hike. Earlier in the week, the US' first quarter GDP was revised down to reveal a shocking 2.9 percent contraction.
The figure was explained away with most attributing the sharp drop to the unusually severe winter, but more bad news came with a consumer spending report which showed only a 0.2 percent increase in May spending.
The figure was below expectations and prompted analysts to take their second quarter GDP estimates lower.
These new data points have many wondering if the Fed will put off an interest rate hike as the nation's economy may be losing momentum. However, inflation data told a different story this week with the price index for personal consumption expenditures in May rising 1.8 percent annually while consumer prices excluding food and energy gained 1.5 percent from last year's figure.
The data suggests that the economy is picking up, and could play into the Fed's debate about when to tighten its policies.
In other news around the markets:
GoPro Inc., the top selling camcorder in the world, went public this week to a very receptive market. The wearable, high definition video camera company's shares increased by 31 percent on Thursday, their first day of trading. However, many worry that the company's initial buzz will wear off as smartphone technology slowly replaces the need for consumers to buy dedicated cameras.
Japan's economy looks to be on the rebound after stumbling when the nation introduced a six percent sales tax increase on April 1. The nation's jobless rate declined to its lowest level since 1997, 3.5 percent in May. The figures, released on Friday, came alongside consumer spending data that painted a gloomier picture with household spending down 8 percent annually, far below expectations.
The U.S. and Europe are preparing more sanctions against Russia as the ceasefire agreement between Ukrainian forces and pro-Russian separatists looks likely to expire without any forward progress. The West has been pressuring Moscow to do more to promote peace and end the ongoing conflict, but with only hours to go, there are no signs of movement.
The crisis in Iraq persisted on Friday with rebels from the Islamic State of Iraq and the Levant (ISIS) continuing their push towards Baghdad. The US has sent 300 military advisors to Baghdad to aid efforts to end the uprising, but despite the movement of US aircraft carriers and war ships to the Gulf earlier this week, US officials have said they are not considering air strikes any time soon.
Asian markets were mixed, the NIKKEI lost 1.39 percent and the Shanghai composite was down 0.11 percent, but the Shenzhen composite rose 0.61 percent and the Hang Seng index gained 0.10 percent.
European Markets
Europe's markets were up across the board; the FTSE rose 0.16 percent, the STOXX 600 gained 0.13 percent, the IBEX was up 0.52 percent, the MIB gained 0.47 percent and the DAX rose 0.19 percent.
Energy futures were steady after losing some momentum as supply interruption worries eased. Brent futures were up 0.13 percent and WTI futures gained 0.02 percent. Gold gained 0.10 percent and silver lost 0.15 percent, and industrial metals were also mixed. Copper rose 0.38 percent and zinc gained 0.39 percent, while aluminum and tin lost 0.16 percent and 0.33 percent respectively.
The euro made some gains against the dollar trading at $1.3620 and also rose 0.09 percent against the pound, but lost 0.20 percent against the yen. The dollar was weighed down by poor US data and lost 0.29 percent against the yen, 0.05 percent to the pound and 0.08 percent against the franc.
Earnings
Notable earnings released on Thursday included:
Stocks moving in the Premarket included:
Nike (NYSE: NKE) was up 2.91 percent in premarket trade after rising 2.34 percent over the past week.
Citigroup (NYSE: C) gained 0.25 percent in premarket trade after falling 1.23 percent on Thursday.
Transocean Ltd. (NYSE: RIG) was down 0.48 percent in premarket trade after losing 2.78 percent over the past five days.
Notable earnings expected on Friday include:
Commercial Metals Company (NYSE: CMC) is expected to report third quarter EPS of $0.30 on revenue of $1.84 billion, compared to last year's EPS of $0.16 on revenue of $1.79 billion.
KB Home (NYSE: KBH) is expected to report second quarter EPS of $0.20 on revenue of $563.10 million, compared to last year's loss of $0.04 on revenue of $524.41 million.
The Finish Line (NASDAQ: FINL) is expected to report first quarter EPS of $0.21 on revenue of $394.17 million, compared to last year's EPS of $0.20 on revenue of $351.05 million.
Economics
European data will dominate Friday's economic calendar with notable releases including German CPI, British GDP, British current account data, Italian business confidence, Spanish CPI, Spanish retail sales, French consumer spending, French PPI and French GDP.
For a recap of Thursday's market action, click here.
Tune into Benzinga's #PreMarket Prep today to hear Dave Lauer, Christopher Nagy, Ryan Detrick and Dave Landry by clicking here!
Posted-In: Earnings News Eurozone Futures Commodities Previews Forex Events Best of Benzinga
View Comments and Join the Discussion!