#PreMarket Primer: Thursday, June 26: Doubts Raised About US Recovery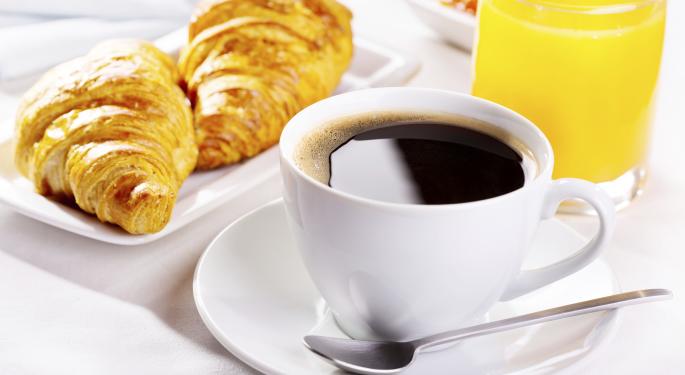 After data out on Wednesday showed that the US economy contracted 2.9 percent in the first quarter, many began to question whether or not the nation was actually heading back on to solid ground as previously believed.
The figure marks the US' sharpest decline since the recession and has been brushed off by markets as a combination of several negative, one-off events.
Positive data throughout the second quarter has ruled out speculation that another recession is on its way, but the marked fall in the first quarter may have taken some of the wind out of the economy's sails and second quarter GDP could be weaker than originally expected.
In other news around the markets:
With international pressure for him to resign increasing, Iraqi Prime Minister Nouri al-Maliki is working to prove that he can unite the Middle Eastern nation in the face of its growing crisis. Maliki has agreed to create a new, more inclusive cabinet and will begin forming the new government at a parliament meeting next week. The government formation process is expected to include the voices of minority groups like the Sunnis and Kurds.
Oil refinery shares fell on Wednesday as worries about the implications of the US Commerce Department's decision to allow the export of condensate weighed on markets. While only two companies have been granted permission to export US crude to foreign buyers, most expect that more requests to do the same will follow. Since condensate needs minimal processing to be exported, recent investments in refinery equipment could prove frivolous.
GoPro Inc.'s IPO raised around $427.2 million when 17.8 million shares priced near $24 were sold. The wearable camera maker has been endorsed by several famous athletes and is the first consumer-electronics company to hold an IPO since 2011.
After Valeant Pharmaceuticals made a tender offer to Allergan's shareholders, Reuters reported that hedge fund Paulson & Co bought up over six million Allergan shares. The purchase puts Paulson & Co. into the top ten largest shareholders and could spell disaster for Allergan, which has been trying to hold off a Valeant acquisition.
Asian markets were up across the board; the NIKKEI gained 0.27 percent, the Shanghai composite rose 0.65 percent, the KOSPI was up 0.67 percent, the Shenzhen composite gained 1.20 percent and the Hang Seng index rose 1.45 percent.
European Markets
European markets were mostly higher; the FTSE gained 0.08 percent, the STOXX 600 rose 0.26 percent, the DAX was up 0.10 percent and the IBEX rose 0.46 percent.
Energy futures were quiet as investors kept a close eye on developments in Iraq. WTI futures were priced at $106.50 per barrel while Brent futures lost 0.06 percent to trade at $113.93 per barrel. Gold and silver lost 0.77 percent and 1.14 percent respectively, but industrial metals were mixed. Copper lost 0.14 percent and tin fell 0.33 percent, but aluminum was up 0.21 percent and zinc gained 0.37 percent.
The pound was on the rise on Thursday, gaining 0.24 percent against the dollar and 0.30 percent against the euro. The euro settled at $1.3618 after the dollar sank under the pressure of weak GDP data on Wednesday. The dollar fell 0.09 percent against the yen and the Australian dollar, but gained 0.06 percent against the franc.
Earnings
Notable earnings released on Wednesday included:
Stocks moving in the Premarket included:
Notable earnings expected on Thursday include:
Economics
Thursday's economic calendar will be a busy one with notable releases including US initial and continuing jobless claims, French consumer confidence, British consumer confidence and Japanese retail sales and CPI.
For a recap of Wednesday's market action, click here.
Tune into Benzinga's #PreMarket Prep today to hear Fari Hamzei, Aron Pinson and Brian Meece by clicking here!
View Comments and Join the Discussion!
Posted-In: Earnings News Eurozone Futures Commodities Previews Forex Events Best of Benzinga