#PreMarket Primer: Thursday, June 12: ISIS Takes A Second City, Baghdad At Risk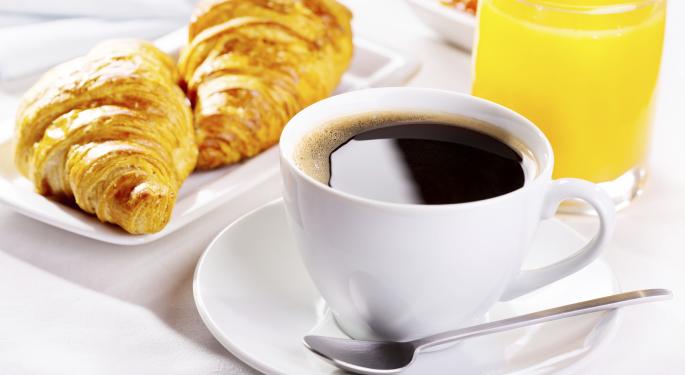 An Islamic militant group that has been linked to Al-Qaeda took over a second city in as many days this week, posing a direct threat to Baghdad and prompting the Iraqi government to ask for US military support.
The group, called the Islamic State of Iraq and al-Sham (ISIS), overran Tikrit and freed hundreds of the city's prisoners on Wednesday.
The White House has yet to make any comments about the options being discussed and whether or not Obama would consider employing airstrikes; however a White House National Security spokeswoman said that the current focus is on supporting the Iraqis to allow them to confront the situation at hand.
In other news around the markets:
As BNP Paribas undergoes an investigation for violating US Sanctions, pressure is rising for several of the bank's senior executives to step down from their posts. On Thursday, the company's Chief Operating Officer Georges Chodron de Courcel gave in and asked to leave his position months before his expected retirement. The US Justice Department is calling for the company to pay upwards of $10 billion to settle the probe.
The European Commission has launched a formal investigation into the tax practices employed by Starbucks, Fiat and Apple in an effort to keep big companies from abusing the region's tax laws. The probe will look into whether the companies' lenient tax deals in Ireland, Luxembourg and the Netherlands classify as illegal government aid.
On Wednesday, Russian President Vladimir Putin accused Kiev of sabotaging negotiations over energy supplies by forcing the talks to a "dead end". Ukraine refused to accept Moscow's offer to reduce the price of gas by removing the export duty, saying that the discount would not be included in the contract and therefore would be at Moscow's digression. Russia has threatened to shut off supplies on Monday, so most are expecting the two to continue negotiating by phone over the weekend.
Lululemon Athletica's largest shareholder Chip Wilson released a surprising press release on Wednesday saying that the company's board is focusing on short-term results at the expense of the brand. He also said he voted against naming Michael Casey as Chairman. The company has been struggling over the past year after a recall of see-through yoga pants in March 2013.
Asian markets fell across the board; the NIKKEI was down 0.64 percent, the Shanghai composite was down 0.16 percent, the Shenzhen composite lost 0.33 percent, the Hang Seng index fell 0.35 percent and the KOSPI lost 0.15 percent.
European Markets
European markets were quiet on Thursday, the FTSE lost 0.02 percent, the STOXX 600 was up 0.15 percent, the DAX rose 0.12 percent and the CAC 40 gained 0.23 percent.
Energy futures were higher as geopolitical tension in the Middle East escalated; Brent futures gained 0.70 percent and WTI futures rose 0.42 percent. Gold showed little change, trading at $1,261.00 per ounce while silver gained 0.15 percent to trade at $19.20 per ounce. Industrial metals were down across the board with copper down 0.12 percent, zinc down 0.33 percent and aluminum down 1.76 percent.
The euro continued to trade lower at $1.3524 and lost 0.27 percent against the pound and 0.05 percent against the yen. The dollar lost 0.23 percent against the pound and 0.13 percent against the Australian dollar, but gained 0.09 percent against the franc.
Earnings
Notable earnings released on Wednesday included:
H&R Block (NYSE: HRB) reported fourth quarter EPS of $3.36 on revenue of $2.56 billion, compared to last year's EPS of $2.54 on revenue of $2.20 billion.
Restoration Hardware (NYSE: RH) reported first quarter EPS of $0.18 on revenue of $7366.30 million, compared to last year's EPS of $0.06 on revenue of $301.34 million.
Stocks moving in the Premarket included:
Notable earnings expected on Thursday include:
Finisar Corporation (NASDAQ: FNSR) is expected to report fourth quarter EPS of $0.38 on revenue of $303.92 million, compared to last year's EPS of $0.20 on revenue of $243.42 million.
lululemon athletic (NASDAQ: LULU) is expected to report first quarter EPS of $0.32 on revenue of $381.16 million, compared to last year's EPS of $0.32 on revenue of $345.78 million.
Economics
Thursday's economic calendar will be relatively quiet with notable releases including US retail sales, US initial and continuing jobless claims and French CPI.
For a recap of Wednesday's market action, click here.
Tune into Benzinga's #PreMarket Prep today to hear Fari Hamzei, Vlad Karpel and Leigh Drogen by clicking here!
View Comments and Join the Discussion!
Posted-In: Earnings News Guidance Eurozone Futures Commodities Previews Forex Best of Benzinga