#PreMarket Primer: Friday, May 30: Packaged Meat Space Heats Up With Bidding War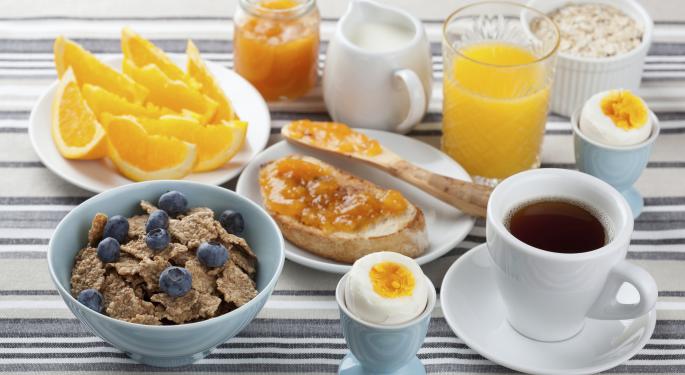 A bidding war in the packaged meat industry kicked off when Tyson Foods made a $6.1 billion bid for Hillshire Brands, topping Pilgrim's Pride Corp's offer of $5.5 billion.
A combination of either bidder with Hillshire Brands would create the largest packaged meat company.
Increasing the drama, the dueling bids for Hillshire come while Hillshire has made an offer to acquire Pinnacle Foods for $4.3 billion. Both would be buyers of Hillshire have made their offers contingent on Hillshire's dropping its Pinnacle bid.
With consumer spending still soft and companies like Wal-Mart and Kroger holding on to pricing power in the food industry, both Tyson and Pilgrim's Pride are looking to add some name-brand products that carry higher profit margins, like Jimmy Dean sausage and Ball Park hot dogs, to their portfolio.
In other news around the markets:
Google has created a committee of internet experts to help European citizens exercise their newly created "right to be forgotten" online. A top European court ruled that European residents have the right to ask an internet search engine to remove links that infringe on their right to privacy earlier in May. On Friday, Google responded by unveiling a new website that allows users to list websites they want removed from their search results.
On Thursday, 13 Ukrainian soldiers and one general were killed when pro-Russian separatists shot down a helicopter. Tension between Russia and the West over the crisis heightened after a rebel leader admitted that several of the separatists who have died during the rebellion have been "volunteers" from Russia and that their bodies are being sent across the border.
Ford recalled 1.39 million vehicles across North America for their possible loss of power steering. The figure nearly matches the total number of cars that Ford recalled during all of 2013 and highlights automakers' concern about safety issues following General Motors' ignition switch problems.
US officials are finding that China's internet espionage abilities are wider and more diverse than originally estimated. After indicting five army officers last week, US researchers discovered that Chinese "hackers for hire" are able to break into servers at Google, Lockheed Martin and other top security firms.
Asian markets were down across the board with the exception of the Shenzhen composite, up 0.21 percent, and the Hang Seng composite, up 0.50 percent. The NIKKEI fell 0.34 percent, the Shanghai composite was down 0.07 percent and the KOSPI was down 0.86 percent.
European Markets
European markets were mostly lower with the exception of the MIB and the IBEX, which gained 0.11 percent and 0.03 percent respectively. The FTSE lost 0.22 percent, the STOXX 600 was down 0.10 percent, the DAX fell 0.03 percent and the CAC 40 was down 0.60 percent.
Brent futures were flat on Friday, just below $110 at $109.97 per barrel, but WTI futures were down 0.25 percent at $103.32 per barrel. Gold and silver gained 0.05 percent and 0.29 percent respectively, while industrial metals were mixed. Copper gained 0.24 percent and aluminum was up 0.27 percent, but zinc fell 0.29 percent.
The dollar lost ground on Friday, down 0.22 percent against the pound, 0.17 percent against the yen and 0.08 percent against the franc. The euro also gained against the dollar, trading at $1.3611, but the common currency lost 0.14 percent against the pound and 0.08 percent against the yen.
Earnings
Notable earnings released on Thursday included:
Costco Wholesale Corporation (NASDAQ: COST) reported third quarter EPS of $1.07 on revenue of $25.23 billion, compared to last year's EPS of $1.04 on revenue of $24.08 billion.
Abercrombie & Fitch Company (NYSE: ANF) reported a first quarter loss of $0.17 on revenue of $822.00 million, compared to last year's loss of $0.09 on revenue of $838.77 million.
Sanderson Farms, Inc. (NASDAQ: SAFM) reported second quarter EPS of $2.21 on revenue of $660.70 million, compared to last year's EPS of $1.06 on revenue of $621.20 million.
Notable earnings releases expected on Friday include:
ANN INC. (NYSE: ANN) is expected to report first quarter EPS of $0.31 on revenue of $598.25 million, compared to last year's EPS of $0.44 on revenue of $574.51 million.
Frontline Ltd. (NYSE: FRO) is expected report first quarter EPS of $0.00 on revenue of $76.46 million, compared to last year's loss of $0.36 on revenue of $55.75 million.
Economics
Friday will be a slow day for economic data with releases including US consumer sentiment, Canadian GDP, Italian CPI, Italian PPI, and the Spanish current account.
For a recap of Thursday's market action, click here.
Tune into Benzinga's #PreMarket Prep show with Dennis Dick and Joel Elconin here
View Comments and Join the Discussion!
Posted-In: Earnings News Guidance Eurozone Futures Commodities Previews Forex Best of Benzinga