Benzinga Weekly Preview: Elections In Focus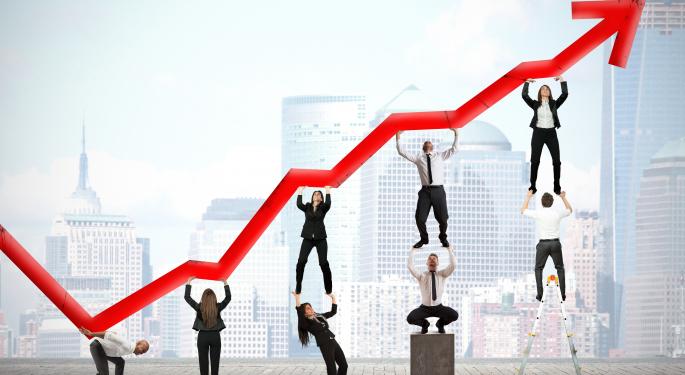 Next week several key elections will take center stage against a backdrop of instability.
Ukrainians will head to the polls for a presidential election on May 25 after the Viktor Yanukovych was ousted in February.
However, the recent declaration of autonomy by separatist rebels could disrupt the nation's elections and push it further into conflict.
Eyes will also be on Europe's parliamentary elections, set for Sunday. Many are expecting to see an increase in protest votes for euro-skeptic parties which could create instability in nations like Italy and Greece, where the government is already fragile.
Markets will also closely watch Pfizer as it approaches a deadline for its $117 billion acquisition bid for AstraZeneca. After AstraZeneca rejected Pfizer's "final" offer, shareholders will have the power to revive the deal at a meeting on Monday.
Key Earnings Reports
Next week investors will be waiting for several key earnings reports including Costco Wholesale (NASDAQ: COST), Michael Kors (NYSE: KORS), AutoZone (NYSE: AZO) and Abercrombie & Fitch (NYSE: ANF).
Costco Wholesale Corporation
Costco is expected to report third quarter EPS of $1.09 on revenue of $25.70 billion, compared to last year's EPS of $1.04 on revenue of $24.08 billion.
On March 6, Goldman Sachs gave Costco a Neutral rating, noting that the company fell short of the firm's forecasts.
"COST reported F2Q14 EPS below expectations at $1.05 vs. $1.10 a year ago, short of our $1.19 estimate and consensus of $1.17. The firm missed our forecast on all key line items. This marks COST's third consecutive earnings shortfall. The firm indicated that much of the earnings shortfall reflects trends early in the quarter. In addition, the company reported February sales that show well vs. broader retail but tracked slightly light of expectations. US SSS ex-gas rose 4%, a solid increase but below our 4.9% forecast and consensus of 4.3%, while international SSS ex-FX rose 5%, in line with our forecast, but below the Street's 5.8%. Overall SSS excluding gas and FX rose 4%, short of our 5.3% estimate on the US SSS miss."
Also on Mach 6, International Strategy & Investment Group LLC took a more positive tone with a strong Buy rating. ISI noted that the company's loyal membership base is a key driver for the company's success.
"Steady 4%+ comp traffic, record N. American renewal rates, and stable merchandise margins show Costco is driving loyalty in a .com world, even at the cost of a 3rd straight margin driven EPS miss. 2Q's gross margin and MFI growth driven EPS shortfall is a reminder that even Costco is not immune to competitive pressures from elevated IT investment, and sharper pricing in a .com world. Cycling 2yrs of super-charged fee increase driven MFI growth doesn't help. That said, record renewals, 4% traffic trend, stable merchandise margins and growing cash balance ($3.40ps net of Debt) are unique in a retail world that's growing just 1-2% ex eCommerce and big ticket Home/Auto. We are cutting our FY15 EPS by $0.25 or 5% reflecting the 2Q miss, share count creep, lingering FX headwinds, and margin investment. Our Base Case is lowered to $122, or 23.5x our $5.20 CY15 EPS. COST's loyal and growing global membership base and best in class 4%+ traffic differentiate in a choppy retail landscape."
On March 7, JP Morgan gave Costco an Overweight rating with a price target of $124.00. The firm noted that the company had a rocky quarter, but that the worst is likely over.
"COST missed consensus EPS and fell $0.10 (or 9%) below our forecast representing the third consecutive quarterly shortfall as FX and gas deflation had widespread effects ranging from a MFI shortfall ($0.01) to a lack of leverage. Sales were also slightly below our forecast due to February weather. On the gross margin line, core was down 1-bp vs. +2e, contributing $0.01 of the $0.10 miss vs. our model with the remainder reflecting: (1) no margin expansion from ancillary businesses (driven by gas) vs. +7e; (2) -6 bps for LIFO vs. our forecast for no impact (combining for a $0.04 shortfall); and (3) SGA up 13 bps YOY vs. 6e (most of the remainder of the EPS shortfall). Looking ahead, we have lowered our 2014 forecast to $4.57 from $4.81 driven by the 2Q miss plus lower gross margin assumptions and ongoing FX pressures. The flowthrough results in our 2015 estimate lowering to $5.17 from $5.35. Our price target is now $124 vs. $128 previously, reflecting our reduced EPS forecast for 2015."
On May 17, S&P Capital IQ gave Costco a Buy rating with a $125.00 price target. The company cited expectations that Costco will increase its market share as a reason for its optimism.
"We recently upgraded our opinion on COST shares to buy, from hold. We expect COST to increase its market share over time, as we see it pricing aggressively to maintain a strong value proposition and upscale product mix that appeals to a more affluent customer base. We think the company is well positioned to generate long-term earnings growth better than its peers due to global store expansion."
Michael Kors Holdings Limited
Dollar General is expected to report fourth quarter EPS of $0.68 on revenue of $816.67 million, compared to last year's EPS of $0.50 on revenue of $597.15 million.
On May 12, Morgan Stanley gave Michael Kors Holdings an Overweight rating with a $105.00 price target. The analysts at Morgan Stanley noted that handbag growth likely helped soften the company's fourth quarter landing.
"HSD category growth and KORS' market share likely approaches 16%: Last quarter KORS' NA SSS grew 24% amid a HSD category growth and -13.6% COH NA comp decline scenario. This quarter COH's further deceleration to -21% SSS suggests KORS should continue to benefit handily. We believe L-T share shift to KORS from COH continues. Our AlphaWise analysis found KORS remains the most Google searched handbag brand."
Nomura gave Michael Kors a Buy rating with a $116 price target on May 2, noting that global luxury spending is on the rise.
"We expect the company to continue driving best-in-class top-line growth through ongoing share gains as, at the same time, global luxury spending continues to grow. We expect growth to be driven by: 1) strong double-digit comps, 2) ongoing retail expansion, 3) further wholesale productivity improvements, and 4) continued expansion of the licensing business. Our DCF-driven $116 target price represents 24x our FY16 EPS. FY15/FY16 EPS estimates of $3.90/$4.75 vs. the Street at $3.84/$4.59."
AutoZone, Inc.
Autozone is expected to report third quarter EPS of $8.44 on revenue of $2.33 billion, compared to last year's EPS of $7.27 on revenue of $2.21 billion.
Merrill Lynch gave AutoZone a Neutral rating with a $568 price objective on May 19. The analysts at Merrill Lynch are expecting that the recent severe weather likely benefited the company as it did for other businesses in this space.
"We believe 3Q will be a solid quarter for AZO, as weather likely continue to benefit failure-related hard part categories, as it did for AAP and ORLY. AAP reported 1Q EPS that beat consensus by $0.10 as comps were above expectations. While AZO should continue to deliver solid and consistent results and benefits from promising industry trends, we believe the company's higher exposure in DIY leaves more limited upside compared to peers who are more exposed to the higher growth DIFM business. The company has increased focus on DIFM, but we believe the space has become increasingly competitive. AZO continues to optimize its distribution network and SKU assortment, but this will take time and ORLY is already best in class in this regard. We estimate earnings and comps will remain at growth rates below the past several years and see limited upside to current levels"
S&P Capital IQ also gave AutoZone a Hold rating, but with a $540.00 price target, on May 17. S&P noted that long term trends in the auto industry look favorable in the long term.
"We view the shares as fairly valued, recently trading at nearly 15X our FY 14 EPS estimate, largely in line with AZO's 10-year historical average. AutoZone boasts industry-leading sales per square foot, as well as higher gross, operating and net margins than any of its peers in our coverage universe. In addition, we think long-term trends for the automotive aftermarket retail industry are extremely favorable, with an aging vehicle population and pent-up demand from recent maintenance deferrals. We believe AZO's recent comp performance has been solid given the macro challenges facing consumers, and we expect miles driven -- another driver of vehicular maintenance -- to increase due to lower year-over-year gas prices."
Abercrombie & Fitch Company
Abercrombie & Fitch is expected to report a first quarter loss of $0.19 on revenue of $797.21 million, compared to last year's loss of $0.09 on revenue of $838.77 million.
S&P Capital IQ gave Abercrombie a Hold rating with a $40.00 price target on May 17. The analysts at S&P see Abercrombie struggling against competitors like Forever 21 and H&M  with its current structure.
"We view the shares as appropriately valued at recent levels. With ANF apparently being hurt by increasing competition in the U.S. from fast fashion retailers such as Forever 21 and H&M, we think it is particularly crucial for the company to improve the fashion of its female business. While we think ANF needs to invest more in differentiated fashions and store remodels to regain a competitive edge, we look for expense cuts and ongoing rationalization of ANF's U.S. store base (including all stand-alone Gilly Hicks stores) to support higher sales productivity and margin recovery in FY 15. Also, we are encouraged by a continued strong growth trajectory for the DTC business."
Morgan Stanley gave Abercrombie an Equal-weight rating on May 19, but noted that the company's price points are significantly higher than that of its competitors.
"While we think the fashion offerings are slowly expanding and the assortment included on-trend items such as print crop tops and matching print sets (crop top and skirt), the price points are not competitive with similar offerings available at H&M or Forever 21. In addition, we noted fashion leggings that had been at full price for $48 over the past 2+ months are now offered at a $25 promotion price and still may not be compelling enough at that price point. We think traffic remains below the mall average. In store we observed a higher % of store on promotion clearance vs. LY."
On April 30, Merrill Lynch gave Abercrombie an Underperform rating with a $33.00 price objective, saying that the company still faces core business challenges despite improvements in corporate governance.
"While this announcement underscores slowly improving corporate governance at Abercrombie, we continue to see major challenges for the company in its core business. We see ongoing pressure on sales and margins from increased domestic competition, waning international popularity, and unfavorable fashion trends. And as we outlined in our teen retail Deep Dive note, The Hunger Games: teen retail's grim and losing battle, we expect 2014 to be another challenging year for Abercrombie and the other traditional teen retailers. We maintain our Underperform rating."
Economic Releases
Next week will be an important one for the eurozone as consumer confidence and retail sales data will paint a picture of the bloc's economic recovery. Investors are anxious for fresh data that could provide some insight into the European Central Bank's anticipated policy moves at its June meeting.
Daily Schedule
Monday
Earnings Releases Expected:  Markets Closed For Memorial Day
Economic Releases Expected:  German consumer climate, South Korean consumer confidence, Mexican trade balance
Tuesday
Economic Releases Expected: French consumer confidence, Italian consumer confidence, Italian consumer confidence, US durable goods orders, US house price index, US consumer confidence, US services PMI
Wednesday
Earnings Expected: Toll Brothers Inc. (NYSE: TOL), Cracker Barrel Old Country Store, Inc. (NASDAQ: CBRL), DSW Inc. (NYSE: DSW), Michael Kors Holdings Limited (NYSE: KORS)
Economic Releases Expected:  Japanese retail sales, US Redbook, Irish retail sales, eurozone industrial sentiment, eurozone consumer confidence, Italian business confidence, German unemployment rate, French PPI, French consumer spending
Thursday
Earnings Expected From: Costco Wholesale Corporation (NASDAQ: COST), Sanderson Farms, Inc. (NASDAQ: SAFM), Dollar General Corporation (NYSE: DG), Abercrombie & Fitch Company (NYSE: ANF)
Economic Releases Expected:  US GDP, US pending home sales, Japanese unemployment rate, Japanese industrial production
Friday
View Comments and Join the Discussion!
Posted-In: AstraZenecaEarnings News Previews Global Pre-Market Outlook Markets Trading Ideas Best of Benzinga